---
from$ 13630 AUD
Ship
National Geographic SeaBird & SeaLion
---
---
Overview
Embark on a 15-day adventure between Sitka, Alaska and Seattle, Washington exploring three of the most appealing wild regions in the Pacific Northwest: Alaska's Inside Passage, coastal British Columbia, and Haida Gwaii. You'll sail into mist-shrouded fjords and past crashing glaciers, see brown bears stalking shores, and eagles flying. And in Haida Gwaii you'll meet artisans and experience the resonance of their cultural heritage and artwork. With our special access to Gwaii Haanas National Park Reserve, National Marine Conservation Area Reserve, and Haida Heritage Site, you'll see ancient village sites, and the endemic species that make Haida Gwaii the "Canadian Galápagos."
Departures
Cruise Itinerary
Arrive in Seattle this afternoon and embark the ship. (D)
---
Search for orca whales and cruise around forested islands. (B,L,D)
---
At the community of Alert Bay, visit the U'mista Cultural Centre, where we'll watch traditional First Nations performances and learn from the Kwakwaka'wakw people. Visit Johnstone Strait, one of the foremost viewing areas for orcas in the Northern Hemisphere. (B,L,D)
---
Head northward along the untouched coastline looking for whales, dolphins, bears, deer and other wildlife. Go ashore to explore or kayak the many bays and inlets. (B,L,D daily)
---
With a shared respect for the natural world, explore the islands of Haida Gwaii. A Haida Interpreter will join us as we visit the Haida Heritage Center at K'aay Llnagaay to learn about the incredible history of the Haida people and the meaning behind their renowned artwork. In the ancestral town of Old Massett, join in a traditional dance performance and feast, and meet community members and local artistans. Explore Gwaii Haanas National Park Reserve, National Marine Conservation Area Reserve, and Haida Heritage Site. See the ancient totems at SGang Gwaay (Ninstints) or K'una (Skedans). Kayak and take expedition landing craft around the incredibly biodiverse islands where black bears are the largest in the world and endemic species thrive. (B,L,D daily)
---
Cruise past glacially-carved cliffs and kayak in the stillness of Misty Fiord's forested backwaters. (B,L,D)
---
Join naturalists on deck and search for orcas, humpback whales, and Steller sea lions. Go ashore for a walk along a quiet forest trail and in the fishing village of Petersburg, known as "Alaska's Little Norway". Explore with optional flightseeing or a bicycle ride. Enjoy a crab feast this evening. (B,L,D)
---
Voyage into Tracy or Endicott Arm, both spectacular fjords, with waterfalls cascading from glacially carved walls. See the soaring Dawes or South Sawyer Glacier up close and take an expedition landing craft cruise for an unbeatable view of sculpted icebergs. (B,L,D)
---
Spend the entire day among the enormous glaciers and expansive wilderness. Listen as the quiet stillness of the area is broken by the thunder of tons of ice calving into the sea. Search for Steller sea lions, puffins and mountain goats. A native Tlingit interpreter joins us to share the lore and legend of the area. A National Park Service Ranger will join us as well. (B,L,D).
---
Cruise among the Inian Islands, where an abundance of Steller sea lions reside. Hike nearby islands, kayak, and search for whales in rich waters of Icy Strait. Conditions permitting, we'll lower the ship's hydrophone to listen in on the whales' communication. (B,L,D)
---
Kayak and hike among forested islands on our final exploration of southeast Alaska. (B,L,D)
---
Visit Saint Michael's Russian Orthodox Cathedral with its picturesque spire and meet eagles up close at the Raptor Rehabilitation Center before transferring to the airport for flights to home (own costs). (B)
---
All day-by-day breakdowns are a sampling of the places we intend to visit, conditions permitting.
---
National Geographic SeaBird & SeaLion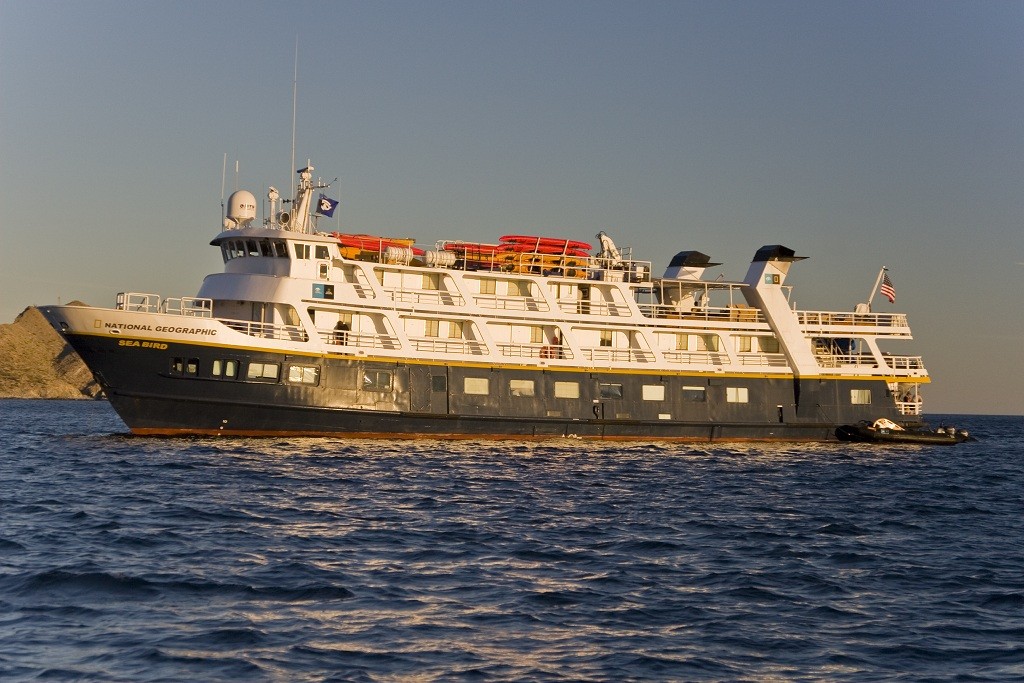 Vessel Type: Comfortable Expedition Length: 52 metres Passenger Capacity: 62 (in twin cabins) Built: 1982 / Refurbished 2015 Twin Expedition ships, National Geographic Sea Bird & Sea Lion, can reach places inaccessible to larger ships due to their small size, yet each can comfortably accommodate 62 guests. The feeling, is often compared to that of a large private yacht, with everyone integral to the adventure. Accessibility means freedom. Our captains have decades of sailing experience in the regions we explore. They know when and where to navigate so that you feel the places we visit are all ours. Full interior renovations have been completed on these twin 62-guest ships, National Geographic Sea Lion and National Geographic Sea Bird. The extensive renovation to guest cabins, the lounge and bar, dining room, public areas and spa has transformed the ships to provide the ultimate in expedition hospitality and comfort. Nothing has been left untouched, from the sleekly framed wall photos, to the fresh paint, and new carpets throughout the ships. - The lounge and bar have been completely redesigned and reconfigured to provide an open, enhanced environment with additional seating and better flow. The modern design features new tables and chairs, upholstery of settees, overhead ceiling panels, and LED dimmable lighting. The lounge also hosts a new food & beverage area, library, and Global Market. - The dining room's upgrade features all new tables, chairs, ceiling panels, and LED dimmable lighting. The wine bar has been replaced and features a display showcasing selections from the regions explored. - Every cabin has been completely redone and all furnishings have been replaced. Modern aged cherry bed boxes, faux leather headboards, Lindblad signature bed linens, new windows, lighting, and additional USB outlets provide a dramatic makeover for a relaxing guest experience. Bathrooms now feature new shower doors and all new hardware. - Exterior renovations include new deck furniture and outdoor awning.
Highlights
• Sail deep into the fjords and narrow, wildlife-rich channels • Encounter abundant and varied wildlife; spend time observing them • Enjoy privileged access to Haida Gwaii, the ancestral home of the Haida people, which contains Gwaii Haanas National Park Reserve, National Marine Conservation Area Reserve, and Haida Heritage Site, a UNESCO World Heritage Site (the first ship with over 22 guests permitted in 20 years) • Shoot with and learn from a Lindblad-National Geographic certified photo instructor • Experience the surprisingly colorful undersea through video shot by our undersea specialist on every expedition • Benefit from our 30+ years of experience and relationships in Alaska to see all you came for & more
Map