---
from$ 24014 AUD
---
Note: Current p/p indicative rate. Final price may change due to currency fluctuations.
---
---
Overview
This special journey takes you further south than at any other time in the season. Additional days on board allow us to venture as far south as ice conditions permit. Here we witness stunning landscapes, sizable Adelie penguin rookeries and large flat-topped tabular icebergs that drift north from the Bellingshausen Sea. With favourable weather and ice conditions we hope to reach - Marguerite Bay. This is a spectacular location reached by just a handful of ships each season. We always anticipate exciting ice navigation when pushing this far south. NEW for 2020/2021 Antarctic season - included pre-voyage hotel night and private air charter.
Departures
Note: Current p/p indicative rate. Final price may change due to currency fluctuations.
Cruise Itinerary
Once you've arrived in Santiago, the cultural centre of Chile, make your way to our signature hotel for an included pre-voyage stay. This evening, we encourage you to visit the welcome desk set up in the lobby of the hotel to check in with the One Ocean Expeditions' representative and to collect luggage tags for your voyage.
---
We depart Santiago this morning on our private air charter (this flight is included in the price of your voyage) direct to Stanley, the small capital of the Falkland Islands. We are met on arrival and transfer from the airport into town. There is time to explore the town or enjoy a guided visit to nearby Gypsy Cove which provides our first opportunity for observing the local wildlife, including nesting Magellanic penguins and other sea birds.
---
We chart a southerly course for Antarctica. The Drake Passage is rich in bio-diversity and showcases a great abundance of wildlife. We will be joined by hundreds of seabirds including the wandering albatross. Giant petrels and smaller Cape petrels are also constant companions as we make our way south. Photographing these magnificent birds takes patience and skill and our photography expert will be on hand to show you the best techniques. Join the ship's Captain on the bridge and learn about the operations of our modern expedition vessel.
---
Given optimal ice conditions, we aim to sail south of the Antarctic Circle. A favoured landing site here is Detaille Island, home to an abandoned British science hut. 'Base W' was established in the 1950s and is in a remarkable state of preservation. For the history buffs this is a fascinating place, providing a glimpse into the harsh life of early Antarctic scientists and researchers. This far south, we are always at the mercy of prevailing ice conditions. Years of experience pushing this far to the south, indicates that February gives us our best chance of reaching Marguerite Bay.
---
Petermann Island is home to a sizable Adelie penguin rookery. Adelies - the smallest of the Antarctic penguins nest here and share the location with gentoo penguins and Imperial cormorants. The view to the north of Mount Shackleton and Mount Scott is impressive. These towering granite sentinels mark the southern entrance to the Lemaire Channel. Nearby Pleneau Island offers more opportunities for shore landings.
---
Having crossed the Bransfield Straight overnight, we arrive in the South Shetland Islands. The adventure is not over and if the weather conditions allow, we sail the ship into the flooded volcanic caldera at Deception Island. This is a very dramatic place and history is all around us as we explore the old whaling station, with the rusted old boilers and dilapidated wooden huts.
---
As we make our way to Stanley and the Falkland Islands, the educational presentations continue, and we enjoy an entertaining and memorable voyage recap by our Expedition Leader. Join our photography experts in the multimedia room and download and back up your precious images.
---
This morning we find ourselves in the port of Stanley. We say goodbye to our crew and make our way to the airport for our return private air charter to Santiago (included in the price of your voyage). On arrival in Santiago our journey comes to an end.
---
Itineraries are subject to change.
---
RCGS Resolute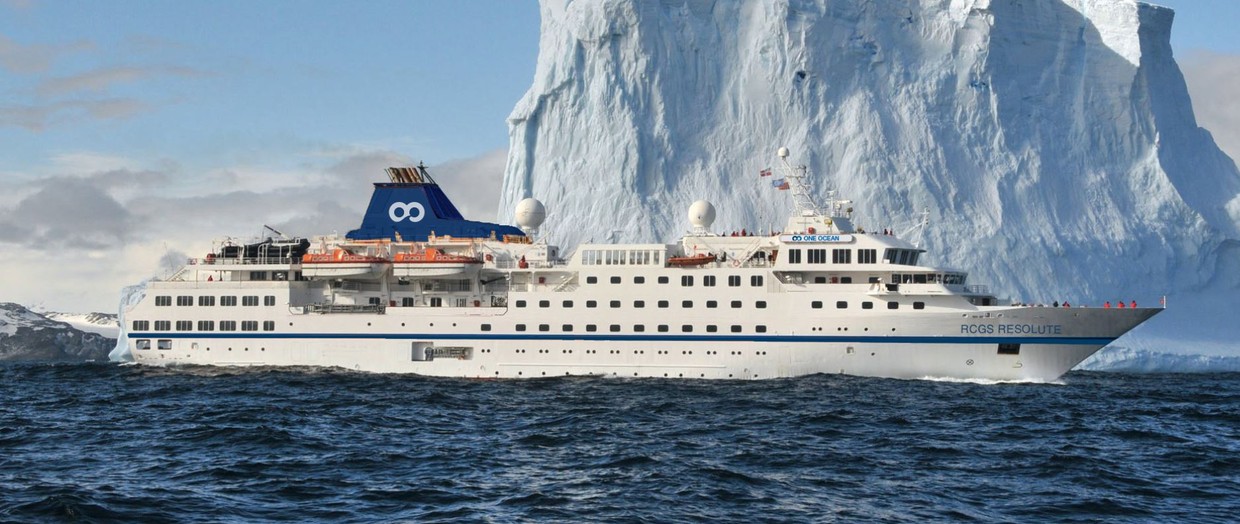 Vessel Type: Polar Expedition Vessel Passenger Capacity: 146 Built: 1993 Named after the HMS Resolute, a British Royal Navy Arctic exploration vessel, as well as the Inuit town of Resolute in Canada's Nunavut Territory, RCGS Resolute will arrive in Canada in November 2018 for its inaugural polar voyage. RCGS Resolute also carries the name of The Royal Canadian Geographical Society (RCGS), since we are exclusive education, environmental science, and expedition partners in Canada's north. This longstanding partnership works to the benefit of our guests, who have the opportunity to learn from and interact with world-renowned educators, researchers, naturalists, marine biologists, artists, historians and photographers. With an unsurpassed ice classification, a proven track record for stability and safety, large indoor and outdoor viewing platforms, and exceptional maneuverability, RCGS Resolute is ideally equipped to guide guests through the world's most pristine regions, further expanding our expertise in exploration and discovery. RCGS Resolute will carry a maximum of 146 passengers in unparalleled comfort, with an array of luxury amenities, educational opportunities and activities tailored to guests' particular interests, and individual, personalized service. Superb Design and Layout. Throughout the ship there are spaces ideally suited to every need. Spacious outer decks provide 360 degree viewing platforms perfect for photography, wildlife watching, birding and appreciating expansive views. The salt water plunge pool, large relaxation deck, hot water jacuzzi are all located aft of the wellness centre (massage therapy, Finnish Sauna, steam room) and well equipped gymnasium. Inside there are multiple areas to explore ranging from our well appointed theatre style presentation room, aft observation lounge and bar, forward observation lounge and bar, and both dining rooms. Add in the One Ocean Expeditions multimedia room, and mobile laboratory and the opportunities are endless. Six Different Cabin Categories. All cabins feature outside viewing ranging from deck three traditional with port holes, up to decks 4 through 6 offering expansive panoramic windows. Cabins all have lower berths that have the ability to be single beds, or 1 double bed depending on our guests needs. Extensive renovations have provided new carpets, high quality cabinetry with soft close drawers, contemporary and spacious bathroom design, all paired with soft accent lighting offering options dependant on our guests daily activities and mood. All cabins offer modern sectional lounge quarters, providing a quiet nook to read or catch up on journalling. Space is exceptional as each cabin offers 22M squared living space, whilst the One Ocean Suites are absolutely palatial offering 44M squared with enough room to entertain or do back - flips (your choice)! Enjoy Great Dining? So do we. At One Ocean Expeditions, the priority is on the expedition. However with every activity, option, event, or excursion we find we build up incredible appetites to indulge in superb and extensive menu options. Our bistro dining room provides early birds the option to get their social caffeine or smoothy start to the day, accompanied by light breakfast style snacks. Full meal service includes buffet breakfast and lunches incorporating an international flare. For those with special dietary requirements - no problem, we can accommodate that too. Dinner is a great opportunity to catch up about the day's events, as well as look to where we expect to explore next. Five course menu options are offered a la carte, and seating is open in our business casual dining room featuring 180 degree sweeping views. There's also an excellent wine list featuring a range of international wines and other beverages of choice. Join us on the Bridge. There is an open-bridge policy and guests are welcome to meet the navigating crew at virtually any time of day; there's always something to learn from the officers on watch and the bridge is one of the best places on the ship for spotting whales and sea birds. The bridge is closed during times of tricky navigation, pilotage, or weather. Operational Safety. There are no compromises here. The expedition staff and crew onboard RCGS Resolute have the deepest respect for changeable weather in the polar regions and the varying sea and ice conditions. That respect is apparent in every decision made throughout the voyage. The ship carries the most extensive inventory of safety equipment on all excursions and require leaders to undergo vigorous and effective safety training programs. Your expedition team are well prepared, so you can relax and enjoy your voyage.
Highlights
• Fantastic glaciated scenery of the Antarctic Circle and Gerlache coastline • Outstanding wildlife observation on shore, while Zodiac cruising and from the ship • Visits to historic sites and science stations • Learn about the environment, wildlife and ecology of Antarctica from polar experts
Map