---
from$ 12404 AUD
---
Note: Current p/p indicative rate. Final price may change due to currency fluctuations.
---
---
Overview
Love your outdoor pursuits? So do we! This wonderful Antarctic cruise spends 13 days exploring the pristine Antarctic wilderness in spring. The wildlife migrations have commenced and the sea ice is quickly receding, allowing access to locations which have been ice choked since winter. We anticipate exciting ice navigation on the ship and will be among the first to visit many of the well known sites this season. What makes this journey so special is the enhanced program of off-ship activities available. Taking advantage of the optimal snow conditions in November, we offer a range of additional activities which complement our already busy schedule. For those with some experience we offer back-country ski touring. Snow-shoeing is another exciting option with maximum snow coverage and hard packed base. We also plan to camp ashore at least one night and a full day 'field photography' workshop. All this is complemented with an exceptional series of onboard presentations, led by adventurers, marine biologists, naturalists, historians and our resident photography professional. This voyage has been designed for outdoor enthusiasts and adventure lovers. It also has great appeal to those who wish to experience Antarctica in springtime. The added bonus is you will enjoy several additional days of exploration compared to the 10-night voyages.
Departures
Note: Current p/p indicative rate. Final price may change due to currency fluctuations.
Cruise Itinerary
Our journey to Antarctica commences this afternoon in Ushuaia, in southern Argentina. We gather at our central meeting point, transfer to the pier and embark our expedition ship. After settling in to our cabins and exploring the ship, we meet our expedition team and fellow passengers. Excitement is in the air as we enjoy a welcome cocktail and dinner and cast off, bound for Antarctica and the adventure of a lifetime.
---
We chart a southerly course for Antarctica. This stretch of the South Atlantic is rich in its bio-diversity and showcases an abundance of wildlife. We will be joined by hundreds of seabirds including the wandering albatross. Giant petrels and smaller Cape petrels are also constant companions as we make our way south. Photographing these magnificent birds takes patience and skill and our photography expert will be on hand to show you the best techniques. Join the ship's Captain on the bridge and learn about the operations of our modern research vessel. Throughout the day our onboard experts educate us with a series of presentations about the environment, the wildlife and history and the locations we hope to visit in the coming days. As we approach the coastline of Antarctica, we anticipate an increase in whale sightings.
---
We awaken today and the magnificent snowy peaks of the South Shetland Islands are laid out before us. Depending on ice and weather conditions, we plan on entering the McFarlane Strait, which separates Greenwich and Livingstone Islands. Half Moon Island or nearby Yankee Habour are possible landing sites. A short way to the south-west lies Deception Island – a flooded volcanic caldera. Navigating the ship into the narrow passage takes great skill. The old whaling station here begs exploration and there are some fantastic hikes available along the black sand beach to investigate the old aircraft hangar and other relics. A hike of several kilometers up to a high point known as Neptune's Window is another option. Overnight we cross the Bransfield Strait and are now along the coastline of continental Antarctica. Over the next four days, our itinerary is deliberately flexible to account for early season ice conditions, and to take advantage of optimal snow conditions at several of our favourite landing sites. Our planned exploration starts in the vicinity of Mikkelson Harbour and neighbouring Cierva Cove – both beautiful locations and the perfect introduction to Antarctica.
---
Heading south along the coastline of the continent, our busy program of activities will now be in full swing. Our days are spent exploring on and off the ship. Popular activities include guided hikes on shore and visits to wildlife colonies with our expert naturalist guides, while the historic huts and science stations provide a fascinating glimpse into the past and the present. Zodiac cruising among the ice is always a memorable activity. Based on site characteristics, the ski-touring group may set off to explore the pristine terrain and range several kilometres inland with our experienced mountaineering guides. What a unique thrill it is to carve 'fresh tracks' in the virgin snow of Antarctica. The expedition snow shoe group may follow in the tracks of the skiers, climbing to high points which afford breathtaking views. If you are not up to the more strenuous snow shoeing program, you will be able to try this unique activity at many of our landing sites. Our expedition sea kayakers will head out on excursions which may last all day. An overnight kayak/camping excursion is available to the more adventurous in the group. Everyone aboard will have an opportunity to camp onshore for the night in Antarctica if the weather conditions co-operate. We have all the gear to keep you warm, dry and as comfortable as possible. Photography enthusiasts will enjoy the chance to spend an entire day with our expedition photographer, on an all-day field workshop. We range as far south as ice conditions permit and hope to navigate as far as Neko Harbour and into the Errera Channel. Witnessing the migration of the penguins early in the season, as they busily re-establish their rookeries and prepare nests, is a fascinating experience.
---
The adventure is not over and we plan an additional day of exploration in the South Shetlands. Prevailing weather conditions will dictate our landing locations. Aitcho Island is a possibility and is a great spot for a hike or a Zodiac cruise. There are several other landing sites in the South Shetland's including Half Moon Island, or the broad pebbly beach at Yankee Harbour, where we sometimes encounter Weddell seals sunning themselves. This is another great spot for a hike. Hannah Point, with its elephant seal colony and nesting Antarctic petrels - could also fature. In the evening, we navigate north and into the Drake Passage, charting a course for South America.
---
Making our way back to South America, the educational presentations continue and we enjoy a memorable voyage recap by our Expedition Leader. Join our photography experts in the multimedia room and download and back up your precious images. If weather conditions allow, we hope to make a rounding of Cape Horn. This fabled stretch of water is home to legendary tales of exploration and early navigation. It is a fitting place to reflect on a wonderful expedition. Approaching the entrance to the Beagle Channel in early evening light, we enjoy a special dinner attended by the Captain of the ship.
---
In the early morning, we arrive into Ushuaia, Argentina. It is time to say farewell to your crew and fellow travellers. Guests will be transported to their hotels or to the airport for return flights home. It will be possible to connect to flights through to Buenos Aires or other destinations in South America. Otherwise enjoy a night in town or venture further afield to explore the highlights of Patagonia.
---
Polar exploration can be unpredictable. Specific sites visited will depend on prevailing weather and ice conditions at the time of sailing. The above itinerary should be read as a 'guide only' and may change. The ship's Captain in conjunction with the Expedition Leader continually review the sailing plan throughout the voyage, making adjustments to the itinerary along the way to take advantage of optimal weather and ice conditions or to maximize our encounters with wildlife. Decades of experience spent exploring these waterways mean we have a large number of outstanding landing sites and Zodiac cruising locations to consider, even when the weather conditions may not be ideal or when heavy ice may hinder our planned route. A flexible approach is something we encourage you to bring to the ship.
---
Akademik Ioffe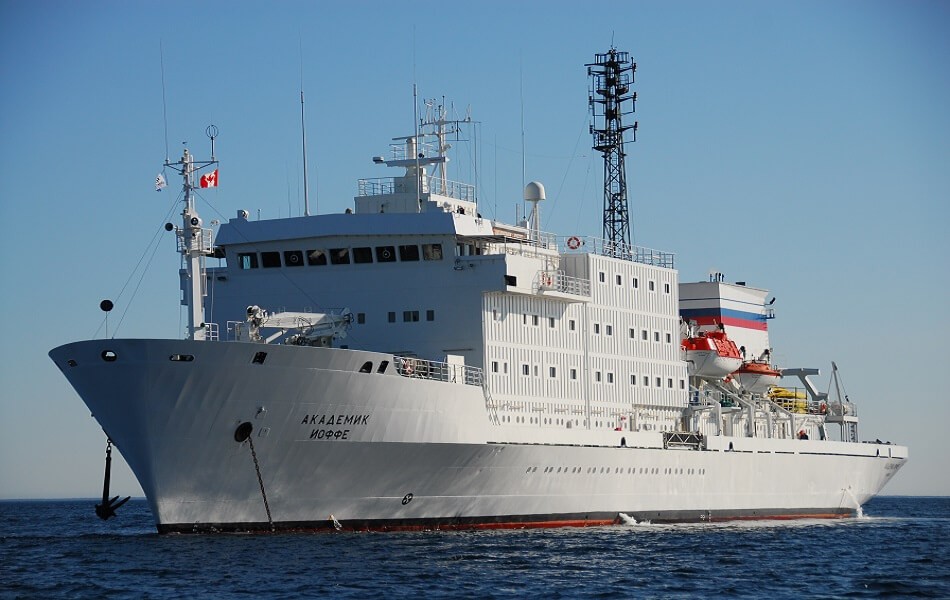 Vessel Type: Expedition Length: 117 metres Passenger Capacity: 96 Built: 1989 Stability and Strength. Our ship was purpose built to conduct sensitive hydro-acoustic research and science in the polar regions. The original design brief dictated that the vessel offers a very high level of stability. This is achieved through a sophisticated internal trimming system, controlled via a series of gyroscopic sensors around the vessel. This stability feature is something you will greatly appreciate should you encounter less than ideal sailing conditions. Maneuverable, Quiet and Fast. With both bow and stern thrusters and twin reversible propellers, the ship can spin on its own axis – greatly assisting embarkation of the zodiacs in windy conditions. You will notice there is little – if any – ambient noise or vibration, which makes for a quiet ship. The ship is fast, with a top speed of 14.5 knots in open water. Unmatched stability, coupled with superior speed allows for more time at your destination (rather than 'at sea') and more flexibility with itinerary planning – a critical factor in polar waters where ice and weather conditions sometimes dictate our daily itinerary. Superb Design and Layout. Throughout the ship there are spaces ideally suited to every need. Spacious outer decks provide 360 degree views of the stunning polar landscapes – as well as a great place for an outdoor barbecue, which usually happens once on every voyage. Inside there are comfortable presentation spaces for lectures and film screenings and there's a multimedia computer lab with several large screen workstations where guests can download and back up photos. Six Different Cabin Categories. All cabins feature outside windows allowing ample natural light to filter in. Cabins all have lower berths (some triple share cabins have one upper/lower bunk scenario and feature port holes). Akademik Ioffe carries a maximum of just 96 guests – making for true, small-ship expedition cruising. This is particularly important in Antarctica where visitor guidelines dictate that no more than 100 people can be on shore at any one time. We fall under this limit and that equals maximum time ashore at all locations. Ships carrying more than 100 guests compromise your time ashore. Enjoy Great Dining? So do we. The exciting schedule of onshore excursions, zodiac cruises and onboard activities are guaranteed to work up a serious appetite. Although the ship operates in some of the most remote locations in the world, you can expect an exceptional variety of tasty meals, prepared by a team of professional international chefs. Breakfasts are usually buffet style. Lunches offer a great choice of light meals - as well as more substantial options for those who are hungry - and each evening there is a hearty three-course meal offering both variety and choice. There's also an excellent wine list featuring a range of international wines. You can get a cup of tea or coffee at any time of the day or night and we always offer afternoon tea with cakes and biscuits. Guests with dietary restrictions or special meal requirements are also well catered for. Join us on the Bridge. There is an open-bridge policy and guests are welcome to meet the navigating crew at virtually any time of day; there's always something to learn from the officers on watch and the bridge is one of the best places on the ship for spotting whales and sea birds. Operational Safety. There are no compromises here. The expedition staff and crew onboard Akademik Ioffe have the deepest respect for changeable weather in the polar regions and the varying sea and ice conditions. That respect is apparent in every decision made throughout the voyage. The ship carries the most extensive inventory of safety equipment on all excursions and require leaders to undergo vigorous and effective safety training programs. Your expedition team are well prepared, so you can relax and enjoy your voyage. Relax — You're on Holiday. The ship also features a Finnish dry-heat sauna, a plunge pool, a hot water Jacuzzi, a small gymnasium and day spa with massage therapist. An expedition gear package is included. An expedition cruise requires a fair bit of planning and some special items of clothing and equipment are needed. You will have use of an expedition wet weather gear package free of charge, which includes a quality waterproof/windproof jacket and bib-pants as well as insulated, comfortable rubber boots designed for extended walking. A set of expedition binoculars and a walking pole are also available for the duration of your voyage. This saves you buying expensive items you may only ever use once and eliminates the need to carry such cumbersome gear all the way to the ship. If you do have your own gear, of course you are welcome to bring it. Make sure it is wind and waterproof.
Highlights
• Outstanding wildlife observation on shore, Zodiac cruising and from the ship • In-depth exploration of the Gerlache coastline and Antarctic Peninsula • Visits to historic sites and science stations • Learn about the environment, wildlife and ecology of Antarctica from polar experts
Map