---
from$ 32370 AUD
---
Note: Current p/p indicative rate. Final price may change due to currency fluctuations.
Ship
National Geographic Explorer
City
Buenos Aires to Buenos Aires
---
---
Overview
An expedition to Antarctica, South Georgia and the Falklands is an exhilarating adventure of a lifetime. See massive icebergs in Antarctica, the wildlife spectacle of South Georgia's colonies of hundreds of thousands of king penguins, and the vast albatross breeding grounds of the Falklands. Add to that the chance of seeing a once-in-a-lifetime phenomenon—a total solar eclipse. Our three polar expedition ships aim to be positioned in the path of totality during the next total solar eclipse on December 4, 2021. While we will be in the right spot to witness the eclipse, which will last two minutes, the most important factor in viewing an eclipse is weather. Although clear skies are often experienced here, overcast days are just as common. The ships' crews will utilize their state-of-the-art technology aboard to find the best possible viewing area, hoping to find an unobscured view of the sun, but nothing can be guaranteed. And, of course, our naturalist team and guest speakers will provide insight and background on eclipses and other astronomical features one might encounter in the Southern Ocean and Southern Hemisphere. What is a solar eclipse? A solar eclipse occurs when the Moon passes between the Sun and the Earth partially or totally obscuring the Sun and casting a shadow over part of Earth. Why is this solar eclipse a special event? It is a total solar eclipse, which is when the Moon completely blocks out the Sun, and only occurs when the Moon is at the point of its orbit closest to Earth, and when the Earth is at a point in its orbit that is the farthest from the sun. To see it, you must be in the path of totality, where the moon casts its darkest shadow, known as the umbra. Do you need protective eyewear? Yes! The only way to safely view a solar eclipse is through special glasses, which we will have aboard for all. Is it possible to photograph a solar eclipse? With the aid of some special equipment like solar filters, it is indeed possible to create an image of a solar eclipse. We'll have a National Geographic photographer and a photo instructor aboard to help. PLEASE NOTE YOUR VOYAGE RATE DOES NOT INCLUDE: Air transportation; charter flights Santiago/Stanley Falklands and Ushuaia/Buenos Aires;
Departures
Note:
Current p/p indicative rate. Final price may change due to currency fluctuations.
Cruise Itinerary
Depart on an overnight flight to Buenos Aires (Explorer/Endurance). Settle into the Alvear Art Hotel (or similar, Explorer) or Alvear Icon Hotel (or similar, Endurance) before seeing the city's Beaux-Arts palaces and the famous balcony associated with Eva Perón. Or check into the Mandarin Oriental Santiago (or similar) before our guided overview of this vibrant city backed by the inspiring Andes. (L)
---
Today we fly by private charter flight to Ushuaia, Argentina. This morning's charter flight will bring us over Patagonia before landing in Ushuaia, the southernmost city in the world. If the weather is fine, you'll have a chance to view the spectacular mountains rising out of the Beagle Channel as you enjoy lunch on a catamaran cruise. Then, you'll embark the expedition ship and set sail, (B,L,D)
---
You'll awake this morning into your journey across the Drake Passage. Lying between Cape Horn and the Antarctic Peninsula, the Drake holds a unique place in maritime lore. The Drake Passage is unforgettable-a milestone in any adventurer's personal travel history—with time to hear talks preparing you for the exciting days ahead.. (B,L,D)
---
With long hours of daylight, we make the most of our days exploring the Antarctic Peninsula and surrounding islands. Our schedule is flexible, allowing us to take advantage of the unexpected. We'll spend these days exploring the "White Continent" via Zodiac, kayak and on foot, and using our arsenal of tools for exploration. (B,L,D)
---
As we voyage, head up to the Bridge to watch for icebergs and observe expert navigation at work as our skilled Captain and officers sail these historic waters. There'll also be time to enjoy a massage in the wellness center, workout in the gym, and browse in the library. Each day our naturalists offer talks that add depth to your experience. (B,L,D)
---
Explore the spectacular coastline of South Georgia Island. In keeping with the nature of an expedition, our schedule is flexible with opportunities for walking, hiking, kayaking and Zodiac excursions, making stops every day as we leisurely circumnavigate the island. Teeming wildlife and breathtaking scenery greet our ship as our Zodiacs make landfall. We plan to visit Grytviken, part of the extraordinary story of the Endurance and the final resting place of Sir Ernest Shackleton, as well as Stromness Bay where Shackleton, Tom Crean and Frank Worsley finally reached aid at a whaling station. See huge elephant seals, and, on a single beach, you will visit a vast colony of tens of thousands of king penguins! (B,L,D)
---
Whales beneath, birds above, as you continue on. Our naturalists will prepare us for the exciting days ahead with presentations on the wildlife and history of the Falkland Islands. (B,L,D)
---
The Falklands boast the largest albatross colony in the world, irresistible gentoo, rockhopper, and Magellanic penguins in their burrows amid the green tussock grass, curious fur seals, and Peale's dolphins riding the waves. Stroll the photogenic tin-roofed, Victorian-style houses of Port Stanley. Visit the Anglican Cathedral with its organic archway of whalebones, and the Falkland Islands Museum. (B,L,D)
---
On our final day at sea, enjoy one last chance to view the marine and bird life of these southern waters. Toast our epic voyage at a festive farewell dinner. (B,L,D)
---
After breakfast, we disembark in Ushuaia with some time to explore before proceeding to the airport for our LAN charter flight (guests on Explorer fly Ushuaia to Buenos Aires) IMPORTANT: Please confirm departure and arrival cities with an Expedition Specialist before booking your flights. (Day 22: B,L)
---
While we will do our best to arrange for viewing the solar eclipse, we cannot guarantee that there will be no cloud cover, that the ship will be in the planned position, or that there will not be another reason beyond our control that prevents viewing. Therefore, we will not be liable or responsible for any loss, damage, cost, or expense of any kind in the event that such viewing is not possible for any reason including but not limited to any act of God, war, fire, collision, directions of underwriters, arrest, order or restraint by any government agency or official acting under color of authority, acts of terrorism, labor disturbances or disputes, civil commotion, weather and sea conditions, breakdowns of or damage to the transport vehicle, requisition of the vehicle by governmental authority, illness, death of a family member or other cause or circumstance beyond our control.
---
National Geographic Explorer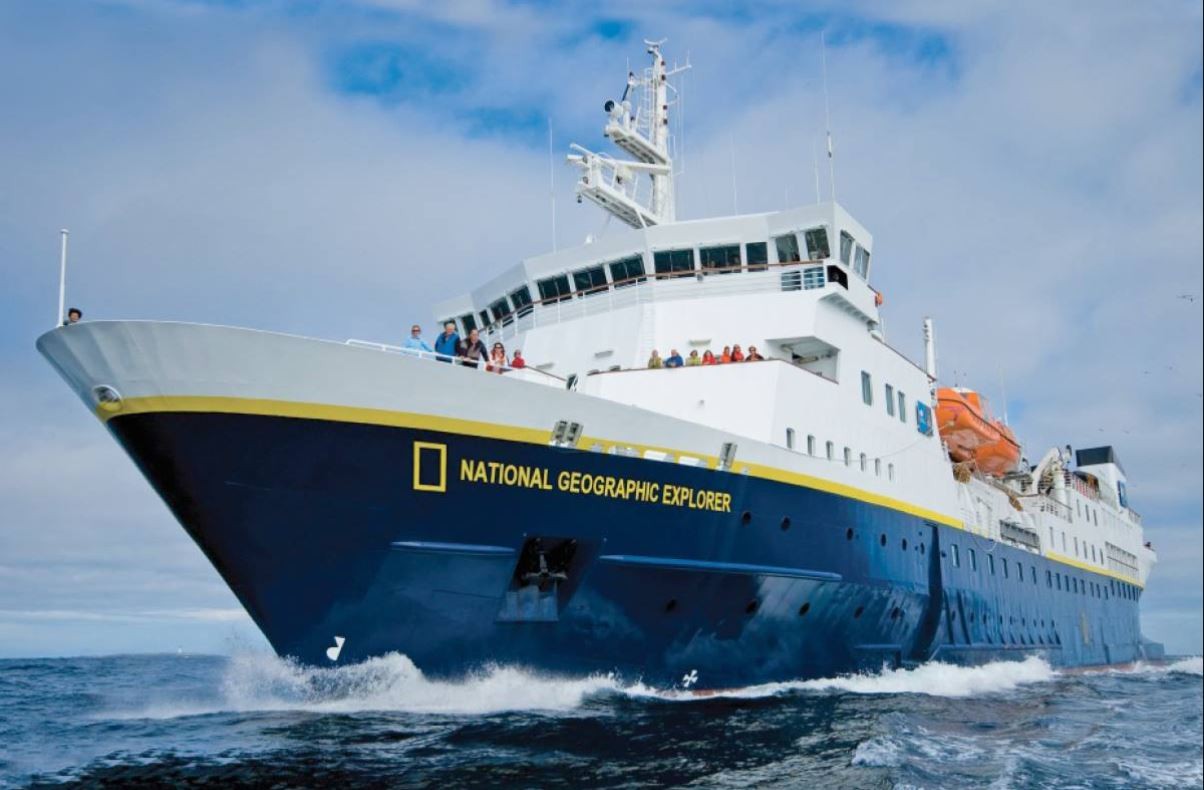 Vessel Type: Luxury Expedition Length: 108 meters Passenger Capacity: 148 (single & twin cabins) Built / Refurbished: 1982 / 2008 National Geographic Explorer is a state-of-the-art expedition ship. It is a fully stabilized, ice-class vessel, enabling it to navigate polar passages while providing exceptional comfort. It carries kayaks and a fleet of Zodiac landing craft. An Undersea Specialist operates a remotely operated vehicle (ROV) and sophisticated video equipment, extending access to the underwater world. Public areas: Bistro Bar; Chart Room; Restaurant; Global Gallery; Library, Lounge with full service bar and state-of-the-art facilities for films, slideshows and presentations; Mud Room with lockers for expedition gear, and Observation Lounge. Our "Open Bridge" provides guests an opportunity to meet our Officers and Captain and learn about navigation. Meals: Served in single seatings with unassigned tables for an informal atmosphere and easy mingling. Menu is international with local flair. Cabins: All cabins face outside with windows or portholes, private facilities and climate controls. Expedition Equipment: Zodiac landing craft, kayaks, Remotely Operated Vehicle (ROV), hydrophone, SplashCam, underwater video camera, Crow's Nest remote controlled camera, video microscope, snorkeling gear. Special Features: A full-time doctor, Undersea Specialist, LEX Photo Specialist and Video Chronicler, Internet Cafe and laundry. Wellness: The vessel is staffed by two Wellness Specialists and features a glass enclosed Fitness Center, outdoor stretching area, two LEXspa treatment rooms and Sauna.
Highlights
• The impossible beauty of Antarctic ice: tabular bergs, the haunting Lemaire Channel • Massive wildlife spectacles in South Georgia and the Falklands • Three distinct regions to experience • Superlative photos ops and on-board photo assistance • National Geographic expedition team to illuminate it all • See a once-in-a-lifetime phenomenon—a total solar eclipse.
Map