---
from$ 9840 AUD
---
Note: Current p/p indicative rate. Final price may change due to currency fluctuations.
---
---
Overview
Enjoy 17 day cruise aboard Island Sky discovering Northern Australia. Experience an unforgettable world of exclusive moments, incredible cultures and charming surprises.
Departures
Note: Current p/p indicative rate. Final price may change due to currency fluctuations.
Cruise Itinerary
Arrive in Darwin early this morning, where we meet you and transfer you to your expedition ship. Leave dry land behind as we set sail, and learn how Arnhem Land was named after a Dutch ship of the same name, which explored this coastline in 1623. This evening, get to know your fellow travellers during a relaxed dinner at sea.
---
This morning visit Port Essington, an inlet on the Cobourg Peninsula. Arrive in Garig Gunak Barlu National Park, home to pristine beaches, lush rainforests, mangrove swamps and coral reefs. Follow the Port Essington coastline to Victoria Settlement, a British outpost that was established in 1838 to strengthen their claim over the north of Australia. Hear tales of the hardships faced by the settlers here as you are led through the remains of the settlement, accompanied by a local expert. Later, you might like to further explore the settlement's hospital camp, complete with sweeping views over the Arafura Sea, or set out on a walk through the Eastern Paperbark Wetland. After lunch, join your expedition team and hop aboard a Zodiac for an exciting exploration of Caiman Creek.
---
As your ship arrives at the Wessel Islands, today begins with a Zodiac adventure to the Hole in the Wall, a cleft in the rock which passes through the island chain from north to south. Learn how these islands were an important site for the Macassan trepang (sea cucumber) traders who visited the Arnhem Land coast between the 16th and early 20th centuries. Signs of pre-European contact between the Indigenous peoples of the area and these fishing fleets from Sulawesi are evident in the language, stories, art, tools and cuisine of the Yolngu people of East Arnhem Land. There are also depictions of prau, the sailing ships of the Macassan, in rock art which has been dated to the 15th century. In return for access to trepang fishing areas, the Yolngu received goods such as cloth, tobacco, rice and metal tools including knives.
---
Be greeted with a Welcome to Country smoking ceremony and dance performance while at Yirrkala, located on the Gove Peninsula. Arrive at the Gove Peninsula, a place where the first British contact with the Yolngu came about in 1803 as Matthew Flinders made his circumnavigation of Australia. Continue to Yirrkala and enjoy a Signature Experience. Get an insight into local art styles at the Buku-Larrnggay Mulka Art Centre, then try your hand at spear throwing during a friendly competition, or master the art of basket weaving.
---
Soar high above the impressive 700 square kilometre Arafura Swamp on a scenic flight. No doubt the best way to grasp the sheer size of this vast wetland, a habitat to hundreds of bird species including brolga, spoonbill and magpie geese. It is also said to have the largest population of crocodiles on the planet. Today is sure to be a highlight of your journey as you set out on an incredible Signature Experience. Your Indigenous art experience then continues at Galwin'ku, located at the southern tip of Elcho Island, where you will be greeted with a traditional ceremony. Visit a number of Indigenous-owned art centres and see first-hand the amount of work that goes into creating local crafts including bark paintings, woven pandanus baskets, carvings and shell jewellery.
---
Experience a traditional Welcome to Country ceremony performed by the friendly locals of South Goulburn Island. After breakfast, climb aboard a Zodiac and head to South Goulburn Island, where you'll take part in a special Signature Experience. Then, the choice is yours when it comes to discovering the island. You might like to visit a local arts centre and see the many creations on show, or take in more of the island's natural landscapes on an in-depth exploration. Alternatively, get a deeper understanding of life on the island as you hear stories of local traditions and sea cucumber harvesting.
---
Set out on an exploration of the pristine Tiwi Islands today. Wake to the serenity of the Tiwi Islands today, where you'll disembark to explore the first of the two islands, Bathurst Island. Enjoy a locally guided walk through the community of Nguiu. Spend time with the locals while they work on their weaving and painting, enjoying some freshly baked damper and billy tea as you watch. Visit the Patakijiyali Museum to see traditional art that depicts Tiwi Dreamtime stories. Then, enjoy a demonstration of totem dances and a smoking ceremony. Later, head out on a Zodiac adventure through the intricate creek systems of Melville Island (subject to weather and tidal conditions).
---
Arrive back in Darwin and spend the day at leisure, or relax on board as you prepare to explore the Kimberley Coast.
---
Anticipation builds as your Zodiac approaches King George Falls, plunging 80 metres over a towering sandstone cliff. Edge closer to this epic cascade and learn how it turns to a raging torrent during the monsoonal wet season. Wake this morning as your ship cruises into Koolama Bay. Hear how this harbour was renamed following the Japanese bombing of the MV Koolama in 1942. Next, it's on to King George River. Join your expedition team and jump aboard a Zodiac to meander through the river's gorge system, passing hidden mangrove-fringed coves and soaring red cliffs. It is here you'll experience your first Signature Experience.
---
An intriguing exploration of Vansittart Bay awaits today. Join your expedition team and set out across the bay's vast salt flats to view the wreckage of a US Air Force C-53 that crash landed on the beach during World War II. Later, step ashore at Jar Island and see examples of mysterious Bradshaw (Gwion Gwion) paintings, dating back some 20,000 years.
---
In caves throughout the island, see examples of first contact art depicting European tall ships dating from the 15th to 18th century. Having been repainted annually for the past 5,000 years, it is thought to be the oldest continuous sacred painting tradition on the planet. Discover Bigge Island today, known for its Indigenous rock art created by the Wunambal people. During your time here, take in a Signature Experience.
---
Your expedition ship arrives at Prince Frederick Harbour today, home to soaring red cliffs and mangroves. With its extreme tides and pristine ecosystems, the harbour is home to a wide variety of wildlife, including saltwater crocodiles and mudskippers. Keen birdwatchers should keep an eye out for kingfishers, egrets, herons and white-bellied sea eagles. It's time to jump aboard your Zodiac vessels for an exploration of the Hunter River and Naturalist Island. As your day of discovery draws to a close, you might choose to set out on a helicopter flight and view the natural spectacle of Mitchell Falls from above (own expense).
---
Reach Careening Bay today, home to the historic Mermaid Boab Tree. It was here in 1820 that Lieutenant Phillip Parker King used the area's massive tides to beach his damaged ship, the HMC Mermaid. During this time, King's carpenter carved the ship's name into a boab tree that overlooks the bay. Continue on to Prince Regent Nature Reserve, only accessible by boat. Explore this protected area and see why it is recognised as a national biodiversity hotspot. Next, it's on to the untouched coastal area of Hanover Bay. While you're here, you might like to hop aboard your Zodiac for an enthralling visit to St George's Basin. If the tide allows, perhaps catch a glimpse of a saltwater crocodile, among other marine life.
---
Excitement builds this morning as you join your expedition team for an in-depth exploration of Montgomery Reef by Zodiac. Witness the reef rise out of the ocean as the tidal waters cascade rapidly into the surrounding channels. Keep an eye out for unique bird life and turtles who may pop their heads up from time to time. Start your day with a phenomenal Signature Experience. Then, cruise through Doubtful Bay, a hotspot for whale watching during the season. Later, step ashore at Raft Point to visit an ancient Wandjina rock art site. When available, you'll be joined by a local Indigenous guide.
---
Subject to tidal conditions, set out on a thrilling ride through the falls aboard a high-powered fast boat. Hold on tight as your boat skims across Talbot Bay to the mouth of the falls before making its way through the churning waters. Today your ship cruises through to Talbot Bay, known for its epic 12-metre tides that create an astonishing natural spectacle, the Horizontal Falls. Here, enjoy a Signature Experience. The adventure continues as you jump aboard your Zodiac vessel for an exploration of Cyclone Creek. See dramatic folding in the rock formations as you navigate through the creek, accompanied by your expedition team member.
---
There's promise of yet more turquoise waters today as your ship arrives in the Buccaneer Archipelago, home to more than 800 islands. Cruise to Adele Island and join your expedition team member for an exploration of this remote coastal area by Zodiac. The island is surrounded by Adele Reef, teeming with an array of coral and marine life, including reef sharks and stingrays. Back on board, toast the end of an epic adventure during a farewell dinner. Then, take in the amber glow of a Kimberley sunset for the last time as your ship sets sail towards Broome.
---
Arriving into Broome this morning marks the end of your journey. Enjoy a fleeting exploration of this pearling town before being transferred to Broome Airport this afternoon.
---
Itineraries are subject to change.
---
Island Sky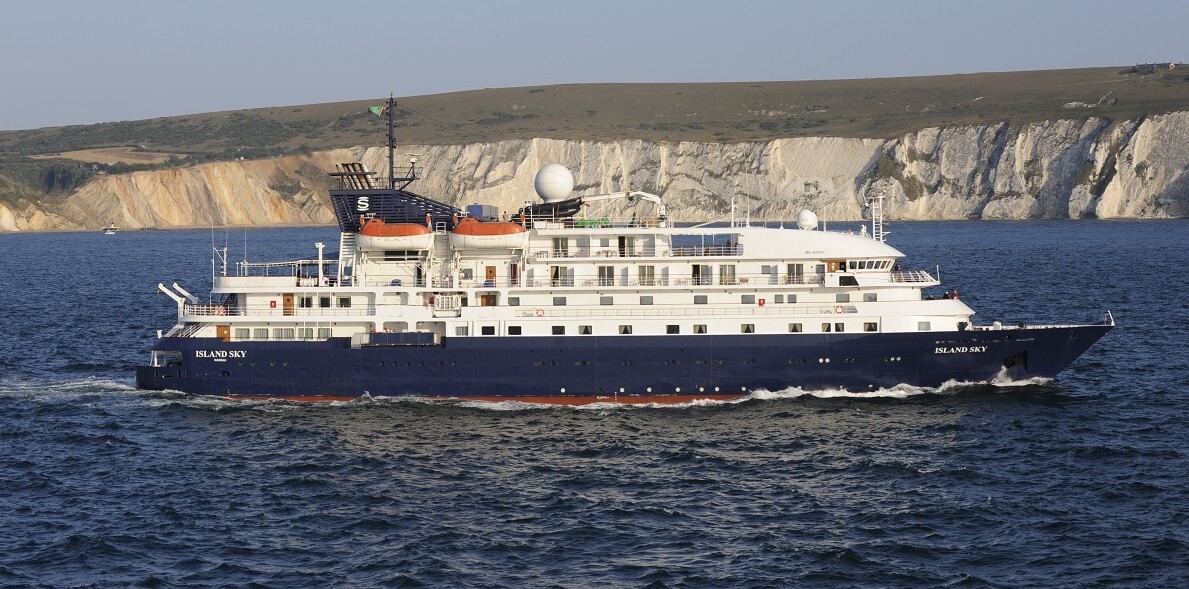 Vessel Type: Luxury Small Ship Length: 90 metres Passenger Capacity: 116 Built / refurbished: 1992 / 2010 / 2017 Sister ship to Hebridean Sky. Island Sky and Hebridean Sky are truly sisters. Built in the same Italian Shipyard, both boast spacious, well-appointed suites, stylish common areas, and redundant core technology that allows them to operate smoothly, even under the most challenging of conditions. Both ships are all-suite, all-inclusive small expedition vessels with touches of elegance throughout. The Island Sky is scheduled for additional upgrades in 2017, including the addition of tinted sliding glass doors to all cabins on the Promenade Deck. Services: World-Class Cuisine Complimentary Wine or Beer with Dinner Live Entertainment Complimentary Coffee/Tea station Voyage Photographer On-board MD and Facilities Dedicated Passenger Service Manager Pre-voyage hotel night Complimentary Expedition Jacket Facilities: Elevator serving all passenger decks Upgraded WIFI Internet Library with computers Panoramic Top Deck Observation Platform Bar/Lounge with Live Entertainment Lounge with Audiovisual Facilities DVD Movie Library Tinted sliding glass doors in all cabins on the Promenade Deck World-Class Cuisine: Great expeditions require great food! Our team of world-class chefs offer breakfast, lunch and dinner menus that change daily. They have boat-loads of creativity, so you are sure to experience a variety of remarkable cuisine throughout your voyage. Accommodations: All Suites Feature: Exterior views Your choice of queen-sized or two twin-sized beds Sitting area with sofa and side chair Flat Screen TV with DVD/CD player Telephone Independent temperature controls Mini-Bar Marble-appointed bathroom with fine toiletries Hair dryer 220 square feet or more Sofa can be converted to bed for third person PLEASE NOTE - DECK PLANS CAN VARY.
Highlights
• Welcome To Country. Take part in a stirring Welcome to Country ceremony at the East Arnhem Indigenous community of Yirrkala. • Soar High Over Arafura Swamp. See millions of breeding waterbirds during an included scenic flight over Arafura Swamp. • Friendly Tiwi Smiles. Be greeted on Bathurst Island by the friendly Tiwi Islanders, where the glowing smiles are infectious.
Map