---
from
---
Note: Current p/p indicative rate. Final price may change due to currency fluctuations.
---
---
Overview
This voyage explores the history, culture, and influence of Portugal, from the mainland to its verdant volcanic islands in the Atlantic. Our route offers a mix of cities, villages, UNESCO World Heritage sites, and natural beauty, including gems like Madeira and the isolated, golden beaches of Porto Santo.
Departures
Note: Current p/p indicative rate. Final price may change due to currency fluctuations.
Cruise Itinerary
Built on seven hills along the shores of the River Tejo, Lisbon is a legendary city with centuries of history. Take some time to explore the city and experience world famous sites like the Tower of Belém before embarkation.
---
We sail west towards the volcanic archipelago of the Azores. Our expert lecturers will prepare you for the upcoming visit. Take a little time to chat with your fellow travelers or just enjoy the deep relaxation of being at sea.
---
Known as the "green island", São Miguel is the largest of the nine islands, studded with lakes and rolling hills, mountains and green plains. The island's capital is the charming university town of Ponta Delgada.
---
Colours on this island not confined to green vegetation, blue sea and white houses. The breakwater is covered in murals, paintings and ships' names, part of a tradition that holds that good luck will follow sailors who leave their mark before setting off across the Atlantic.
---
Visit lovely and historic Angra do Heroísmo on Terceira Island. Angra was founded in the 15th century, prospering from its location as an ideal trading port.
---
Enjoy another idyllic day at sea, taking in the fresh salt air, relaxing with a drink or a book, and scanning for wildlife in the living ocean.
---
Funchal is a modern, cosmopolitan city that offers inviting cafés, interesting shops, cobblestone streets and a magnificent natural setting to explore.
---
Enjoy a visit to the golden beaches of Porto Santo. The rugged interior of Porto Santo is perfect for exciting excursions, and has much to offer history buffs. After all, a little-known explorer named Christopher Columbus made his home on the island´s capital: Vila Baleira.
---
We sail for Portugal´s mainland. Our lecturers will have many interesting presentations to put your trip in perspective. Enjoy a final chance to relax and reflect with new friends about the adventures of the past weeks.
---
Early risers will be rewarded with a lovely view of Lisbon as we cruise up the Tejo river, ending our journey in the capital of Portugal.
---
Hurtigruten offers unique expedition cruises to some of the most remote and pristine waters of the world. As with all expeditions; nature prevails. Weather, and ice and sea conditions, sets the final framework for all Hurtigruten's operations. Safety and unparalleled guest experiences are at all times our top priorities. All our indicative itineraries are continuously evaluated for adaptions, whether this is due to constraints the elements unexpectedly presents – or exciting possibilities nature and wildlife offer. That is why we call it an expedition.
---
Fridtjof Nansen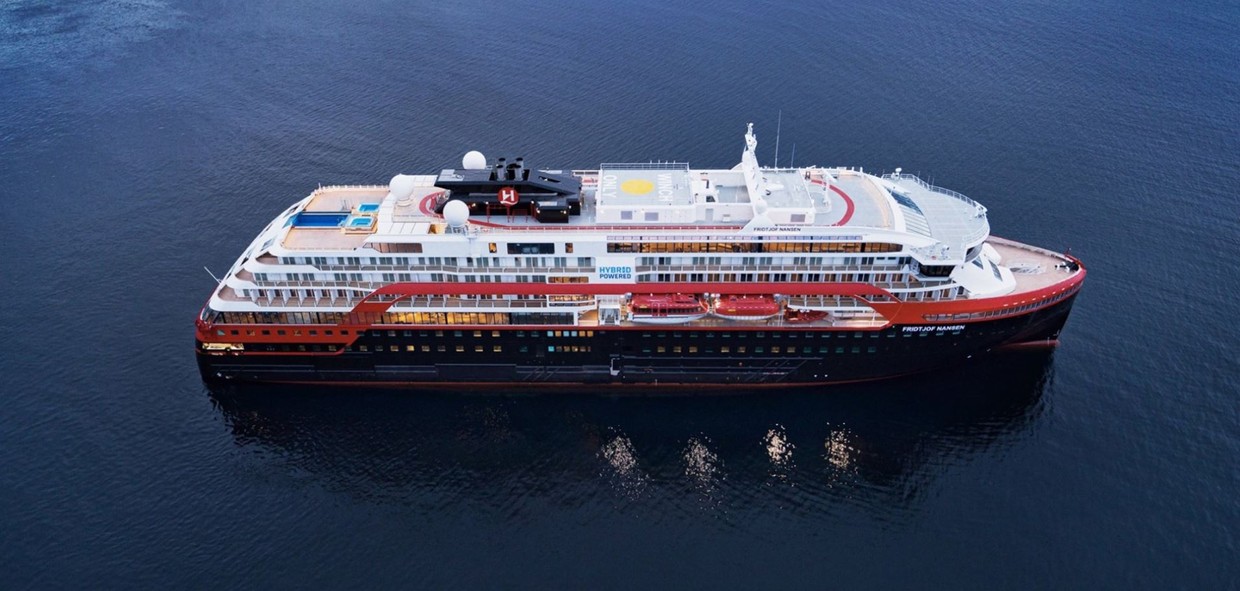 Vessel Type: Expedition Length: 140 m Passenger Capacity: 530 Built: 2020 MS Fridtjof Nansen is the latest addition to Hurtigruten's fleet of custom built ships – and the next generation expedition ship. She will explore some of the most spectacular corners of the globe. Featuring Hurtigruten's revolutionary battery hybrid powered propulsion system, MS Fridtjof Nansen will be a near identical twin to her sister ship MS Roald Amundsen. Combining state of the art technology and premium on board experience with Hurtigruten's 125 years of experience and unparalleled destinations, the two Norwegian built ships introduces the next generation of adventure travel. Cabins and public areas The stunning scenery will be reflected in a rich and comfortable interior design. Scandinavian materials from nature, such as granite, oak, birch and wool will be used to create relaxed and stylish cabins and public areas. All cabins are outside, 50 % will have private balconies, aft suites will feature private outdoor hot tubs with spectacular views. Science Center The core of the onboard experience is the Nansen Science Center, an edutainment venue to guests and crew meet to create a deeper understanding of the areas we explore. Nansen Science Center will also be the on board HQ for the Expedition Team. Restaurants MS Fridtjof Nansen's three restaurants will host a variety of dining options, with menus drawn from our rich Norwegian and Nordic tradition, as well as international cuisine and local inspiration. Whether enjoying your meal at Aune Main Dining, Fredheim – the informal international meeting place, or the specialty restaurant Lindstrøm, you will indulge in low key yet refined, modern Norwegian Nordic cooking – where our honest and delicious cuisine reflects our destinations. After a day of exploring new destinations, guests can relax and rejuvenate in the elegant Explorer Lounge, a large gym and Wellness center, or enjoy the scenery and sunsets on the massive in- and outdoor Observation Decks with the aft infinity pool and hot tubs as one of the highlights. Everything you need for an expedition cruise Each expedition voyage is accompanied by a hand-picked team of specialists and modern-day explorers. Highly experienced, passionate and knowledgeable, the Expedition Team will be your guides and guardians on your voyage of exploration, instructing you on safety, sustainability and science. MS Fridtjof Nansen will feature a variety of custom built expedition equipment, including kayaks, a fleet of Blueye underwater drones and Expedition Boats for safe landings in remote areas. In the footsteps of a great explorer The newest addition to our fleet will honor the heritage of her namesake – the Norwegian explorer, scientist, humanitarian and Nobel Peace Prize laureate Fridtjof Nansen. Known for his innovations in Arctic expeditions, Nansen led the first crossing of Greenland on cross-country skis. He is perhaps most famous for his attempt to reach the geographical North Pole during the Fram Expedition (1893-1896). Interestingly, after Nansen's Fram expedition, the ship was passed on to another great explorer who secretly planned an expedition to the South Pole - Roald Amundsen.
Highlights
• Learn about Portugal's rich and diverse history with our Expedition Team • Explore the lush green volcanic islands of the Azores • Discover the charm of Lisbon, Funchal and Porto Santo • Enjoy a warm and sunny subtropical climate
Map