---
from$ 1782 AUD
---
Note: Current p/p indicative rate. Final price may change due to currency fluctuations.
---
---
Overview
This short itinerary has been specially designed to give travellers a taste of Bengal's rich heritage. Visit the imposing Imambara that overlooks the river; the new ISKCON temple of Mayapur, a vast complex of worship that receives over a million Krishna devotees annually; the intricately carved terracotta Hindu temples of Kalna; and Chandernagore, a charming riverside town that was in French possession until 1950.
Departures
Note: Current p/p indicative rate. Final price may change due to currency fluctuations.
Cruise Itinerary
​ This morning, you will be collected from your hotel to embark the ship by 11 am. Sail upstream past the old Dutch settlement of Chinsura before landing to visit the imposing Imambara at Hooghly. With verses from the Koran written on its walls, the Imambara is an opportunity to step back in time and relive a slice of Islamic history in Bengal. After the visit, reboard your cruise and start sailing, leaving urban sprawl behind.
---
Sail upstream and, after breakfast, land at the country town of Kalna and take cycle rickshaws to see a group of some of Bengal's most attractive terracotta temples, as well as the unique Shiva temple with concentric rings made up of 108 shrinelets. Continue on through the countryside to Mayapur to visit the vast new ISKCON (International Society for Krishna Consciousness) temple which dominates the skyline. As the headquarters of ISKCON or the Hare Krishna movement, the temple receives over a million singing and dancing devotees a year from around the world. Sail downstream as dusk falls to a mooring near Kalna.
---
​ This morning, sail downstream and visit a saree-weaving village before continuing on to Chandernagore, a French possession until 1950, to visit the 18th century church as well as Dupleix's House, the erstwhile Governor-General of French India. Later, sail on down to Kolkata.
---
​ After breakfast, disembark and transfer to airport or hotel at Central Kolkata.
---
While every effort will be made to maintain the itinerary, in view of fluctuating river conditions and navigational or mechanical difficulties, all schedules and itineraries are subject to change without notice.
---
ABN Sukapha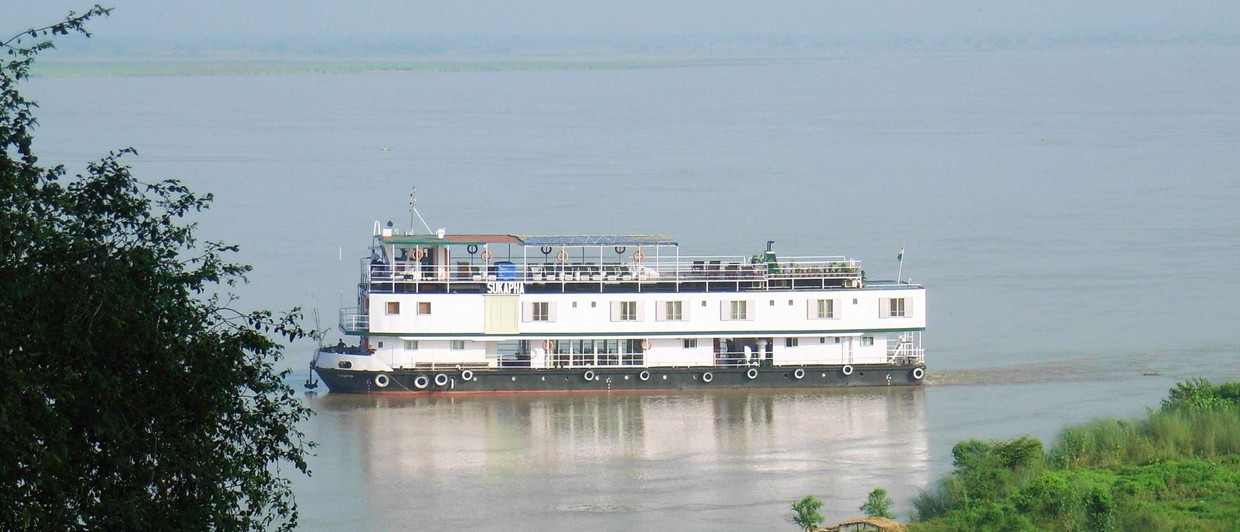 Vessel Type: River Boat Passenger Capacity: 24 With a maximum group size of 24 guests, she was designed to closely resemble ABN Charaidew, both as a result of popular demand and reasons of practicality, retaining many of the features which make our original vessel so popular but adding a small spa. In an effort to conserve India's forests, the interiors are bamboo-paneled, air-conditioned and roomy with en suite bathrooms. There is a spa and a saloon with a library. The dining room is on the main deck and a spacious sundeck at the very top. Fabrics on board have been handwoven by Bodo tribal villagers; the comfortable rattan chairs are locally sourced and made; and our gift shop stocks only arts and crafts made by local artisans. Onboard features * Spacious cabins with individual climate control * En suite shower/WC with Biotique toiletries * Generous cupboard space and under-bed storage * Hair drier in each cabin * High quality linens * Large sliding glass windows offering panoramic views of the river * ​Vast sundeck with sunloungers or steamer chairs * Spacious air-conditioned saloon with library and recorded entertainment * Spa with choice of treatments. Services * Shore excursion programme including all admissions * Naturalist onboard the vessel * Cold towel service after excursions * Welcome drink after excursions * Shoe-cleaning after excursions * Turndown service in all cabins * Expertly trained culinary staff * Single seating for buffet breakfast, lunch and dinner * Acclaimed combination of Indian & Western cuisines * Wide choice of wines, spirits & beer * Complimentary tea, coffee & mineral water throughout * Welcome reception * Farewell reception * Local on-board dance & song performances.
Highlights
• KOLKATA/CALCUTTA - The City of Palaces, Calcutta was the capital of British India for around 150 years, and boasts much superb colonial architecture. It can also claim to be the intellectual capital of modern India, and is a thriving, bustling, colourful and up to date city, with some excellent shops. In the northern suburbs lie the old French, Dutch and Danish colonial enclaves, still retaining a distinctive flavour. ​• KALNA - A pleasant agricultural centre, boasting some of Bengal's finest terracotta temples.
Map