---
from$ 1041 AUD
---
Note: Current p/p indicative rate. Final price may change due to currency fluctuations.
---
---
Overview
These cruises have been designed to be a relaxing interlude during a tour of Myanmar. You will experience the river life and visit villages off of the usual tourist trails adding to your trip an unforgettable experience.
Departures
Note: Current p/p indicative rate. Final price may change due to currency fluctuations.
Cruise Itinerary
The embarkation time is 11.30 hrs at Bagan - Thar Yar Waddy Jetty and cast off after half an hour. TRANSFER : Transfer from airport or hotel to Jetty can be arranged at supplement upon request. Pls note that it takes approximately 30 minuts drive from Airport and Hotel to ship (Thar Yar Waddy Jetty). Please note: We are not able to accept early arrival before 11:30 am. Welcome Cocktail and briefing in the Saloon or Sundeck followed by Lunch. In the late afternoon stop in a typical river village
---
Cruise all day with stop enroute in the morning to visit Yandabo, a typical river village specializing in Pot-Making, where the peace treaty of the First Anglo-Burmese war was signed on Feb. 24, 1826. We visit the Pot workshops and the monastery. Moor overnight nearby a village (Ywar Thit Gyi or Pauk Myaing Pauk Taw) few miles away from Ava Bridge
---
Enjoy the sunrise. After an early breakfast, the passengers will disembark at Sagaing Jetty (Thursday only) or Gawein jetty (Sunday Only) at around 09.30hrs. TRANSFER : Transfer to the Mandalay Int'l Airport or hotel in Mandalay can be arranged at supplement upon request. Pls take note that it takes around 1 hr drive for transfer from ship (Sagaing) to Mandalay Int'l Airport or hotel in Mandalay. It takes approximately 1 hr drive for transfer from ship (Gawein) to Mandalay Int'l Airport and 30 minuts to hotel in Mandalay.
---
Itineraries are subject to change.
---
Paukan 2012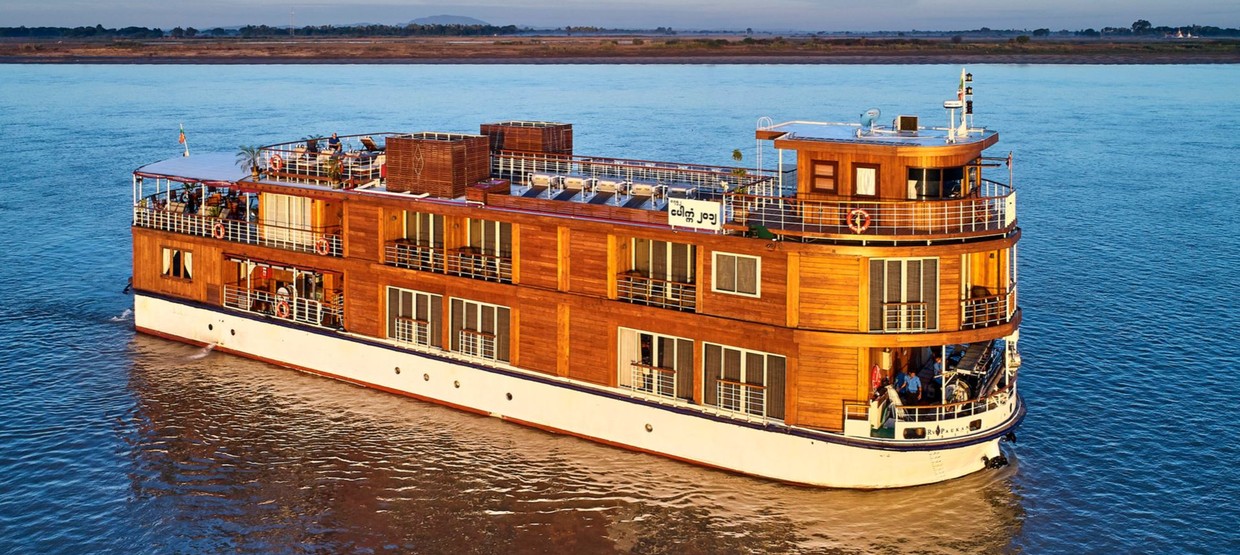 Vessel Type: River Cruise Length: 10 metres Passenger Capacity: 34 Built: 2011/2012 The latest member of the Paukan Cruises family under the management of the Ayravata Cruise Company is the RV Paukan 2012 which was launched in September of 2012. She was 'born' in the well-known Ahlone Ship Yards on the banks of the Yangon River, where men with decades-long experience started work on her in 2011. Captain Michael Symes of His Britannic Majesty's 7th Regiment who saw the shipyards in 1795 noted the Yangon River as "the most favourable river in the world for naval architecture". The 200 years-old tradition of excellent craftsmanship still exists in this workplace and a sister vessel, the RV Paukan, was also 'born' here in 2007. RV Paukan 2012 is slightly smaller than this older sister and is in the same genre of a floating boutique hotel of timeless elegance. Paukan 2012 is a gem of a vessel, a compact but elegant vessel made of teak with a hull of marine steel. The walls and floors are of timber with each plank carefully chosen to showoff the beautiful grain. The décor is modern chic, with a touch of Myanmar culture through a few traditional motifs, wooden figures, fabrics and paintings. There are 18 cabins, twin and double, with attached bathrooms for a total of 34 passengers. . . The price is inclusive of transfer between the ship and airport, all meals, sightseeing tours and entrance fees at monuments. All the cabins are nicely decorated and comfortable with ensuite bathrooms. The most beautiful cabins are the two 'Premier' on the upper deck, each with French windows on two sides, leading out to a spacious balcony. The six Double Deluxe cabins on the upper deck have a balcony and French window, as do the eight Twin Deluxe cabins on the main deck. With the drapes pulled aside, there lay in front of your eyes the amazing the view of the river as it changes moods during different times of the day. There are also two single cabins on the upper deck. The dining room with a capacity for 34 is a spacious hall on the main deck where evety morning a lavish and scrumptious breakfast buffet is served. The other meals are prepared with loving care for freshness and incredible tastes by experienced chefs. If you are a vegetarian, inform the steward in advance. The lounge on the upper deck seats 16 and the open deck with a wellstocked bar leading out from it seats 15. It is the perfect place to make new friends or to hold a party, if you are already with friends. In fact, a cruise on the Paukan 2012 is a perfect way to celebrate a special moment in your life, surrounded by friends. The lounge is arranged and decorated tastefully with comfortable chairs, for groups of several people or in a more intimate setting. The solarium on the roof deck is the best place to enjoy an evening drink as the sun sets with a backdrop of the sky's spectacular display of colours.
Highlights
• Explore Bagan • Visit Yandabo • Discover Mandalay
Map