---
from
---
Note: Current p/p indicative rate. Final price may change due to currency fluctuations.
City
Valparaíso to Guayaquil
---
---
Overview
From UNESCO-listed Valparaíso, we'll journey north up the Chilean coast, first to laidback La Serena, then to Pan de Azucar National Park. Antofagasta is a booming mining city while Iquique is the place for sea, sand, and surf. Next it's Lima, the capital of Peru, then the ancient ruins around Trujillo, before ending the trip in Guayaquil, Ecuador.
Departures
Note: Current p/p indicative rate. Final price may change due to currency fluctuations.
Cruise Itinerary
Your ship MS Fram awaits you in the seaport of Valparaíso in central Chile. Built on steep hillsides overlooking the ocean, the UNESCO-protected city is a maze of monuments, churches, historical funicular lifts, cobblestone alleys and charming plazas. Arrive early and explore more of 'Valpo' or join our Pre-Programme to the Atacama Desert.
---
La Serena is Chile's second-oldest city, blessed with beautiful sandy beaches along Avenida del Mar. Stroll through manicured public gardens or shop for arts and crafts at Recova Market. The city's many churches can be distinguished by their different styles of belfries, giving rise to La Serena's nickname as 'The City of Church Belfries'.
---
Rarely visited by tourists, this is a more traditional Chilean city with no high rise buildings. Next door is Pan de Azucar National Park, a coastal desert home to animals such as the marine otter, South American sea lion, and Peruvian pelican. Nearby Isla Pan dé Azúcar is a breeding ground for Humbolt penguins, which we hope to observe from the ship.
---
Antofagasta has grown into Chile's third largest city, earning its credit as 'The Pearl of the North'. Sit back in the old-fashioned plaza or admire the Victorian and Georgian buildings of Barrio Histórico. Join an optional excursion to see La Portada, a natural white arch off the coast, or visit one of the small fishing towns.
---
Welcome to a slice of paradise by the Pacific, complete with palm trees and promenades. Walk along the beachfront boardwalk, shop in the duty-free zone, or sip on traditional mango sours in the many restaurants and chic cafés. We also offer excursions to the Atacama Desert and the UNESCO-listed ghost town of Humberstone.
---
Spend time on deck and enjoy the serenity of sea days. Our experienced lecturers share their extensive knowledge and lead you on deck to help spot marine wildlife and sea birds.
---
We dock in Callao and travel a short distance to Lima, Peru's vibrant capital. From Plaza Mayor, stroll around the UNESCO-listed Historic Center, admiring the architecture of colonial cathedrals and Baroque buildings. Whether walking the spacious parks or enjoying top cuisine, you'll understand why the city was once known as 'The City of Kings'.
---
Next is the port of Salaverry, the starting point for two optional excursions. Visit the UNESCO World Cultural Heritage site of Chan Chan (`Sun Sun´) to see the mud-brick ruins of the ancient Chimú kingdom. Or tour the Mochican temples of the Sun and Moon, the former being the largest adobe pyramid in Peru.
---
Enjoy your last sea day and spend it at your leisure. Take advantage of the many onboard facilities, relax, or join in on lectures as we recap our voyage.
---
Your journey ends in this sprawling city, the largest in Ecuador. High-rise buildings line the Guayas river while colourful favelas blanket the hillsides. Visit Malecón 2000, the riverfront town square before posing with tame iganuas in the local park. Extend your adventure by adding a Post-Programme to mystic Machu Picchu or the amazing Galápagos Islands.
---
Hurtigruten offers unique expedition cruises to some of the most remote and pristine waters of the world. As with all expeditions; nature prevails. Weather, and ice and sea conditions, sets the final framework for all Hurtigruten's operations. Safety and unparalleled guest experiences are at all times our top priorities. All our indicative itineraries are continuously evaluated for adaptions, whether this is due to constraints the elements unexpectedly presents – or exciting possibilities nature and wildlife offer. That is why we call it an expedition.
---
Fram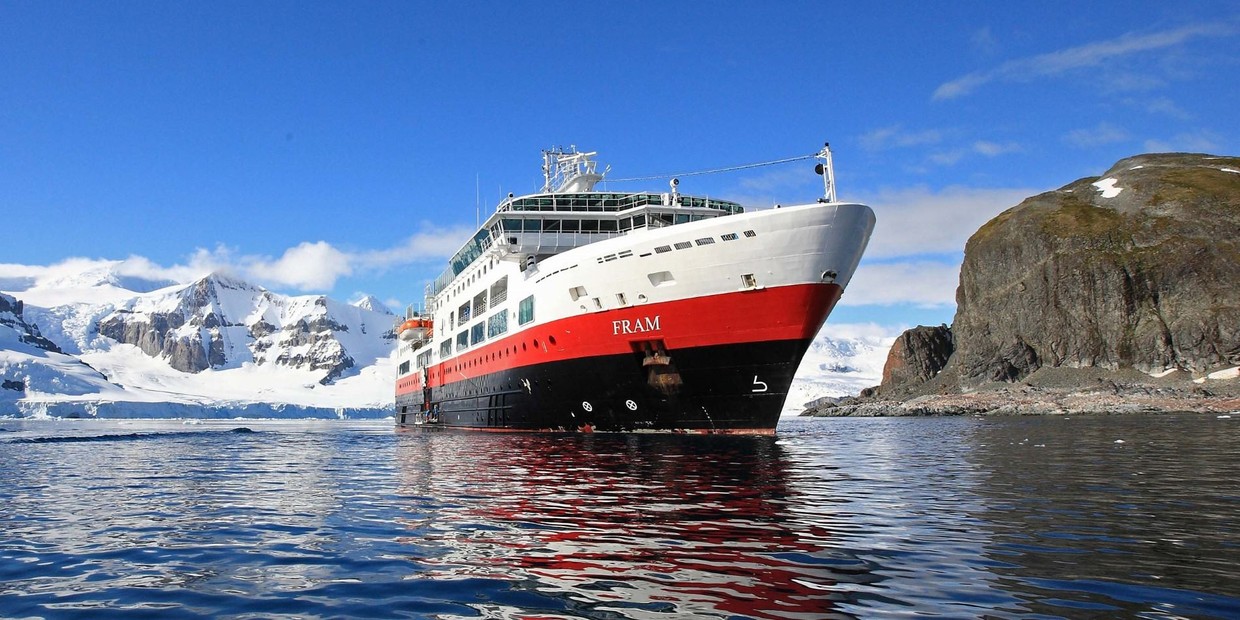 Vessel Type: Expedition Length: 114m Passenger Capacity: 276 Built: 2007 MS Fram is designed for sailing in polar waters, holds the highest safety standards and is the perfect size for optimum nautical manoeuverability and guests' comfort. With space for only 276 guests, you are sure to get to know many of your fellow travellers. You will share stunning sights and memories of a lifetime long after returning home. The Norwegian word Fram means 'forward' – lifting expectations of the voyage at hand. MS Fram was built in 2007 with one mission in mind - to bring her guests closer to nature, wildlife and unforgettable experiences. As well as offering numerous lounges in which to relax, our more active guests can use our well-equipped gym. Meanwhile, on deck, our Jacuzzis guarantee you surreal memories when passing the towering icebergs of Antarctica or Greenland.
Highlights
• See different cities along South America´s Pacific Coast, each with their own character • Learn the distinct culture and history of three countries: Chile, Peru, and Ecuador • Explore UNESCO World Heritage Sites famous for archaeology or colonial architecture • Spot wildlife such as whales, penguins, iguana, sea lion, and a range of seabirds
Map