---
from$ 5695 USD
City
Ushuaia to Valparaiso
---
---
Overview
We make our way north through a vast network of deep fjords and channels, occasionally venturing out to the Pacific Ocean as we navigate towards Valparaiso – Chile's historic deep-sea port.
Departures
Cruise Itinerary
Our journey through Chile's spectacular fjord region commences this afternoon in Ushuaia (Argentina). Excitement is in the air as we enjoy a welcome cocktail and dinner before casting off, bound for the stunning landscapes of Patagonia, rugged coastal Chile and historic city of Valparaiso.
---
During the night we have sailed in a westerly direction along the Beagle Channel, which separates Argentina from neighbouring Chile. This morning we enter Garibaldi Fjord, where two glaciers rise up towards a stunning mountain backdrop. We take to the Zodiacs for the first time and explore them from a safe distance. In the afternoon, we arrive at Alberto de Agostino National Park
---
The most famous of Alberto de Agostino National Park's glaciers is the impressive tidewater Marinelli Glacier. This huge, crevasse-covered ice field spills from the Darwin Mountain range into Ainsworth Bay. From a distance, the glacier can be heard creaking and groaning, and large icebergs that have calved from its face brood silently in the dark waters.
---
This morning we make our way ashore by Zodiac boat to explore the promontory of Punta Santa Ana, where the historic 'Fuerte Bulnes' (Fort Bulnes) is located. We explore the grounds and visit the small church, barracks, powder magazine and log cabins.
---
Today we cruise north along the rugged Chilean coastline. Forested mountains, snow-capped peaks, waterfalls and glaciers continue for mile after mile.
---
For many, today's excursion to Torres del Paine National Park is one of the highlights of the trip. This iconic location boasts some of the most stunning mountain scenery in the world, with the celebrated 'towers' (from which the park gets its name) looming above the surrounding plateau and glacier-fed lake systems. Powerful waterfalls surge through narrow channels between the lakes, and there are some excellent short hikes to lookouts and viewpoints, providing jaw-dropping views of the immense massif.
---
We will the transit of White Narrows – a channel of water just 80 meters wide. No doubt everyone will be on the outer decks as the Captain skillfully steers us through this challenging passage. The Bernal Glacier is a particular highlight and provides a textbook lesson in glaciology, featuring a large moraine, pushed forward by actions of the moving ice.
---
Navigating into Eyre fjord, the vast sweep of the Brüggen Glacier comes into view. Often called the 'Pio XI', at almost 60 kilometres in length it is the largest glacier in the southern hemisphere outside Antarctica. In the afternoon we sail into the Messier Channel that separates continental South America from Wellington Island.
---
After several days immersed in the glacial systems, fjords and forests, today we visit the small outpost of Caleta Tortel. Situated on a steep escarpment, the village has no roads but is instead connected via a series of wooden walkways that link houses to town services. Most residences have jetties as boats are virtually the only mode of transport.
---
We continue our journey north, leaving the fjords and entering the Pacific Ocean. We sometimes encounter migrating whales that use the Humboldt current as an oceanic conveyor belt.
---
This morning we are in position close to the town of Castro – the provincial capital of the island of Chiloé. The town was founded in 1567 and is the third oldest city in Chile. We make our way ashore and are immediately struck by the colourful houses built on stilts around the harbour. Known as 'palafitos', they are simple homes built by local fisherman. The local markets are a highlight and showcase some of the most impressive crafts and textiles in the country. Reboarding the ship in the afternoon we hug the coastline, hoping to see the snow-capped summits of the numerous volcanoes that characterise this region
---
Located 35 kilometres off the coast of mainland Chile, the remote outcrop of Mocha Island is an important historic site. Inhabited for centuries by the indigenous Mapuche tribe, Europeans first discovered it in the mid-15th century. The island was frequented by pirates, as well as Sir Francis Drake, and legend has it that more than 100 shipwrecks lie in the surrounding waters. Weather conditions permitting, we head ashore where there are several hiking options. We hope to spot the resident sea lions and may be lucky to encounter whales. The rare Pink-footed shearwater can be also found on the island, nesting in burrows on the forested slopes
---
As we make our way towards the historic port of Valparaiso, the educational presentations continue and we enjoy an entertaining voyage recap by our Expedition Leader. Join our photography expert in the multimedia room, where you can download and/or back up your precious images. Or spend time outside on the observation decks, in our spacious lounges or on the bridge.
---
This morning we arrive at Valparaiso. A transfer to downtown Santiago, via Santiago Airport, is provided for all guests, however Valparaiso is well worth a day or two of exploration if your schedule allows.
---
RCGS Resolute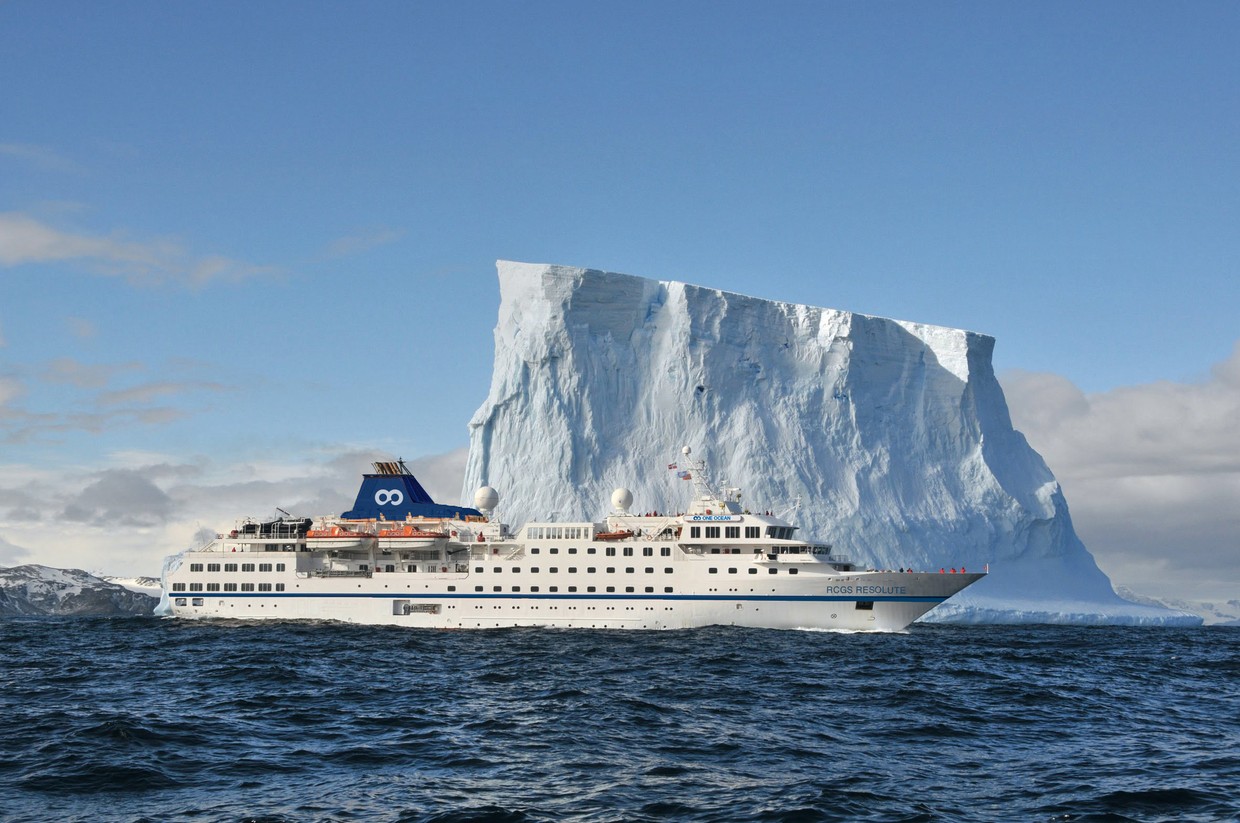 Vessel Type: Polar Expedition Vessel Passenger Capacity: 146 Built: 1993 Named after the HMS Resolute, a British Royal Navy Arctic exploration vessel, as well as the Inuit town of Resolute in Canada's Nunavut Territory, RCGS Resolute will arrive in Canada in November 2018 for its inaugural polar voyage. RCGS Resolute also carries the name of The Royal Canadian Geographical Society (RCGS), since we are exclusive education, environmental science, and expedition partners in Canada's north. This longstanding partnership works to the benefit of our guests, who have the opportunity to learn from and interact with world-renowned educators, researchers, naturalists, marine biologists, artists, historians and photographers. With an unsurpassed ice classification, a proven track record for stability and safety, large indoor and outdoor viewing platforms, and exceptional maneuverability, RCGS Resolute is ideally equipped to guide guests through the world's most pristine regions, further expanding our expertise in exploration and discovery. RCGS Resolute will carry a maximum of 146 passengers in unparalleled comfort, with an array of luxury amenities, educational opportunities and activities tailored to guests' particular interests, and individual, personalized service. Superb Design and Layout Throughout the ship there are spaces ideally suited to every need. Spacious outer decks provide 360 degree viewing platforms perfect for photography, wildlife watching, birding and appreciating expansive views. The salt water plunge pool, large relaxation deck, hot water jacuzzi are all located aft of the wellness centre (massage therapy, Finnish Sauna, steam room) and well equipped gymnasium. Inside there are multiple areas to explore ranging from our well appointed theatre style presentation room, aft observation lounge and bar, forward observation lounge and bar, and both dining rooms. Add in the One Ocean Expeditions multimedia room, and mobile laboratory and the opportunities are endless. Six Different Cabin Categories All cabins feature outside viewing ranging from deck three traditional with port holes, up to decks 4 through 6 offering expansive panoramic windows. Cabins all have lower berths that have the ability to be single beds, or 1 double bed depending on our guests needs. Extensive renovations have provided new carpets, high quality cabinetry with soft close drawers, contemporary and spacious bathroom design, all paired with soft accent lighting offering options dependant on our guests daily activities and mood. All cabins offer modern sectional lounge quarters, providing a quiet nook to read or catch up on journalling. Space is exceptional as each cabin offers 22M squared living space, whilst the One Ocean Suites are absolutely palatial offering 44M squared with enough room to entertain or do back - flips (your choice)! Enjoy Great Dining? So do we At One Ocean Expeditions, the priority is on the expedition. However with every activity, option, event, or excursion we find we build up incredible appetites to indulge in superb and extensive menu options. Our bistro dining room provides early birds the option to get their social caffeine or smoothy start to the day, accompanied by light breakfast style snacks. Full meal service includes buffet breakfast and lunches incorporating an international flare. For those with special dietary requirements - no problem, we can accommodate that too. Dinner is a great opportunity to catch up about the day's events, as well as look to where we expect to explore next. Five course menu options are offered a la carte, and seating is open in our business casual dining room featuring 180 degree sweeping views. There's also an excellent wine list featuring a range of international wines and other beverages of choice. Join us on the Bridge There is an open-bridge policy and guests are welcome to meet the navigating crew at virtually any time of day; there's always something to learn from the officers on watch and the bridge is one of the best places on the ship for spotting whales and sea birds. The bridge is closed during times of tricky navigation, pilotage, or weather. Operational Safety There are no compromises here. The expedition staff and crew onboard RCGS Resolute have the deepest respect for changeable weather in the polar regions and the varying sea and ice conditions. That respect is apparent in every decision made throughout the voyage. The ship carries the most extensive inventory of safety equipment on all excursions and require leaders to undergo vigorous and effective safety training programs. Your expedition team are well prepared, so you can relax and enjoy your voyage.
Highlights
• Discover the dramatic fjords, glaciers and peaks of southern Chile. • Explore the most famous of Alberto de Agostino National Park's glaciers - the impressive tidewater Marinelli Glacier. • Visit Torres del Paine National Park.