---
from$ 8668 AUD
---
Note: Current p/p indicative rate. Final price may change due to currency fluctuations.
City
Ushuaia to Valparaiso
---
---
Overview
The vast Patagonian ice-sheet that straddles the Andes mountains in South America is the third largest ice-mass on the planet, after Antarctica and the Greenland icecap. It is a remnant of the Earth's most recent ice age and dominates the landscape, ecology and geology of Patagonia. Immense glacial systems cut through towering mountains as they move inexorably towards the sea. Take a look at any map of the region and this action becomes immediately apparent, in the maze of fjords and islands that make up one of the planet's last great remaining wilderness regions. Ancient boreal forests also tell a story of an evolving planet and the supercontinent of Gondwanaland. They are home to several species of flora only found in South America, New Zealand, and Australia's most southerly state, Tasmania. Commencing in Ushuaia, we make our way north through a vast network of deep fjords and channels, occasionally venturing out to the Pacific Ocean as we navigate towards Valparaiso – Chile's historic deep-sea port. We explore our surroundings by Zodiac boat, approaching huge glaciers and observing resident and migratory wildlife and birdlife. On shore, we enjoy hikes of varying durations to outstanding viewpoints, in the company of expert guides. In addition, visits to small coastal communities showcase the unique way of life of the local people – telling a story of both indigenous and European settlement. It is hard to think of a more remote, pristine location and we'll discover it all in the comfort of one of the world's most capable expedition ships, RCGS Resolute.
Departures
Note: Current p/p indicative rate. Final price may change due to currency fluctuations.
Cruise Itinerary
We gather at our central meeting point then transfer to the pier for embarkation. Excitement is in the air as we enjoy a welcome cocktail and dinner before casting off, bound for the stunning landscapes of Patagonia, rugged coastal Chile and historic city of Valparaiso.
---
Our journey is now well under way. Through the night we sailed south through the Wollaston Islands and down to the notorious Cape Horn headland on Horonos Island – one of the most southern points of Chile and the northern boundary of the Drake Passage. Prior to the opening of the Panama Canal in 1914, Cape Horn was part of a key world trade route (the Clipper route) and today rounding Cape Horn is a bucket list item for many recreational sailors. Weather and sea permitting, we'll go ashore to explore the rugged landscape, lighthouse and chapel found on Horonos Island.
---
We have rounded Cape Horn and during the night we sailed in a north westerly direction back into the Beagle Channel, which separates Argentina from neighbouring Chile, and into Alberto de Agostini National Park, designated as a UNESCO Biosphere Reserve due to its large tracts of ancient sub-Antarctic forest systems. Naturalists believe these forests started growing around 10,000 years ago. At the break of dawn, we'll find ourselves at the opening of the Pia and Garabaldi fjords. Our Fjord and glacier of choice will depend on current sea and tidal conditions. We plan to head to shore for the first time, with the option of taking a short but steep hike up to find panoramic views of either of the glaciers. We also plan to explore either of the massive glaciers and near-by waterfalls here by Zodiac. Resident wildlife in the Beagle Channel includes the South American sea lion and several species of birds, including Magellanic penguins and albatross.
---
Sailing through the night, by morning we have rounded the western tip of the great isle of Tierra del Fuego. We take in views of the ice-capped peaks of the Darwin Range as we enter remote D'Agostini Sound. Here, the Dainelli and Serrano Glaciers, along with several others, cascade into the sea. Our captain will assess current ice and weather conditions to determine where we can land to explore from shore.
---
We arrive at Cabo San Isidro, on the north shore of the Magellan Strait, and site of the southernmost lighthouse on the continent. This is our opportunity to enter the normally impenetrable Magellanic southern beech forests. A hiking trail follows the shoreline, passing shell middens left by the indigenous Kawéskar people, leading from Aguila Bay, a site of an important whaling station over a century ago. Wildlife watchers will appreciate the variety of forest birds, and the viewpoint above the bay where dolphins are often observed swimming in the kelp beds below.
---
We cruise through the maze of channels that form Chile's inside Passage, gradually making our way northward. We exit the Strait of Magellan and soon find ourselves in the Smyth Canal along the east coast Manual Rodrigues Island – named after the guerilla leader and arguably one of the founders of independent Chile – home to a large section of the Alacalufes National Reserve. As we explore this rugged area keep a look out for Chilean dolphins, whales and sea lions, as well as White-Crested Elaenias, Southern Churríns, Southern Crested Caracara and the Magellanic Woodpecker. Conditions permitting we will land for a shore excursion before returning to the ship for dinner. Over dinner and through the night we continue to sail through the Smyth Channel towards Peel Fjord.
---
In a trip full of superlatives and highlights, today may well be near the top. Navigating into Peel Fjord, we make our way towards the impressive glaciers of this region. If you're on the outer decks for a morning coffee or photography session you may hear what sounds to be thunder - a noise stemming from glacier movement and breakage known as calving. After breakfast we'll make our way onto the water where, from the low vantage point of our Zodiacs or Kayaks, the sheer scale of the glacier faces is an experience you won't forget. Be on the lookout for wildlife such as South American Sea Lions, Rock Cormorants, and Andean Condors.
---
Navigating into Eyre fjord, the vast sweep of the Brüggen Glacier comes into view. Often called the 'Pio XI', at almost 60 kilometres in length it is the largest glacier in the Southern Hemisphere outside of Antarctica. It rises almost 70 metres above the surface of the water and is a staggering 4 kilometres wide. In the afternoon, we put on our expedition gear to explore the seldom visited Falcon Fjord.
---
We awaken off the shores of Wellington Island, outside one of the most remote inhabited places in the world. The tiny indigenous village of Puerto Edén is home to the last remaining Kawéskar people. A visit to shore allows us to explore the village and to potentially purchase local handicrafts including baskets and models of bark canoes reflecting the Kawéskar's paddling heritage. In the afternoon, we sail north along Messier Channel, now leaving the Patagonian fjords to voyage over the open sea, rounding the Taitao Peninsula by night.
---
Throughout the day our onboard experts educate us with a series of presentations about the environment, wildlife and history of this stunning region. Take some time to relax in the wellness centre, pool or stroll around the decks. Our open bridge policy means that you can join the ship's Captain and learn about the operations of our modern expedition vessel.
---
We have moved to milder climates and are now in position close to the town of Castro – the provincial capital of the island of Chiloé. The town was founded in 1567 and is the third oldest city in Chile. Today it is known for its elaborate churches, made entirely of wood, which have earned it a designation as a UNESCO World Heritage Site. We make our way ashore and are immediately struck by the colourful houses built on stilts around the harbour. Known as 'palafitos', they are simple homes built by local fisherman. The local markets are a highlight and showcase some of the most impressive crafts and textiles in the country. Reboarding the ship in the afternoon, we hug the coastline, hoping to see the snow-capped summits of the many active volcanoes that characterize this region.
---
Located at the mouth of the Valdivia River, Niebla is an intriguing coastal town with rich history, inhabited for centuries by the indigenous Mapuche tribe. Europeans first discovered it in the mid-15th century. Take in the historical remains of Fuerte de Niebla – part of an important fort system established by the conquering Spanish army to protect the estuary of the Valdivia River – and immerse yourself in the exhibitions at the Casa del Castellano museum. Unwind before the day is done by taking stroll along one of the outstanding nearby beaches and enjoy the sand, cliffs, and rock formations that scatter the coastline.
---
As we make our way towards the historic port of Valparaiso, the educational presentations continue and we enjoy an entertaining voyage recap by our Expedition Leader. Join our photography expert in the multimedia room, where you can download and/or back up your precious images. Or spend time outside on the observation decks, in our spacious lounges or on the bridge. It's a fitting time to reflect on a wonderful expedition. This evening we enjoy a special dinner attended by the Captain of the ship.
---
This morning we arrive at Valparaiso, the principal deep water port for Santiago, around 100 kilometres inland from the coast. After breakfast it is time to say farewell to your crew and fellow travellers as we disembark RCGS Resolute. A transfer to downtown Santiago, via Santiago Airport, is provided for all guests, however Valparaiso is well worth a day or two of exploration if your schedule allows. Ride the historic funicular railways that still operate around the city and enjoy the bohemian atmosphere. Or spend some time exploring the celebrated Casablanca wine region located nearby.
---
Itineraries are subject to change.
---
RCGS Resolute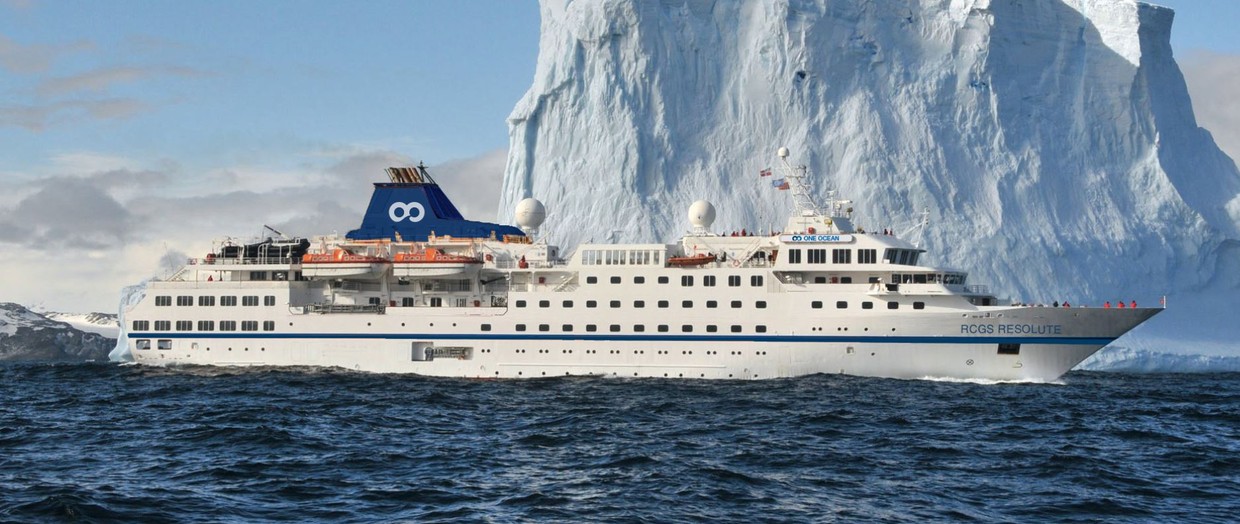 Vessel Type: Polar Expedition Vessel Passenger Capacity: 146 Built: 1993 Named after the HMS Resolute, a British Royal Navy Arctic exploration vessel, as well as the Inuit town of Resolute in Canada's Nunavut Territory, RCGS Resolute will arrive in Canada in November 2018 for its inaugural polar voyage. RCGS Resolute also carries the name of The Royal Canadian Geographical Society (RCGS), since we are exclusive education, environmental science, and expedition partners in Canada's north. This longstanding partnership works to the benefit of our guests, who have the opportunity to learn from and interact with world-renowned educators, researchers, naturalists, marine biologists, artists, historians and photographers. With an unsurpassed ice classification, a proven track record for stability and safety, large indoor and outdoor viewing platforms, and exceptional maneuverability, RCGS Resolute is ideally equipped to guide guests through the world's most pristine regions, further expanding our expertise in exploration and discovery. RCGS Resolute will carry a maximum of 146 passengers in unparalleled comfort, with an array of luxury amenities, educational opportunities and activities tailored to guests' particular interests, and individual, personalized service. Superb Design and Layout. Throughout the ship there are spaces ideally suited to every need. Spacious outer decks provide 360 degree viewing platforms perfect for photography, wildlife watching, birding and appreciating expansive views. The salt water plunge pool, large relaxation deck, hot water jacuzzi are all located aft of the wellness centre (massage therapy, Finnish Sauna, steam room) and well equipped gymnasium. Inside there are multiple areas to explore ranging from our well appointed theatre style presentation room, aft observation lounge and bar, forward observation lounge and bar, and both dining rooms. Add in the One Ocean Expeditions multimedia room, and mobile laboratory and the opportunities are endless. Six Different Cabin Categories. All cabins feature outside viewing ranging from deck three traditional with port holes, up to decks 4 through 6 offering expansive panoramic windows. Cabins all have lower berths that have the ability to be single beds, or 1 double bed depending on our guests needs. Extensive renovations have provided new carpets, high quality cabinetry with soft close drawers, contemporary and spacious bathroom design, all paired with soft accent lighting offering options dependant on our guests daily activities and mood. All cabins offer modern sectional lounge quarters, providing a quiet nook to read or catch up on journalling. Space is exceptional as each cabin offers 22M squared living space, whilst the One Ocean Suites are absolutely palatial offering 44M squared with enough room to entertain or do back - flips (your choice)! Enjoy Great Dining? So do we. At One Ocean Expeditions, the priority is on the expedition. However with every activity, option, event, or excursion we find we build up incredible appetites to indulge in superb and extensive menu options. Our bistro dining room provides early birds the option to get their social caffeine or smoothy start to the day, accompanied by light breakfast style snacks. Full meal service includes buffet breakfast and lunches incorporating an international flare. For those with special dietary requirements - no problem, we can accommodate that too. Dinner is a great opportunity to catch up about the day's events, as well as look to where we expect to explore next. Five course menu options are offered a la carte, and seating is open in our business casual dining room featuring 180 degree sweeping views. There's also an excellent wine list featuring a range of international wines and other beverages of choice. Join us on the Bridge. There is an open-bridge policy and guests are welcome to meet the navigating crew at virtually any time of day; there's always something to learn from the officers on watch and the bridge is one of the best places on the ship for spotting whales and sea birds. The bridge is closed during times of tricky navigation, pilotage, or weather. Operational Safety. There are no compromises here. The expedition staff and crew onboard RCGS Resolute have the deepest respect for changeable weather in the polar regions and the varying sea and ice conditions. That respect is apparent in every decision made throughout the voyage. The ship carries the most extensive inventory of safety equipment on all excursions and require leaders to undergo vigorous and effective safety training programs. Your expedition team are well prepared, so you can relax and enjoy your voyage.
Highlights
• Learn about the environment, glacial systems, history and ecology from experts • Visit historic sites, local communities and experience rural Chilean culture • Experience some of the most remote and pristine wilderness areas on Earth • Observe resident and migrating wildlife on shore, in Zodiacs and from the ship
Map