---
from$ 10458 AUD
---
Note: Current p/p indicative rate. Final price may change due to currency fluctuations.
City
Dar es Salaam to Mauritius
---
---
Overview
Celebrate Christmas and start the New Year with a voyage aboard the MS Serenissima in the warm waters of the Indian Ocean, discovering some of the most beautiful tropical islands on earth. Our two week journey combines some fascinating and exotic calls in Tanzania with stunning islands in the Seychelles along with the natural wonders of Madagascar. We know the region well having operated vessels there for the past twenty five years and if ever there was a region perfect for expedition cruising it is here, a timeless world of wonders both below and above the water. Our itinerary is perfectly suited to the MS Serenissima, her small size allowing us access to isolated ports and islands that are off limits to large cruise ships, and with our fleet of Zodiac landing craft we can reach the unreachable, landing on remote beaches, walking through verdant rainforest and national parks and getting close to some unique flora and fauna. Your experience will be made all the more memorable by our expert crew and officers who, along with our expedition team of marine biologists, ornithologists and botanists have many years of experience in the Indian Ocean.
Departures
Note: Current p/p indicative rate. Final price may change due to currency fluctuations.
Cruise Itinerary
Arrive today and make your way to MS Serenissima. Enjoy Welcome Drinks and Dinner as we sail tonight.
---
Here the colourful harbour will be crowded with dhows, very much setting the scene for our visit to the Arab style city with its long narrow streets, bazaars, houses with overhanging balconies and intricately carved doorways. Out of town there are magnificent brilliant white sandy beaches and lush vegetation with plantations of cloves, cinnamon, vanilla and nutmeg which fill the air with heady aromas. On a morning tour, soak up the timeless atmosphere of Stone Town including Livingstone House, Sultan's Palace, the slave market and the old Fort. The afternoon is free to relax and explore independently or join a tour to a spice farm to experience the various fruits and spices cultivated on the island where you will find everything from jackfruit to coconuts, turmeric and vanilla to lipstick trees. Alternatively, you may choose to join a tour to the Jozani Forest which sustains a variety of wildlife and birds, including the rare Red Colobus Monkey, indigenous to the island.
---
Our last call in Tanzania will be at Kilwa Kisiwani, a site of exceptional historical interest, whose atmospheric ruins represent a wide sweep of East African coastal history, from the heights of the Swahili and Shirazi trading civilisation, to the darker days of slavery and the uprisings against German rule. Once one of Africa's wealthiest towns, Kilwa Kisiwani is now a UNESCO World Heritage Site, and contains the world's most extensive and best-preserved Swahili ruins. After a morning at sea we have an afternoon walking tour we will see the prominent fort and the Great Mosque which stood at the heart of the ancient city and was once the largest in East Africa. Return to the ship for dinner as we sail this evening.
---
Enjoy Christmas Day sailing across to the Seychelles. Our lecture programme will continue in the lounge or you may prefer to spend some time on deck. Tonight we enjoy Christmas dinner on board.
---
We have three days to enjoy the Aldabra group of islands and our itinerary will be in the hands of our Expedition Leader and Captain who will monitor the local conditions to ensure we maximise our time here. Whilst our itinerary is flexible we will hope to call at the island of Assumption which was ruthlessly plundered for its vast deposits of guano in the early 20th century. Happily, peace has returned and the wildlife of rare birds and green turtles are once again in abundance. Our time here will be spent beachcombing, on a nature walk or snorkelling. We also hope to reach Cosmoledo where a huge ring of twelve islands circle a lagoon. Many of the atolls are still to be surveyed and we will explore some of them by Zodiac. This is an important bird area with all three species of booby found in the Seychelles including the last breeding site for the brown booby. Also spot sooty terns and great frigate birds. We may also spot the green turtles, skinks and the Madagascar banded lizard. We will also spend time on Aldabra, the island referred to by Sir Julian Huxley as "One of nature's treasures and should belong to the whole world". Aldabra is unique and every time we call at what is believed to be the world's largest atoll we find something new of interest. Sightings have been made of the extremely rare white throated rail and the atoll is also home to the world's second largest colony of frigate birds and to the largest crab, the coconut crab. Whilst exploring by Zodiac it is difficult to know in which direction to look. The clear blue seas abound with life, the skies are alive with varied birdlife and ashore giant land tortoises forage as they have done for millions of years. We hope to explore Picard Island with a short walk to see some of the thousands of tortoises and numerous robber crabs or swim in the lagoon, a vast 17 mile stretch of shallow clear water. From our Zodiacs we can watch the ever-changing undersea world and snorkel in colourful coral waters.
---
After a morning at sea we will anchor off Farquhar over lunch where we will use our Zodiacs to explore the sparkling lagoon of this remote atoll ringed island of coconut and casuarina trees. The island is a haven for many species of migratory birds providing us with a delightful afternoon of bird watching or snorkelling. Here we will also find the single administrator of the island who is kept busy by also being the boat master, storekeeper, accountant, postmaster, doctor, policeman and sometimes priest. Return to the ship as we clear customs formalities and make our way to Madagascar.
---
This morning we will enter dramatic Diego Suarez, a stunning natural harbour with a cosmopolitan mix of inhabitants including Creoles, Indians, Chinese, Comorans and Arabs. Choose from a city tour visiting the Commonwealth Cemetery and Place Joffre, or the Malagasy Rain Forest at the Mount Amber National Park. In the towering vegetation, we may spot several species of lemurs and chameleons as well as endemic birds, including parrots.
---
We see in the New Year with a day and a half in Antongil Bay. Here we find Madagascar's largest protected area, the Masoala National Park which comprises coastal rainforest, flooded forests and marsh and mangroves. Mammal species encountered include the red-ruffed lemur, the red-fronted brown lemur, the aye-aye, the greater hedgehog tenrec and the ring tailed mongoose. The park is also home to various species of brightly coloured Mantella frogs and all manner of extraordinary chameleons. Masoala is also a refuge of the endangered Madagascar red-owl and Madagascar serpent eagle and many endemic bird species. We will run a series of walks for all levels during the day whilst you also have the option to swim off the beach or perhaps visit the local village. Also visit Nosy Mangabe, a 520 hectare island reserve and one of the most diverse areas of virgin rain forest in Madagascar. We will use our Zodiacs to land on the beach next to the forest and organise a series of nature walks looking at the varied trees, plants and ferns and also hope to spot chameleon, lizards and black and white ruffed lemur. For the birders we will keep an eye out for Madagascar buzzard, kingfisher and paradise flycatchers.
---
Enjoy a relaxing day at sea.
---
We arrive at breakfast in Reunion where we have a choice of excursions. On a full day tour we will visit the central highlands where spectacularly rugged peaks of dormant or extinct volcanoes cradle huge amphitheatres known as cirques. The rich soil and mellow climate produce a lush and verdant landscape which is dotted with villages and towns with a uniquely French atmosphere. Fields of sugar cane and plantations of tropical fruits, vanilla and all manner of spices perfume the air. We will enjoy views from the Nez des Bouefs and see the Piton de la Fournaise crater. After enjoying a creole lunch in a local restaurant we will visit the "Cite du Volcan" museum. Alternatively enjoy a morning tour to a vanilla plantation in St Andre where we learn about the history and culture of this integral part of Reunion's heritage. We will also enjoy some free time in St Denis before returning to the MS Serenissima for lunch. Enjoy an afternoon at leisure before we set sail this evening.
---
Disembark after breakfast and transfer to the airport for your flights home.
---
Itineraries are subject to change.
---
Serenissima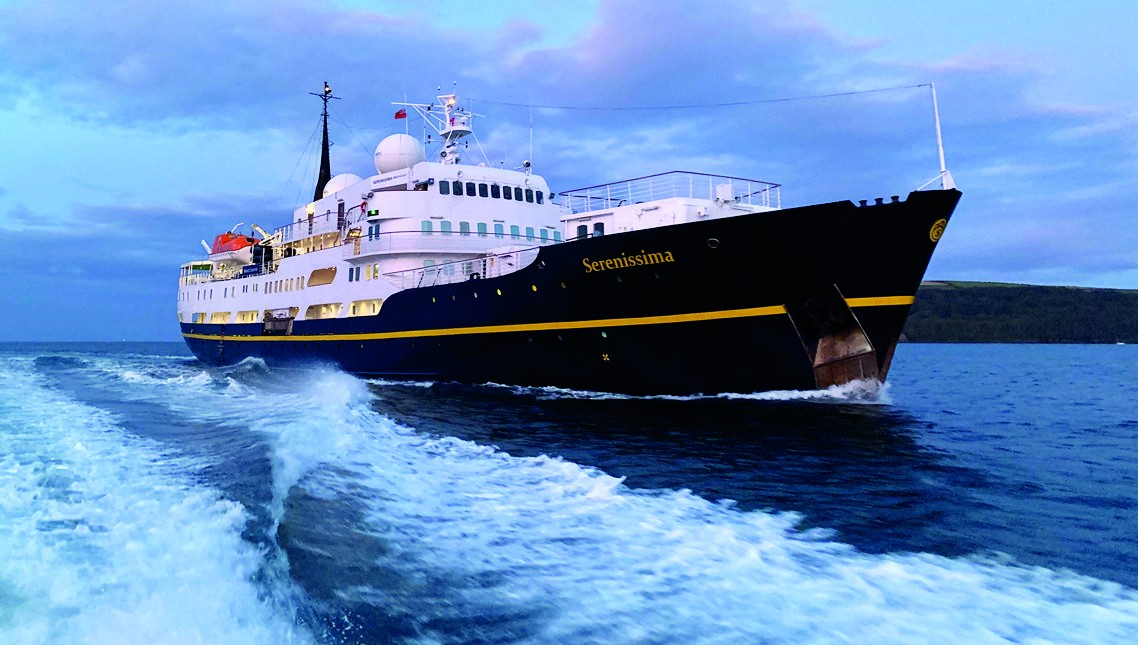 Vessel Type: Small Ship Length: 87 metres Passenger Capacity: 95 Built / refurbished: 1960 / 2013 / 2018 MS Serenissima is a charming vessel and one of her best known and loved features of this vessel is its unique style. During a major refit the then owners commissioned Swedish interior designers to create a Gustavian style interior. This bright Swedish 18th century influenced, country house style works particularly well on a vessel of this vintage, providing intimacy and classic nautical sensibility often lacking in larger vessels. The vessel is equipped with a fleet of Zodiac landing craft allowing us to visit remote places where normal tender arrangements are not possible. The European Captain, Officers, Expedition Staff, and crew offer a first class service and have been selected for their professionalism and caring attitudes. The atmosphere on board is warm and welcoming and dedicated to discovery and relaxation. AIR-CONDITIONING The ship is air conditioned throughout. Please note that only the Serenissima Suites have individually controlled air-conditioning. DAILY PROGRAMME A Daily Programme, detailing the following day's arrangements as well as any specific information about the day's activities is produced onboard and delivered to your cabin each evening during the turn down service. DINING, DRINKING AND DIETARY REQUIREMENTS The Venice Restaurant onboard serves international cuisine and accommodates all guests at a single open seating. Tables seat 4 to 10 diners. In addition, there is an outside dining area for when the weather and itinerary permit. Breakfast and lunch are both buffet style, dinner is waiter service only. Complimentary (red and white) house wine, beer and soft drinks are included with lunch and dinner. Bar drinks and other beverages with meals are not included; these may be purchased onboard and paid for at the end of your cruise. Complimentary tea and coffee are available between 07:00 hours and 23:00 hours at the tea and coffee station located in the Andrea lounge. Please advise of any special dietary requests in advance. DISABLED FACILITIES The ship can accommodate passengers with mobility restrictions and wheelchair dependent passengers in cabin 407, which has a wider door and no step into/out of the bathroom and shower area. There is a lift serving decks 3 to 6, but there is no stair lift. DOCTOR A medical doctor is available on board 24 hours a day. A fee is charged for any consultations and medication prescribed. Please ensure you carry adequate supplies of any regular medications you may require. ELECTRICITY The electrical outlets in the cabins and public areas are 220V and take a two-round-pin plug (as in continental Europe). There is a 110/220V, 60Hz outlet for electric shavers in the bathroom. We recommend that you bring an international adaptor. GRATUITIES Gratuities to crew and whilst on excursions are included in the cost of your holiday. INTERNET The onboard library has a computer equipped for email/internet access and Wi-Fi access is available in public areas, although you will require your own laptop, tablet or smartphone, and charges apply – 100mb for €15 Euros, or 500mb for €25 Euros. Please note that connection is dependent on weather conditions and location. LANGUAGE All members of the crew speak English. MONEY The following payment methods are accepted for settlement of shipboard accounts: Cash (Euros or British Pounds), Credit Card (MasterCard, Visa, American Express), Debit Card (MasterCard and Visa). Please note that personal cheques and Travellers' Cheques are not accepted. PUBLIC AREAS • Andrea Lounge (on Deck 5). The bar is open from 11.00 until 24.00. • Harald Jarl Lounge (on Deck 5). There is a small library here with books and games. There is also a computer for public use (charges apply for internet access) • Lido area (on Deck 5) with a Jacuzzi and fitness room with two running machines • Observation Deck (access from Deck 5 lido area) • Deck 5 and Deck 6 outside seating areas SNORKELLING Snorkelling equipment is kept onboard. Please note that there is no snorkelling from Zodiacs. All snorkelling stops will operate from a beach. TELEVISION The ship is equipped with a satellite TV system which receives 15 channels. TV reception depends on the satellite dish and on occasion it may not be possible to receive a signal. There is one central video channel on which it is possible to listen to the lectures delivered in the Andrea Lounge. There is also a channel for the ship's camera located in front of the ship. ZODIACS Some destinations may require the use of Zodiacs to go ashore. These are usually on expedition cruises though may sometimes be used on destination cruises.
Highlights
• In Tanzania discover Kilwa Kisiwani, a site of exceptional historical interest, whose atmospheric ruins represent a wide sweep of East African coastal history, from the heights of the Swahili and Shirazi trading civilisation, to the darker days of slavery and the uprisings against German rule • Have three days to enjoy the Aldabra group of islands • Enter dramatic Diego Suarez, a stunning natural harbour with a cosmopolitan mix of inhabitants including Creoles, Indians, Chinese, Comorans and Arabs • See in the New Year with a day and a half in Antongil Bay
Map