---
from$ 7972 AUD
---
Note: Current p/p indicative rate. Final price may change due to currency fluctuations.
---
---
Overview
Magic forest and moonscape: two famous national parks These two UNESCO World Natural Heritage Sites could hardly be more different: While the evergreen cloud forest Garajonay at the heart of La Gomera offers fascinating scenery made up of rivers, waterfalls and dense moss, Tenerife's Las Cañadas del Teide national park is extremely dry. With tall lava tongues and bizarre rock formations, its volcanic landscape looks almost like the surface of the moon. The rich cultural mix of Cape Verde Not just geographically, Cape Verde is situated between Africa, the Caribbean and Europe. In the Portuguese colony that was a hub of the slave trade and exile for the religiously persecuted, since 1461 customs, musical traditions and genes amalgamated to the entirely new Creole culture. In 1975, the República Cabo Verde proudly declared its independence. São Vicente – native island of Cesária Évora Violin sounds mingle with African drums, Fado meets Polka and creates musical styles like Morna, Batuque and Funaná: The Cape Verde Islands are a melting pot of world music. Cesária Évora from lively Mindelo was the isles' most famous singer. Barefoot and with a sweet melancholy, she sang of love, hurt and hope and is still revered today as the "Queen of Morna". Santo Antão, the island of contrast The second largest island of Cape Verde enchants with its spectacular natural diversity. While the volcanic craters in the barren south are reminiscent of moonscapes, rocky mountainous landscapes alternate with green and fertile valleys in the north. Besides pineapples, mango trees and coconut palms, sugar cane is also grown here – and distilled into the national schnaps Grogue.
Departures
Note: Current p/p indicative rate. Final price may change due to currency fluctuations.
Cruise Itinerary
With its black volcano almost 2,000 metres (6,561 foot) high and endless white beaches along the coastline, the island of Gran Canaria displays a huge variety of landscapes. A "continent in miniature" with rugged rock formations, dense pine forests, dry valleys and reservoirs in the interior, lush vegetation in the north, shimmering dune landscapes in the south and weirdly shaped cliffs in the west. Almost half the island has been registered by UNESCO as a Biosphere Reserve. The capital, Las Palmas, is no less colourful, with its port and history stretching back 500 years. The showpiece of this historic old town is the magnificent Santa Ana Cathedral.
---
Even from afar you can see the impressive panorama with Tenerife's landmark, Mount Teide. Its peak is the highest in Spain at 3,718 metres (12,200 foot) and is often covered in snow. The Las Cañadas National Park, a UNESCO World Heritage Site, is a high volcanic plateau at the foot of Teide, surrounded by a circle of rock that rises up steeply. Volcanic activity has created strange-looking rock formations here which are adorned with a huge range of colours and seem like a unique synthesis of nature's art. In contrast to this are the fertile valleys of the north, a barren, almost desert-like south and the island's vibrant capital city, Santa Cruz.
---
Many people consider La Gomera to be the most wildly romantic island in the Canaries. Rugged gorges, craggy hillsides, fertile valleys and evergreen cloud forests characterise the landscape. The Garajonay National Park, a UNESCO World Heritage Site, embraces the whole central mountain area and is an unusual little spot. Ancient bay trees, heather bushes as high as trees and metre-high ferns form a cloud forest where treemoss hangs from the trees and mosses cling to gnarled branches - a truly mystical natural spectacle which has existed for millions of years.
---
Itineraries are subject to change.
---
Sea Cloud II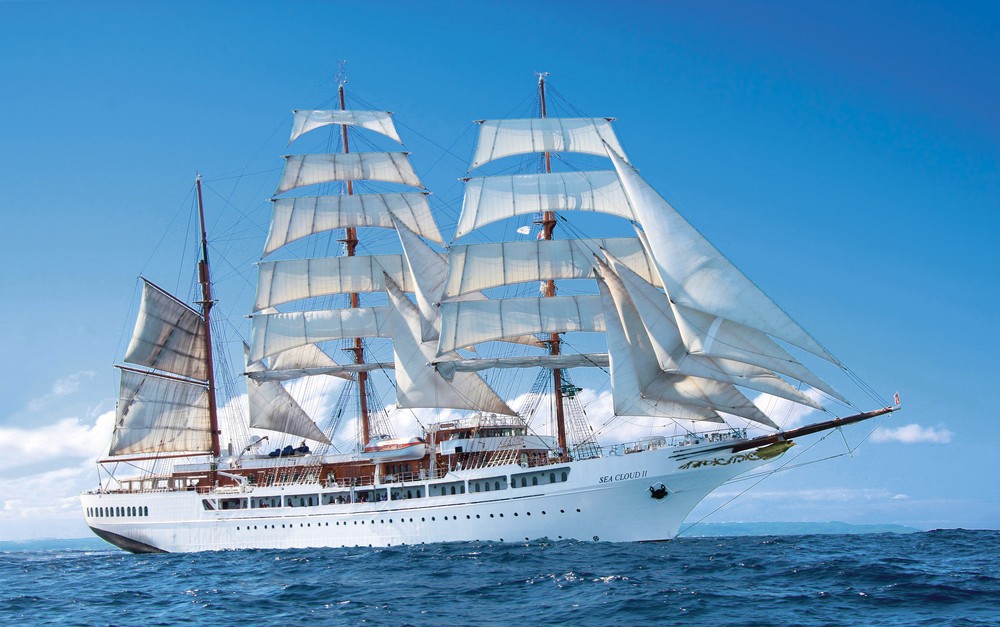 Vessel Type: Tall Ship (Sailing) Length: 105 metres Passenger Capacity: 96 Built: 2001 Launched in 2001, Sea Cloud II is a stunning vessel, built along traditional lines, but offering deluxe accommodation. She combines timeless elegance of sailing ships of the past with the highest safety standards and the luxurious comfort of modern cruise ships. Just like her legendary sister ship Sea Cloud, the 29,600 square feet of sails is set by hand which is a truly magical sight. Built to accommodate 96 passengers in five star luxury, she offers a range of beautifully appointed suites and cabins which are furnished with great style. All accommodations have outside views and the bathrooms, in light marble, are unusually spacious and extremely comfortable. The finest, carefully chosen fabrics, combined with leather, rattan and other materials, brass and gold, precious woods and marble together create an impressive ensemble. No expense has been spared to create a sympathetic ambience in both the accommodations and public areas and this is reflected throughout the vessel. Public areas include an elegant lounge, library, fitness centre, boutique, lido bar and hospital. The single sitting dining room is airy and modern and the quality of the cuisine and service will be to the highest of standards, as one would expect on a Sea Cloud cruise. Relax on the Lido deck and experience the natural grandeur of travelling under sail, rekindling memories of a bygone age. Please note deck and suite plans are indicative only and may vary slightly.
Highlights
• Magic forest and moonscape: two famous national parks • The rich cultural mix of Cape Verde • São Vicente – native island of Cesária Évora • Santo Antão, the island of contrast
Map