---
from
---
Note: Current p/p indicative rate. Final price may change due to currency fluctuations.
---
---
Overview
This cruise first takes in the rich culture and colonial architecture along Ecuador's colourful coast, stopping at the ports of Guayaquil, Manta and Puerto Bolivar. We then cross from the Pacific to the Caribbean Sea via the impressive Panana Canal. Spend the next few days hopping around Panama's string of stunning tropical islands while watching for exotic wildlife and enjoying Yoga classes on deck.
Departures
Note: Current p/p indicative rate. Final price may change due to currency fluctuations.
Cruise Itinerary
Your journey starts with an overnight in this sprawling city, the largest in Ecuador. High-rise buildings line the Guayas river while colourful favelas blanket the hillsides. Visit Malecón 2000, the riverfront town square before posing with tame iganuas in the local park. Extend your adventure by adding a Pre-Programme to mystic Machu Picchu or the amazing Galápagos Islands.
---
After breakfast at your hotel, we take you on a guided city tour by bus to see its highlights and learn about its history. Possible sites of interest include the Clock Tower that dates back to 1842 or Henry Morgan's pirate ship along the river. The tour ends at the pier where MS Fram awaits embarkation.
---
Known as the banana capital of the world, this area is surrounded by banana plantations - approximately 80% of Ecuador's bananas are shipped through Puerto Bolivar. Join an optional excursion to an organic plantation and learn about their unique process of growing their banana plants – by playing classical music for them. Further ashore you can explore the Buenaventura Reserve where you have the chance to observe hummingbirds, hawks and parakeets, or walk amongst fossilized trees, flowers, and plants in the Petrified Forest of Puyango on one of our optional excursions.
---
Manta is a bustling port town with high-rise buildings and lovely beaches. You can visit the city museum which showcases artifacts from local pre-Colombian culture, a collection of Ecuadorian art, and weird and wonderful fishing paraphernalia. We recommend an excursion to nearby Montecristi where traditional Panamanian straw hats are hand woven.
---
A day at sea means you can attend interesting lectures, learn basic expedition photography, and enjoy the fresh sea air out on deck as you scout for wildlife. You can also use microscopes in the Science Center to analyse samples taken during the voyage or participate in a yoga and meditation workshop.
---
Panama City is much more than just the entrance to its famous canal. Visit the ruins of Old Panama City which was devastated by notorious pirate Henry Morgan. Hike 30 minutes up the 200-metre Ancón Hill and enjoy views of the skyscraper-lined cityscape and of the Casco Antiguo district which boasts a real mix of architectural styles.
---
We enter the Panama Canal near the city of Balboa. Experience the canal transit and the ingenuity of the lock's system firsthand as MS Fram is lifted over 26 metres above sea level, passing through man-made channels and lakes to eventually emerge in the Caribbean Ocean, effectively crossing from the Pacific to the Atlantic.
---
More than 365 cayes, islands and reefs make up the San Blas Islands. Only 49 are inhabited, exclusively by Guna Yala Indians, who protect their islands by only accepting ecologically friendly tourism and shunning mass market cruise ships. Try fresh red snapper with coconut rice and a Coco-Loco drink, before relaxing in a beach-side hammock.
---
Bocas del Toro is a stunning archipelago brimming with deserted sandy beaches, teeming coral reefs, and lush rainforest. It is home to Panama's first National Marine Park and one of the most biologically diverse places on Earth. This `Galápagos of the Caribbean´ supports wildlife such as manatees, dolphins, turtles, sloths, monkeys, and iguanas.
---
Your journey ends here at the Atlantic entrance to the Panama Canal. Colón's Canal Expansion Observation Center has viewing platforms over the locks and Gatún Lake. There is also a trade zone that attracts shoppers looking to make the most of its tax-free status. Why not explore more of Panama and add on a Post-Programme?
---
Hurtigruten offers unique expedition cruises to some of the most remote and pristine waters of the world. As with all expeditions; nature prevails. Weather, and ice and sea conditions, sets the final framework for all Hurtigruten's operations. Safety and unparalleled guest experiences are at all times our top priorities. All our indicative itineraries are continuously evaluated for adaptions, whether this is due to constraints the elements unexpectedly presents – or exciting possibilities nature and wildlife offer. That is why we call it an expedition.
---
Fram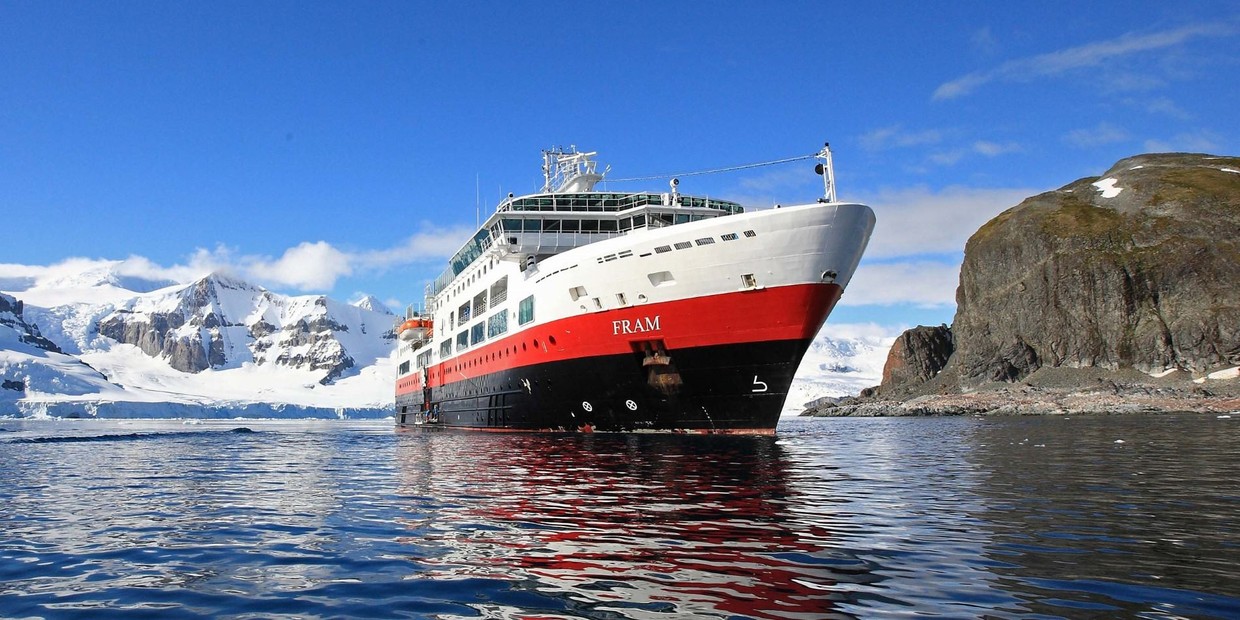 Vessel Type: Expedition Length: 114m Passenger Capacity: 276 Built: 2007 MS Fram is designed for sailing in polar waters, holds the highest safety standards and is the perfect size for optimum nautical manoeuverability and guests' comfort. With space for only 276 guests, you are sure to get to know many of your fellow travellers. You will share stunning sights and memories of a lifetime long after returning home. The Norwegian word Fram means 'forward' – lifting expectations of the voyage at hand. MS Fram was built in 2007 with one mission in mind - to bring her guests closer to nature, wildlife and unforgettable experiences. As well as offering numerous lounges in which to relax, our more active guests can use our well-equipped gym. Meanwhile, on deck, our Jacuzzis guarantee you surreal memories when passing the towering icebergs of Antarctica or Greenland.
Highlights
• See a range of cities and islands around Central America and the Caribbean • Experience a transit of the Panama Canal aboard your small expedition ship • Spot wildlife such as whales, turtles, dolphins, manatees, and a range of seabirds • Enjoy yoga and meditation classes with a professional instructor
Map