---
from$ 3278 AUD
---
Note: Current p/p indicative rate. Final price may change due to currency fluctuations.
---
---
Overview
The small port town of Collioure A tiny chapel on the rock, a picturesque fortified church and the mighty Château Royal are the first sights to greet you as you approach this small port from the sea. Collioure is a textbook example of a charming fishing village that has always attracted painters and poets thanks to its idyllic coastal location, colourful facades and fascinating light. Little Venice in Languedoc: Sète To one side the blue of the lagoon, as smooth as glass, and the Mediterranean Sea opposite: Sète has found itself a comfortable spot by the water. With its colourful facades, canals and bridges, the little port is considered the "Venice of Languedoc". Strolling through the lively "Vieux Port", the old harbour, will whet your appetite for specialities like fresh oysters or Tielle, an octopus pie. Saint-Paul-de-Vence, a village full of art Small galleries, cafés and artists' studios framed by vine-covered walls from the 13th century – Saint-Paul-deVence is a paradise for art lovers and romantics. In contrast to the charming medieval flair of this quaint mountain village, the museum of the Maeght Foundation presents modern masterpieces by renowned artists including Chagall, Miró, Giacometti, and others.
Departures
Note: Current p/p indicative rate. Final price may change due to currency fluctuations.
Cruise Itinerary
Itineraries are subject to change.
---
Sea Cloud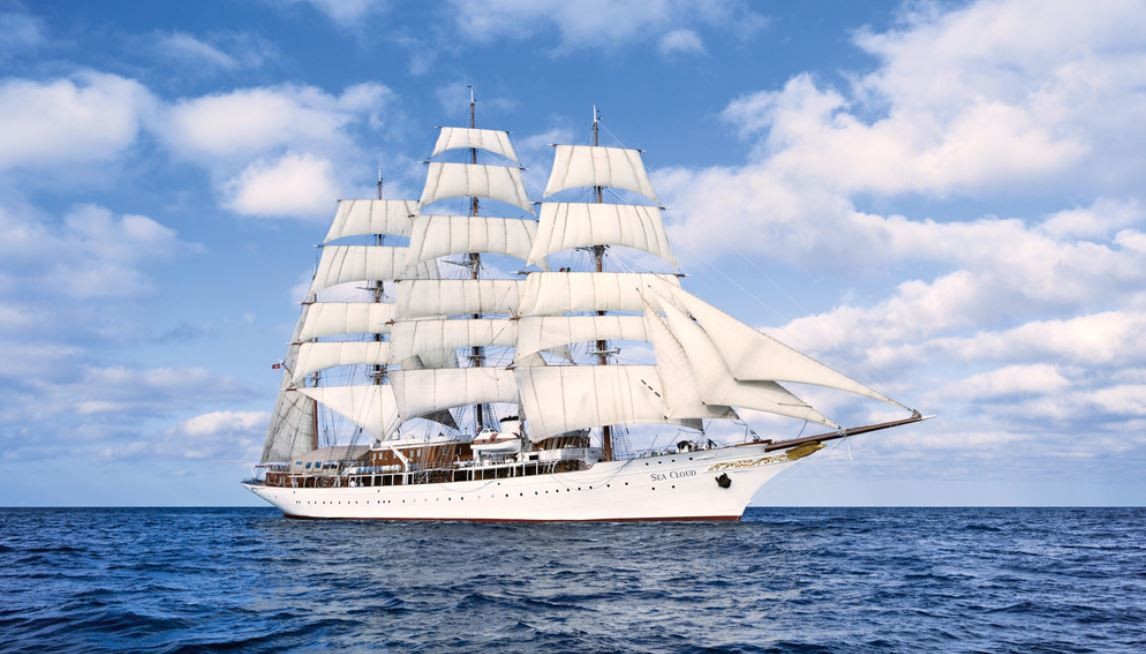 Vessel Type: Tall Ship (Sailing) Length: 109 metres Passenger Capacity: 64 Built / refurbished: 1931 / 2011 Sea Cloud is a ship with a soul, imbued by the original owners, Marjorie Merriweather Post and her husband E.F. Hutton in the 1930's. The ship has played host to royalty, known service in wartime, and sailed the world over. She is a vessel of incomparable grace that harks back to the golden age of ship travel. Once you've been on Sea Cloud under full sail, you'll begin your own love affair. Welcome aboard a legend Sea Cloud accommodates 58 guests in 28 outside cabins including two original owner's suites that still feature original marble baths and fireplaces. At 360 feet she is an expansive ship with extensive public spaces on the top deck, where we luxuriate in deck chairs and watch the crew of 18 go aloft in the web of riggings to hand-set her 30 sails. Her dining room is hung with marine oil paintings of the period and accommodates all guests at once for a single seating. We'll gather in the lounge each evening for Recap. Life aboard is a uniquely pleasing mix of elegance and informality—a return to the golden age of sailing in shorts and deck shoes. You'll find all shipboard services impeccable. Discover the romance of tall ship sailingExperience something many people don't know exists in the 21st century—the romance of life under square sails. Discover the thrill of standing on deck as Sea Cloud gently glides through the water, her crew aloft in the riggings, running out and reefing sails. Settle in to your favorite areas on the top deck and bask in the incomparable experience of traveling aboard the finest tall ship to ever sail the seas. Lose yourself in an adventure that, in this day and age, is almost unimaginable. Please note deck and suite plans are indicative only and may vary slightly.
Highlights
• The small port town of Collioure • Little Venice in Languedoc: Sète • Saint-Paul-de-Vence, a village full of art
Map