---
from$ 21419 AUD
---
Note: Current p/p indicative rate. Final price may change due to currency fluctuations.
Ship
Hanseatic Inspiration
City
Toronto to Kangerlussuaq
---
---
Overview
Expedition Labrador, Hudson Strait and Greenland - savoir vivre meets untouched wilderness. Please Note: your voyage rates include Charter flight as per itinerary in Economy Class.
Departures
Note: Current p/p indicative rate. Final price may change due to currency fluctuations.
Cruise Itinerary
Canada – the epitome of freedom and pristine nature. This expedition full of contrasts begins with an unexpected manoeuvre for the ship: after travelling on Lake Ontario along the Thousand Islands, the HANSEATIC inspiration will scale seven locks – something very few ships can do – on the way to Montreal.
---
From 8.00 to 18.00 hrs The francophone metropolis is situated on a picturesque island in the St. Lawrence River. Enjoy the view of the city and Notre-Dame Basilica from Mont Royal, the local mountain. Just as majestic, though formed by nature, the Laurentian Mountains* rise up into the sky: the panoramic view of endless forests and deep-blue lakes will get you in the mood for further excursions – such as the sophisticated Mont Tremblant winter sports resort. Explore the cultural riches on a bicycle tour through Montreal*: discover popular sights from the Old Port to the bustling Atwater Market on one of North America's best cycle networks.
---
From 9.00 to 14.00 hrs Your route to the north-east then takes you to Canada's oldest village: Tadoussac was founded in 1535. Get to know the region's majestic side by whale watching on the St. Lawrence Fjord* – keep an eye out for blue, fin and humpback whales. You might even see a white beluga whale. Alternatively, a hike on the Sentier du Fjord trail* is a chance to unwind in nature on one of Quebec's most beautiful hiking routes.
---
From 9.00 to 17.00 hrs Following a passage through the Gulf of St. Lawrence, you will reach Norris Point in Newfoundland. This charming town in Bonne Bay is the starting point for fascinating tours. A hike in Gros Morne National Park*, a UNESCO World Heritage Site, will take you to ancient table mountains and the fishing village of Lobster Cove Head. Enjoy the view of the lunar-like Tablelands from a new perspective on a boat trip in Bonne Bay*. Two fjords flow together, picturesque villages sit by the shore and, with a little luck, whales and eagles will add the perfect touch to this idyllic panorama.
---
The further north the HANSEATIC inspiration goes, the further you will leave civilisation behind. Labrador is largely untouched by tourism. This remote paradise beckons you to explore its impressive scenery and culture: the villages of Red Bay and Battle Harbour display the region's grand history of fishing. If the local port authority gives the green light, you will cruise to the Inuit community of Rigolet. Hopedale and its museum also provide insights into the culture and history of the First Nations, Canada's indigenous peoples.
---
While you enjoy breathtaking panoramas on a cruise through the Labrador Sea, the HANSEATIC inspiration will head further north towards the famous Hudson Strait, where the ice conditions at this time of year often determine the course to create a thrilling sense of discovery. On the wild Akpatok Island, marvel at the untouched landscapes as steep rocky coasts form the backdrop for potential polar bear sightings. Explore the region's geology up-close in a Zodiac when you visit the rugged, rocky hills of Sugluk Bay. On Diana Island (Diana Bay), home to musk oxen and reindeer, you will be able to experience how the pioneers felt all those years ago.
---
A wonderful natural spectacle awaits on Monumental Island: with luck, a Zodiac ride off the island will bring you face-to-face with walruses.
---
Your first destination on Greenland, Qeqertarsuaq, welcomes you with its picturesque natural harbour and a whalebone gateway leading to a world of colourful houses, kayaks and huskies. Meanwhile, Ilulissat reveals its dazzling charm: with the experts at your side, you will reach the old settlement of Sermermiut and enjoy fantastic views of bizarre icebergs. Want to marvel at a calving glacier? With luck, this almost surreal scene in blue and white will be unveiled in Disko Bay. The icebergs drift slowly through the water, leaving observers astonished and awestruck. In Sisimiut, bid farewell and look back on an expedition filled with glittering icy worlds, fascinating cultures and limitless freedom.
---
Arrival 6.00 hrs Charter flight from Kangerlussuaq to Germany.
---
Itineraries are subject to change.
---
Hanseatic Inspiration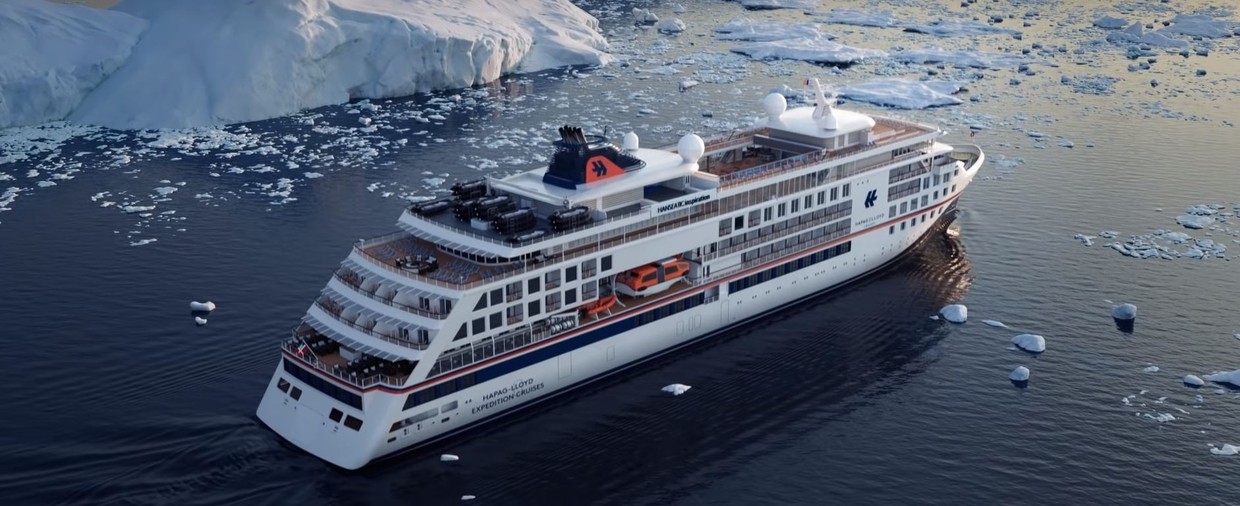 Vessel Type: Five-star expedition ship Length: 138 meters Passenger Capacity: 230 (199 for Antarctic expeditions and cruises around Spitsbergen) Built: 2017 Explore the Ship: * More open deck space than on any other expedition ship * Glass balconies: Float over the ocean with perfect views when watching whales and dolphins, for example * Observation Deck and Lounge: The terraced Observation Deck offers the best views as well as permanently mounted binoculars. Located one deck lower, the Observation Lounge brings the excitement indoors with its 180-degree panoramic view * Bow tour: The new deck track at the bow puts you in the front row for wildlife sightings. * Marina: The marina is the convenient starting point for a variety of warmwater sports – kayaks, stand-up paddle boards and snorkelling equipment are available for you to use Cabins & Suites: * An ocean view with even more: exclusively outside cabins and suites, almost all with balconies or French balconies * Grand Suites with a private veranda * Spaciously designed – enjoy a relaxing stay in rooms from 21 m² (226 ft²) up to 71 m² (764 ft²) in size * Exceptionally equipped – for example, with binoculars, Nordic Walking poles, air conditioning, coffee machine and mini bar (free of charge) * Separable beds in all cabins and suites * Heated wall in bathroom (e.g. for towels and wet parkas) Culinary: * Main restaurant: A relaxed atmosphere at any time of day – from breakfast to dinner, inspired by the region. * Speciality restaurants: The speciality restaurant on the HANSEATIC inspiration will take you on a culinary voyage of discovery: explore exquisite Japanese creations and Peru's modern and fashionable cooking. Explore new culinary highlights of the North American east coast on the HANSEATIC nature. * Bistro Restaurant: Eat under an open sky. The Bistro Restaurant offers 84 indoor and around 100 outdoor seats. * Bars: spend the evening relaxing with a glass of wine in the Observation Lounge or the HanseAtrium. Fitness & Wellness: * Spa area: Our new ships offer professional partial- and full-body massages, classic cosmetic treatments, a hairdresser and treatments for your hands and feet. The Finnish sauna with an ocean view and the steam sauna are the perfect end to every expedition. * Pool area/bar: Thanks to its flexible canopy, the pool area with bar can be enjoyed whatever the weather. Water loungers and a counter-current system offer pure relaxation. * Fitness area: The fitness area, which has been expanded significantly to around 100 m² / 1,076 ft², features up-to-date equipment, a separate course room and an incomparable ocean view. Knowledge On Board: * HanseAtrium: The central HanseAtrium can be used for many different activities; its cutting-edge technology makes it suitable for presentations and expert lectures as well as intensive precaps and recaps. In the evening, the HanseAtrium is transformed into an atmospheric bar where you can see out the day and reflect on your experiences. * Ocean Academy: The Ocean Academy allows you to experience science however you desire. You can use the large media wall and interactive poster to display fascinating information on a wide range of disciplines whenever you like.
Highlights
• Exciting, diverse, surprising: between Canadian cities and the wilderness of North America and Greenland, this expedition will shed a whole new light on your summer.
Map