---
from$ 4231 AUD
---
Note: Current p/p indicative rate. Final price may change due to currency fluctuations.
City
San Cristobal Island to Baltra
---
---
Overview
Our complete itineraries are developed for the benefit of our passengers, who will have the opportunity to combine hiking, snorkeling, beach and kayaking; our professional guides will introduce you to the most relevant sites on each island.
Departures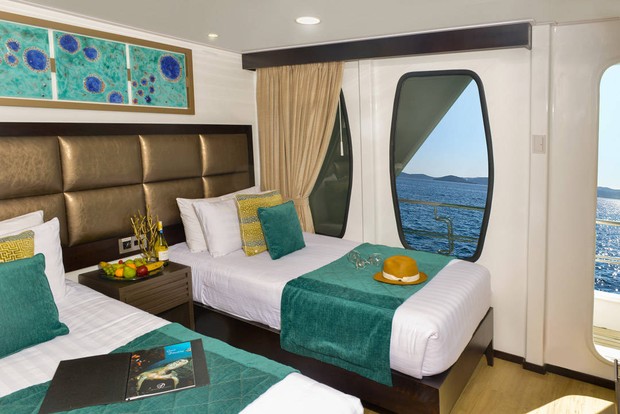 This new catamaran has 9 comfortable cabins, 8 of them with private balconies, 4 cabins on the upper deck and 5 on the main deck. All the beds can be king or twin. All the cabins have an ocean view, exclusive decoration, private bathrooms, cold/hot water, air conditioning, hair dryer, telephone for internal communication on board, safe box and loudspeaker.
Note:
Current p/p indicative rate. Final price may change due to currency fluctuations.
Cruise Itinerary
The name of this island means "Sea Lion Island." This appropriately named island is ripe with noisy, frolicking, jolly sea lions who will welcome you to their home with open, well, fins. This island also offers great snorkeling opportunities as well as the chance to see blue-footed and Nazca boobies.
---
Located on the northern coast, this eroded hill and its surroundings present one of the most picturesque beaches in the Galapagos with its white powdery sand and the abundance of animals. Wildlife includes sea turtles, rays, and various types of booby birds. The clear water provides an excellent opportunity for enjoying swimming and snorkeling. Pitt Point, situated on the northeastern tip of the island, hosts frigatebirds, storm petrels, and all three types of booby birds: the Nazca, blue-footed and red-footed boobies. A steep trail goes up a cliff and through a ravine leading visitors to an area with an abundance of birds. This site is also great for snorkeling and scuba diving.
---
This area is great for spotting blue-footed boobies, albatrosses and Nazca boobies. A beautiful site on the ocean front, the large waved albatrosses use the cliff as a launching pad. The famous attraction is the magnificent blowhole, spurting water high into the air. This site presents wonderful photograph opportunities. Gardner Bay, on the eastern side of the island, is the breeding site of nearly all of the world´s 12,000 pairs of waved albatrosses. It has an ample white sandy beach with a myriad of sea lions, perfect for relaxing. Its rocky shores make this site a great place for diving and snorkeling.
---
Reached by bus from Puerto Ayora, the highlands of Santa Cruz are a deep green contrasting beautifully with much of the dry, lower islands. The dominant vegetation in the highlands is the forest of Scalesia trees creating the lush green color. The lava tubes, over half a mile long, are underground and walking through them is a unique, surreal experience.
---
Itineraries are unlikely to change significantly but are subject to change. Weather, wildlife breeding, safety concerns, instructions from the Galapagos National Park, specific abilities and interests of passengers as well as operational matters may cause your guide or captain to change the time or nature of visits. Your guide and captain will always endeavor to select the best itinerary within these limits.
---
Alya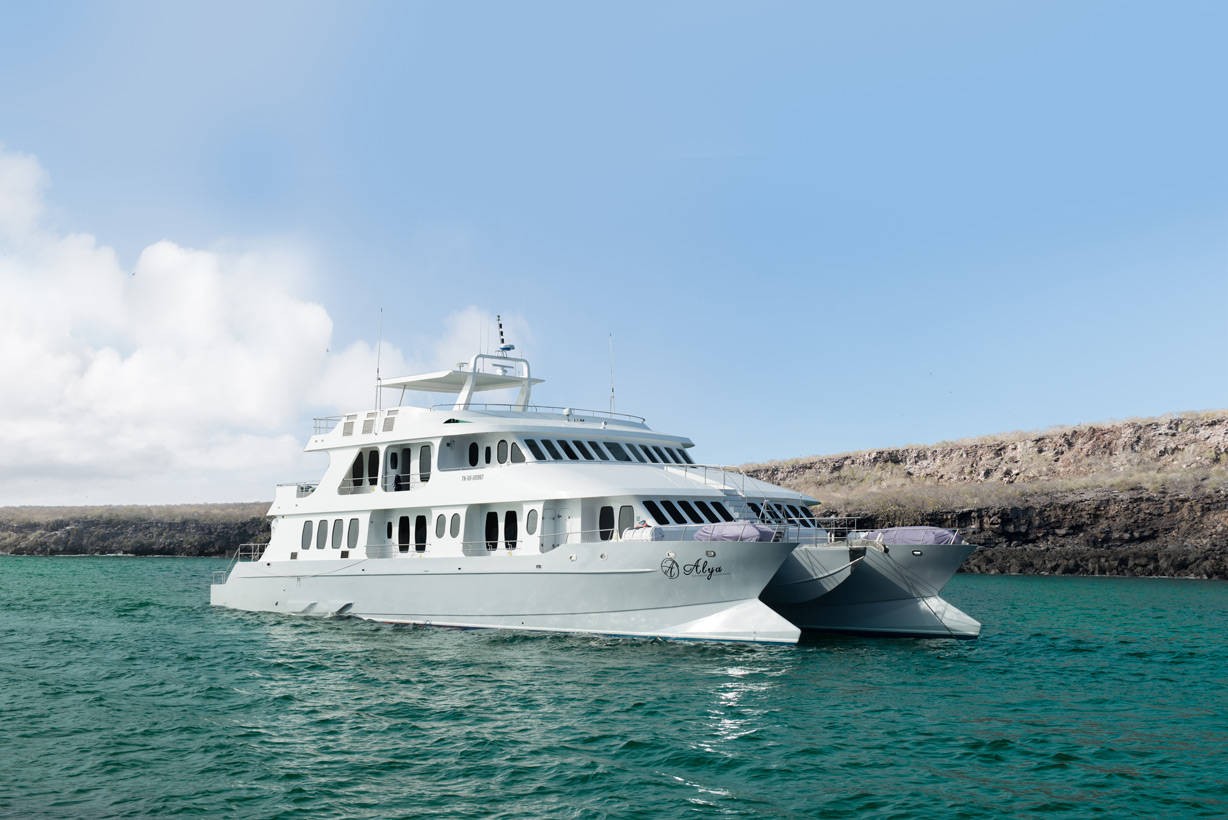 Vessel Type: Catamaran Length: 31.5 metres Passenger Capacity: 16 Built: 2017 Alya Catamaran is a Luxury cruise ship, built in Guayaquil in 2017. It has 2 life rafts, 2 Zodiacs and it has communication with the Galapagos, the Galagents office and the Ecuadorian Marine Service. Alya Luxury Catamaran offers: 9 comfortable cabins, eight of them have private balconies. The beds in the cabins can be king or twin. - There are many social areas for your comfort and relaxation. - Enjoy a drink from one of the catamaran's two bars. - The nine crew members and bilingual guide provide for a safe and informative trip in the Galapagos Islands. - Certified bilingual naturalist guide - Snorkel equipment provided and wetsuit rental available. - Safety equipment (35 life jackets - 4 lifebuoys 9mm - Flare light, smoke signals, flashlights with SOS signals and other types of visual signals. - 2 survival rafts, 25 passengers each. - Fire extinguishers 10 lb and 2lb. - Fire hoses 15m. - Fire detectors and complete fire protection system.) Upper Deck 4 Cabins 172ft² / 16m² double cabins (all with private balcony & bathroom) - Bridge - Captain's Cabin - Bar Main Deck 5 cabins, One 205ft² / 19m² double cabin. Four 215ft² / 20m² double cabins with private balcony. - Guide's cabin - Boutique - Porch - Dining room 27.58m² - Living room 27.58m² - Wine storage - Bar - Coffee station Lower Deck 2 Machine Rooms - Crew Dining - 4 Crew Cabins & 1 Double Crew Cabin - Laundry - Cruise Manager Bar and Restaurant Tasting the food on board the Alya Luxury Catamaran is a unique experience. The mixture of national and international dishes will surprise you. While on board, you can enjoy a cup of coffee, or cappuccino if you prefer. Our coffee machine is available to you during the day. If you prefer something stronger, you can choose from an assortment of cocktails or beer. We offer a variety of dishes, enough to satisfy the appetite of any guest, and we have a little more for those who want a second helping. If our guests have special dietary needs, such as: lactose intolerance, gluten-free, allergies, vegetarian, etc., we can accomodate their needs. However, keep in mind that we need to know about such needs in advance. Our buffet breakfast includes a variety of sausages; cheese and bread are available. On our buffet lunch, you will find accompaniments, along with hot and cold salads. Dinner is a served meal with two options to choose from. Juice or water will be included at each meal. Social Area While you are sailing through the Galapagos Islands we have comfortable areas for your enjoyment. Have a good time with your family and meet new friends in the lounge and bar. In the dining room area we serve the most delicious food on the seas cooked by our professional chefs. You can also enjoy your food in the alfresco area; it's a great idea to eat with the ocean view. On the sundeck area we have spacious sofas where you can enjoy the best views and sunsets of your life. Relax in the Jacuzzi while you have some drinks or simply take a rest. Activities Having entertainment in the Galapagos is important! We have available four double kayaks, two zodiacs for panga rides, and snorkeling equipment. Wetsuits are available for rent. Our complete itineraries are developed for the benefit of our passengers, who will have the opportunity to combine hiking, snorkeling, beach time, swimming, photography, kayaking and animal watching in their natural habitat. Our professional guides will introduce you to the most relevant sites on each island. If you want to do some extra activities while you are enjoying your cruise, such as diving, artisanal fishing, and more, we will be glad to organize something special for you.
Highlights
• Islands you will visit: San Cristobal Island, Española Island, Santa Cruz Island
Map