---
from$ 6559 AUD
---
Note: Current p/p indicative rate. Final price may change due to currency fluctuations.
City
Reykjavík to Reykjavík
---
---
Overview
Viking stronghold. Land of fire and ice. Culture, wildlife, and wonders. A modern nation on an ancient island. Iceland by ocean awaits. Circling the island on the Ocean Endeavour, witness Earth in action: active volcanoes, emerging islands, lava fields, geysers, and glaciers. The landscape is otherworldly. Superb photography, birding, and hiking are a quick Zodiac ride away. Whales ply the North Atlantic waters. Join us as we sail those same waters—around Iceland, by ship!
Departures
Note:
Current p/p indicative rate. Final price may change due to currency fluctuations.
Cruise Itinerary
Iceland's cosmopolitan capital, Reykjavík was established in 874 AD. Powered by geothermal energy, Reykjavík is widely considered one of the cleanest, greenest cities on Earth. Despite centuries of relative isolation, today Reykjavík is a contemporary city with plenty to see and do. The National Culture House preserves treasures like the Poetic Edda, and the Norse Sagas in their original manuscripts. We depart Reykjavík in the evening aboard the Ocean Endeavour.
---
Today we will explore the Snæfellsnes Peninsula, a region known for its dramatic beauty and fascinating geological history. There will also be many opportunities to observe seabirds and marine life as we explore one of Iceland's most amazing coastlines.
---
Only about ten percent of Iceland's visitors ever see this region, known for its jagged bird cliffs and multihued beaches. Coastal fjords, immense mountains, and tiny villages can be found here, and a traditional lifestyle is embraced by the region's inhabitants.
---
Iceland's north is a geologist's dream. Lava fields—almost lunar in their composition—epic waterfalls, snowcapped peaks, and bays teeming with marine wildlife are characteristic of the region. Grímsey Island lies on the Arctic Circle. Its human population of about a hundred shares the island with nearly a million seabirds! These include puffins, guillemots, and gulls.
---
Iceland's second-largest urban area, Akureyri enjoys a relatively mild climate and ice-free harbour. In addition, Akureyri is surrounded by mountains, which shield it from strong winds. First settled in the ninth century, Akureyri provided a base for Allied units during the Second World War. Nearby Lake Myvatn offers stunning contrasts: one side of the lake features rugged volcanic remnants, while the other side is blessed with lush vegetation and varied bird life.
---
Húsavík, on Skjalfandi Bay, is known as the "Whale Capital" of Iceland. Fifteen different whale species frequent the area; we also hope to see dolphins, and thirty varieties of birds. The Húsavík Museum is located by the harbour. There are also numerous other museums including the Exploration Museum, which houses artifacts from Apollo astronaut training in the area; a whale museum, and a turf house museum.
---
Seyðisfjörður is nestled at the tip of its namesake fjord. The town of seven hundred is known for its flourishing art scene, colourful roads, and shopping. We will also have the opportunity to visit the Skálanes Nature Reserve. Family-owned and -operated, this is a centre for research and interpretation of Iceland's environment and cultural history, and a model for sustainable tourism. The 3,000-acre area is a habitat for approximately fifty different bird species during the summer time, and, in particular, the eider duck.
---
The south of Iceland is home to some of the country's most beautiful natural attractions. It boasts a unique mix of volcanoes, lagoons, glaciers—as well as hot springs, geysers, and spectacular waterfalls.
---
Vestmannaeyjar lies off the south coast of Iceland and comprises fourteen islands, numerous rocks and skerries. Only the largest island, Heimaey, is inhabited. Numerous species of seabirds nest in the steep rock faces along the ocean cliffs. The volcanically active area has seen two major eruptions in recent times: the formation of the island of Surtsey in 1963, and the Eldfell eruption ten years later that destroyed much of Heimaey and nearly blocked its harbour.
---
Reykjavík, or "steamy bay", is a cosmopolitan capital city and as much a part of the Icelandic experience as the midnight sun or the fire and ice that creates the island's landscape. Today we disembark the Ocean Endeavour and transfer to the airport.
---
Itineraries are subject to change.
---
Ocean Endeavour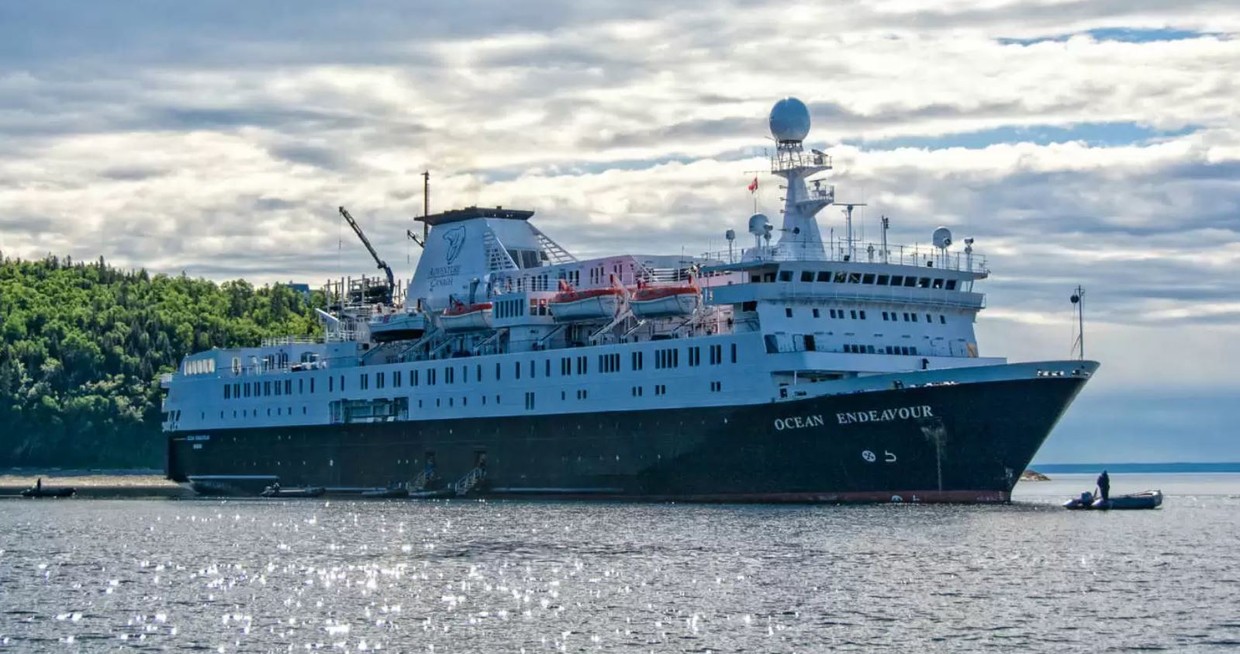 Vessel Type: Expedition Length: 137m Passenger Capacity: 199 Built: 1982 - refurbished 2001, 2004, 2010, 2015, 2016, 2018 Ocean Endeavour is a comfortable, well-appointed small expedition ship expertly engineered to explore the Polar Regions. The ship has an ice-strengthened hull, Zodiacs for exploration and remote landings, and advanced navigation equipment. The newly-refurbished vessel offers a superb guest experience with an expansive choice of cabin categories, large cabins and common areas, a sundeck and observation area, plenty of deck space for polar landscape viewing, and lounges for learning and reflection. The ship's interiors have a contemporary aesthetic that provides a bright and spacious feel throughout. Endeavour is also the only polar adventure ship in Antarctica focused on health and wellness , and offers a contemporary approach to cuisine and newly-designed health and fitness features. Facilities include a spa serviced by organic spa provider VOYA, His & Hers saunas, a salt water pool, a gym, and a juice and smoothie bar. Complimentary activities include yoga and stretching classes, an exclusive Polar Photography program, the Scientists in Residence program, and more adventure activities than any other Quark vessel. The ship also has a polar library, and a Polar Boutique for gifts and any needed gear. Features of the Ocean Endeavour VOYA spa treatments and beauty products, Choice of 13 cabin categories, Bright, spacious cabins and common areas, Plenty of deck space for observation, Lounge with expansive views, Quiet zone for contemplation, Newly-refurbished restaurant, Contemporary dining with complimentary wine with dinner, Juice and smoothie bar, Lecture theater, Polar library, Polar boutique, Health and Wellness, Spa treatments and beauty products by spa provider VOYA - Organic Beauty From The Sea, Spa menu for face, body, hair and nails, including the exclusive Quark Explorer's treatment, and signature VOYA hand and foot rituals, Yoga and stretching classes, His & Hers saunas, gym, and heated salt water pool Full range of adventure activities including: kayaking, camping, mountaineering, cross-country skiing, stand-up paddleboarding, Zodiac cruising, shore landings and hiking/ walking. Deck plan varies for the trips to Antarctica
Highlights
• Discover Reykjavík. The capital of Iceland is considered one of the cleanest, and greenest cities in the world. It's also famed for its nightlife! • Iceland is one of the world's eight Arctic nations—but just barely! The island of Grímsey is the reason: the Arctic Circle (66 degrees 33 minutes north) runs through it! At forty kilometres off the coast of the mainland, Grímsey is the only part of Iceland to earn the title "Arctic" on the basis of latitude. • Explore the world's newest island. In 1963, a cook aboard a freighter saw what he thought was a ship in trouble: smoke pouring onto the horizon with ocean all around. But on approach, it became clear that this was not a shipwreck, but a volcanic eruption forming a new island: Surtsey. Today, Surtsey is a conservation area uninhabited by people—but has become home to many plants, leading to a much greater awareness of the way island life develops! Sail by this unique landform: one of the world's newest islands. • Hike to dramatic cliffs to photograph seabirds • Visit remarkable geological formations by Zodiac • Learn about Iceland's incredible volcanic history
Map