---
from$ 5100 AUD
---
Note: Current p/p indicative rate. Final price may change due to currency fluctuations.
City
Reykjavík to Kangerlussuaq
---
---
Overview
Greenland's east coast still beckons explorers from Iceland. Breathtaking fjords define this seldom-seen region. Whales and seabirds are abundant here. Photographers, birders, and hikers will be in awe. Bask in the geothermal springs. Explore the ruins of a settlement founded by Erik the Red! Visit a quaint fishing village and Greenland's bustling capital, Nuuk. Sail mighty Sondre Stromfjord to Kangerlussuaq—gateway to the ice cap. Sail west, like the Vikings: spectacular, surprising Greenland awaits!
Departures
Note:
Current p/p indicative rate. Final price may change due to currency fluctuations.
Cruise Itinerary
Iceland's cosmopolitan capital, Reykjavík ("steamy bay") was established in 874 AD. Powered by geothermal energy, Reykjavík is widely considered one of the cleanest, greenest cities on Earth. Despite centuries of relative isolation, today Reykjavík is a contemporary city with plenty to see and do. The National Culture House preserves treasures like the Poetic Edda, and the Norse Sagas in their original manuscripts. We depart Reykjavík in the evening aboard the Ocean Endeavour.
---
Sailing west from Iceland, we are truly in the wake of the Vikings. We'll be watching for whales and seabirds we sail the Denmark Strait. Our onboard program will prepare you for the archaeology, history, culture, and wildlife that awaits us in Greenland!
---
Our first view of Greenland's east coast will reveal a coastline traced with innumerable fjords and potentially dotted with pack ice. Our spotters will be watching for bears, seals, and humpback whales. We'll explore the remote reaches of glaciated fjords by Zodiac.
---
We'll be scouting for wildlife and vistas as we approach Ikerasassuaq through ice. This remote and stunning body of water joins the Irminger and Labrador seas. We are among the islands of the Cape Farewell Archipelago, near Greenland's southernmost tip. Craggy mountain peaks tower over narrow fjords. Glacial tongues plunge toward the water. Conditions are favourable for calving icebergs, while strong tidal currents limit the formation of sea ice.
---
South Greenland lives up to its namesake; here, the land is fertile and agriculture thrives. Farms and vegetable husbandry contrast with the barren ice that covers so much of the country. Jagged mountains rise from beyond green pastures, with sheep farms directly bordering ice fjords. Here, Norse settlement history intersects with contemporary Greenland life.
---
Hvalsey site was a major centre in South Greenland. The site, which has the ruins of two stone great halls, had an additional 14 houses close to a church. Hvalsey Church is the best-preserved Norse ruin in Greenland. The last known official record from the original Norse colony is of a wedding held here in September 1408!
---
A UNESCO World Heritage Site, Brattahlid—meaning "steep slope,"—lies at the head of Tunulliarfik Fjord. In this location, the famous Viking explorer Erik the Red had his estate. His descendants made their homes here until the mid-1400s. This area features the best farming conditions in Greenland. Here we will find a reconstruction of the first Norse church in Greenland, as well as a Viking longhouse. There are substantial archeological remnants here, preserving the legends of the Norse.
---
The Sermersooq region of Greenland has a stunning myriad of mountain peaks, glaciers and deep fjords. Our time will be spent on the western coast of the region, where records of human habitation stretch back over 1,500 years. We'll explore by Zodiac or by foot, as landing conditions permit. We'll keep a look out for Nattoralik (white-tailed eagles) and enjoy the lush vegetation of southwest Greenland.
---
Greenland's capital bridges old and new. The old harbour region of town includes many buildings dating from the Danish colonial days. The modern downtown core includes shopping, cafes and restaurants, and public institutions with a European flair. The Greenland National Museum is one of Nuuk's outstanding features; the world-famous Qilakitsoq mummies are housed here. The museum's exhibits also offer in-depth information about colonial, Norse, and Inuit presence in Greenland—a must-see.
---
The west Greenland coastline is a rich mixture of fishing communities, many islands and complex coastal waterways. The waters are relatively warm here, due to the West Greenland Current and the sub-Arctic location—making for more lush vegetation. We will be making an expedition stop here to explore the landscape of wild Greenland.
---
Sondre Stromfjord is one of the longest fjords in the world and boasts 168 kilometres of superb scenery. We end our adventure by sailing up this dramatic fjord as the sun rises to greet us. Kangerlussuaq, the town at its eastern head, is a former US Air Force base and Greenland's primary flight hub. Here we will disembark the Ocean Endeavour and transfer to the airport for our return charter flight (not included).
---
Itineraries are subject to change.
---
Ocean Endeavour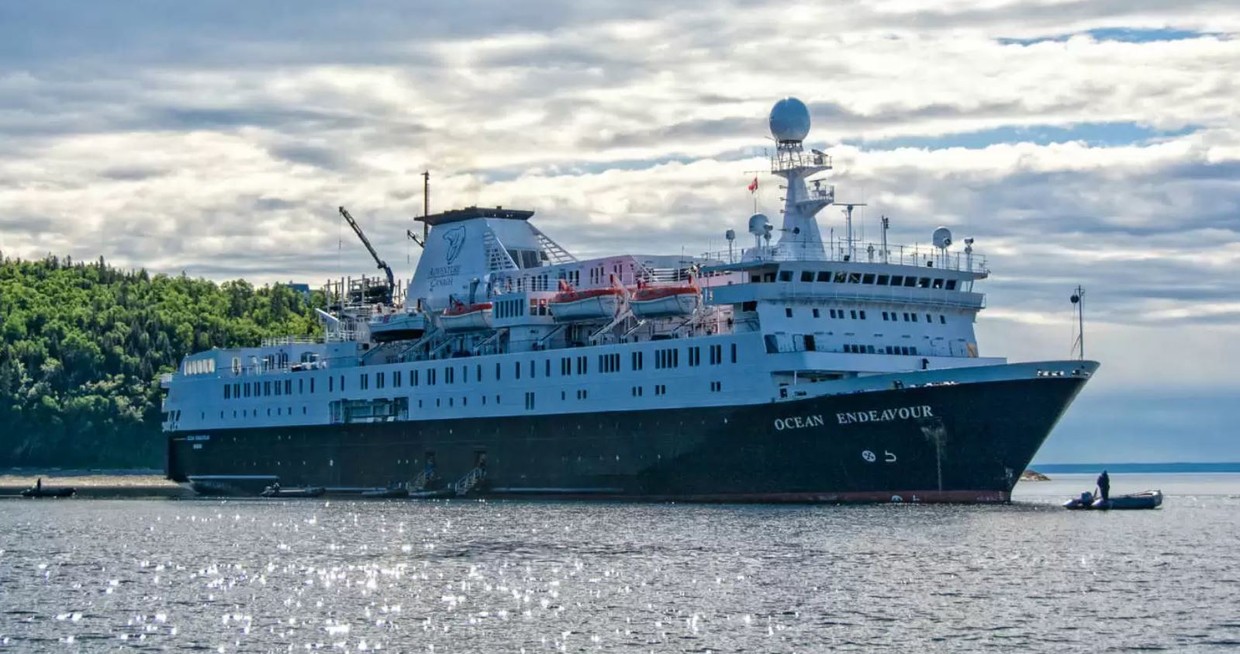 Vessel Type: Expedition Length: 137m Passenger Capacity: 199 Built: 1982 - refurbished 2001, 2004, 2010, 2015, 2016, 2018 Ocean Endeavour is a comfortable, well-appointed small expedition ship expertly engineered to explore the Polar Regions. The ship has an ice-strengthened hull, Zodiacs for exploration and remote landings, and advanced navigation equipment. The newly-refurbished vessel offers a superb guest experience with an expansive choice of cabin categories, large cabins and common areas, a sundeck and observation area, plenty of deck space for polar landscape viewing, and lounges for learning and reflection. The ship's interiors have a contemporary aesthetic that provides a bright and spacious feel throughout. Endeavour is also the only polar adventure ship in Antarctica focused on health and wellness , and offers a contemporary approach to cuisine and newly-designed health and fitness features. Facilities include a spa serviced by organic spa provider VOYA, His & Hers saunas, a salt water pool, a gym, and a juice and smoothie bar. Complimentary activities include yoga and stretching classes, an exclusive Polar Photography program, the Scientists in Residence program, and more adventure activities than any other Quark vessel. The ship also has a polar library, and a Polar Boutique for gifts and any needed gear. Features of the Ocean Endeavour VOYA spa treatments and beauty products, Choice of 13 cabin categories, Bright, spacious cabins and common areas, Plenty of deck space for observation, Lounge with expansive views, Quiet zone for contemplation, Newly-refurbished restaurant, Contemporary dining with complimentary wine with dinner, Juice and smoothie bar, Lecture theater, Polar library, Polar boutique, Health and Wellness, Spa treatments and beauty products by spa provider VOYA - Organic Beauty From The Sea, Spa menu for face, body, hair and nails, including the exclusive Quark Explorer's treatment, and signature VOYA hand and foot rituals, Yoga and stretching classes, His & Hers saunas, gym, and heated salt water pool Full range of adventure activities including: kayaking, camping, mountaineering, cross-country skiing, stand-up paddleboarding, Zodiac cruising, shore landings and hiking/ walking. Deck plan varies for the trips to Antarctica
Highlights
• Cross the Denmark Strait from Iceland to Greenland, following the Vikings of old • See the sparsely populated, seldom visited east coast of Greenland • Experience Greenland's unique blend of cultures • Discover the Norse ruins
Map