---
from$ 3647 AUD
---
Note: Current p/p indicative rate. Final price may change due to currency fluctuations.
---
---
Overview
Explore the remote islands of the Indonesia archipelago on this small-ship adventure There's no question that Bali's a beauty, but just beyond Indonesia's popular holiday island there's a vast new world to explore. Join Peregrine on a small-ship adventure cruise to some of the most enchanting isles of the Indonesian archipelago: the tiny paradise of Bedil & Kenawa, the incredible crater lake of Satonda, unspoiled Banta, Komodo dragon-filled Rinca, and quiet Moyo, where hidden cascades lie in wait. Before returning to Bali, stop on Lombok proper for a taste of traditional life on the mainland around gorgeous Senggigi Beach. With the comfort of four-star accommodation and the mobility of small ship, this Peregrine adventure cruise is Indonesian island-hopping at its finest. Is this trip right for you? This is a small ship adventure cruise, which means you'll be sailing on a yacht with 30–50 other people. The boat is spacious and comfortable, but it focuses more on the destination than on-board activities. Instead of a pool, we have the sea itself. Instead of a casino, we've got board games and a good book. There's also no formal dress code to worry about. Wi-Fi is available for a small charge. Our ship moves under engine power, rather than sailing, so all cabins will experience light engine noise when the ship is moving (and occasionally when we drop anchor). It's probably worth packing earplugs if you're a light sleeper. If you're concerned about seasickness, there are seasickness tablets on-board. The ship will experience some roll and pitch in choppy conditions, however all of our ships come equipped with stabilisers to minimise movement. Most of our departures run in peak season, when the seas are calmer. Your crew will do all they can to minimise any discomfort. There are no lifts (elevators) on-board our ships, so you'll have to navigate a few steep flights of stairs. Handrails are always available. This trip is very much focused around marine activities so confidence in the water will allow you to make the most of the snorkelling opportunities. Flotation aids will be available as well as kayaks and stand up paddleboards and plenty of time to just enjoy the small ship cruising life. Some of the optional hikes and walks on this trip can take place on unmade paths, that can be slippery and steep. A good level of balance and fitness and proper walking shoes are required to ensure you can enjoy these activities and stay safe. Please listen to the advice of your local leaders when deciding whether to participate or not.
Departures
Note:
Current p/p indicative rate. Final price may change due to currency fluctuations.
Cruise Itinerary
Om Swastiastu! Welcome to Bali. You can arrive at any time today and one of our transfer representatives will collect you from the airport and take you to your hotel. Special Information If you have prebooked a complimentary airport arrival transfer upon arrival at Bali please make your way to the Golden Bird Lounge after clearing immigration. After you exit customs walk to the Golden Bird Lounge which is on the right side (around 50 meters from where you exit customs). The Golden Bird lounge is before the area where all the drivers are waiting.
---
This morning after breakfast at the hotel, you will go to a local family home in Jimbaran, where you will have the opportunity to learn how to make traditional Balinese offerings for a few hours. After this you will head to a classic Balinese Restaurant by the beach, where you can enjoy lunch and have some free time for a swim at the beach. Towels and showers will be available to use, before transferring to Port Benoa this afternoon and boarding the vessel at 4pm. Meet your two local leaders, attend a welcome meeting and a get briefed on safety, then set sail at around 5.30pm. Enjoy a welcome dinner on board the ship with your leaders and fellow travellers, before spending the night at sea.
---
Today you'll arrive at Kenawa Island at about 9.30am and take a zodiac to shore. You'll have the option of going on a 30-minute walk up a steep, sandy cliff to a look-out point with stunning views of the surrounding islands and clear waters. Otherwise, feel free to relax and enjoy the beach for the entire morning. For lunch, the crew will be cooking a beach barbecue, right on the sand. After lunch, you'll sail for another two and a half hours to Bedil Island. Here you'll have the chance to use the kayaks, stand up paddleboards and snorkels before watching the sunset from between the coconut trees and then heading back to the boat for dinner. Spend the night at anchor.
---
Arrive at Satonda Island just before 9am. You will be given the choice between taking a hike or spending the whole morning swimming in the volcanic crater lake that the island is known for. The hike will take about 90 minutes in total and is steep and slippery in parts – but the views of the lake and the local fruit bats who live deeper on the island make it worth the effort. If you choose to partake in the hike, you will still have about an hour to swim in the lake afterwards. Return to the boat for lunch and then you can spend the afternoon either relaxing on the boat or back on the beach at Satonda Island before starting an overnight sail at about 5pm towards Banta Island.
---
Arrive in Banta Island first thing in the morning. This spot is largely uninhabited and seldom visited, so there's a good chance it will be just you and your fellow travellers here to enjoy it for yourselves. Return to the boat for lunch and then have the option of staying and enjoying the comforts on board or heading back to the beach for more water activities. In the early hours of the next morning you will set sail for Rinca Island, one of the larger islands within the spectacular Komodo National Park.
---
Arrive at Rinca Island in the morning and join local rangers for a walk, heading out in search of the famous Komodo dragons in their natural habitat. Rinca is far less touristy than Komodo Island, so dragon spotting here is less staged and more natural. These captivating creatures are often much larger than they look in pictures, sometimes growing to as long as three metres. After an active morning, you'll head back to the boat for lunch and then set sail for Padar Island, home of Pink Beach. Spend the afternoon on the glowing pink sand or enjoy the spectacular snorkelling before returning to the boat for an overnight sail to Moyo Island.
---
Arrive in Moyo Island in the late morning. This usually hard-to-access spot is another fine example of one of Indonesia's smaller, forest-clad isles. It's not hard to see why Lady Diana dropped anchor here for a holiday in 1993. After lunch, walk to a local village and continue with village guides to the Mata Jitu Waterfall for a cooling swim in its natural pool. The walk to the waterfall takes about four hours round trip and is largely on a hilly, unmade road. If you'd rather take it easy, you're welcome to explore the village yourself or spend some time at the local beach bar until the group return and you head back to the boat. After dinner on board, set sail towards Lombok, the sleepy giant that lies to the east of Bali. Special Information On the walk to Mata Jitu Waterfall you may be offered a ride on the back of a motor bike by the local villagers. We do not recommend taking up this offer as we cannot guarantee the safety of this activity and it may not be covered by your travel insurance.
---
Arrive at the port of Bangsal in Lombok first thing in the morning and transfer into private mini-vans. You'll drive for one and a half to two hours before you reach Sukarara Village in Lombok, where you'll be treated to a traditional Gandeng Beleq dance performance. This village is known for its weaving, so take note of the beautiful handmade costumes the performers are wearing. Then you'll have the chance to learn more about the art of weaving and have a chance to purchase some of the items including clothes, bags and tablecloths. From here you'll drive to Bonjeruk Village. You'll be greeted by the villagers who will cook an amazing buffet of local food for you to enjoy for lunch among the picturesque rice paddies. You'll have a chance to learn more about how your visit supports the livelihood of the villagers, by providing the locals with jobs such as tour guides and cooks for the day. After lunch, you'll take a guided walk of the village and the locals will teach you about the different roles the various families all have, including rice harvesters, coffee roasters and weavers. After this you'll make the trip back to port and transfer back to the Panorama II, for a final dinner with your fellow shipmates on board.
---
After an early arrival in Bali, farewell your shipmates, as the adventure ends after breakfast. The crew on the boat can help you arrange a taxi to your next destination from Port Benoa if you require one.
---
Itineraries are subject to change.
---
Panorama II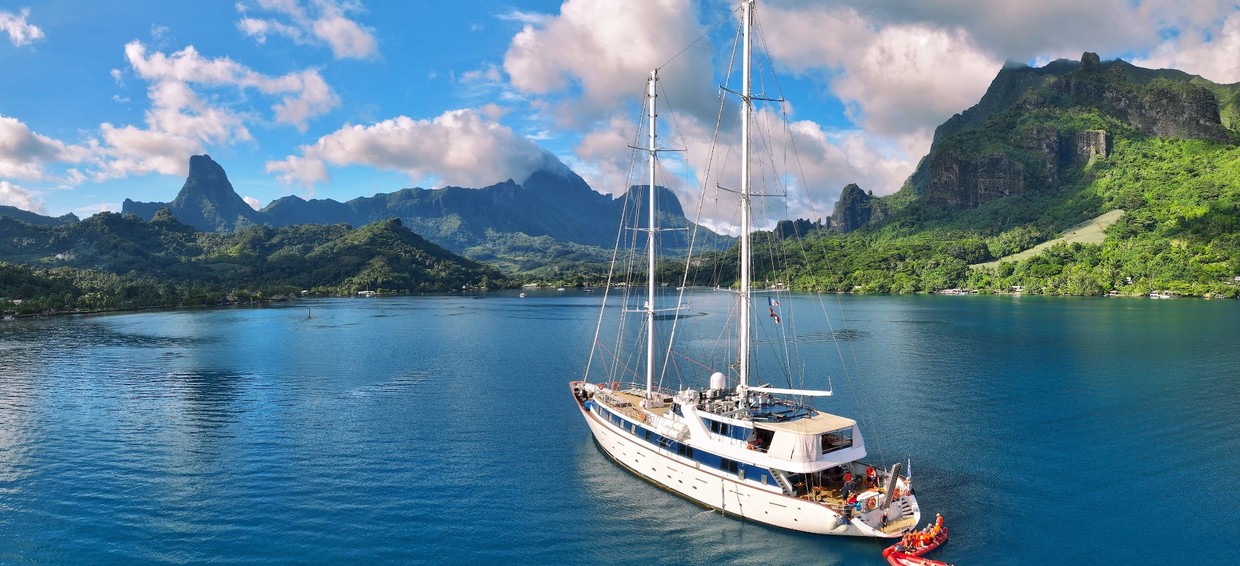 Vessel Type: Sail Cruiser Length: 50 metres Passenger Capacity: 49 Built / refurbished: 1993 / 2008 / 2012 / 2015 Imagine a place far from home that feels just like home, where the borders are delineated by the golden shores of the sea; and home is wherever the anchors drop. Imagine 164 feet of comfort, sleek beauty, and safety classified by the latest International "Safety of Life at Sea" (SOLAS) standards. Imagine your floating home on board the sleek, classic design Mega Yacht as she spreads her white sails through the seas under the name PANORAMA II, waving her Greek flag through the wind. Discover the world by sea at 10 knots per hour, in her un-rushed pace, one island or seashore at a time on board the ultimate 3 masted motor sailer cruiser. Panorama loves to seduce her select 49 guests with her classic lines and wood paneled lounges redefining what yachting was meant to be. A spacious lounge with ample space, dining areas decorated with warm colors, rich library and two decks for sunbathing, shaded areas and outdoor bar and loungers are just some of the elements that define her essence. 360° views of unobstructed ocean are your eyes' canvas painted with ocean blue and deep green mountains. Embrace freedom as the Panorama II sets her white sails seduced by the clear winds of the sea. Mingle with likeminded travelers in our public areas, enjoy a moment to yourself in our ample deck space, or retreat to one of our 25 ocean view cabin-sanctuaries all offering windows or portholes connecting you with mother nature's wonders. Panorama II's experienced crew of 18 is trained with hospitality at heart to pamper her guests and guarantee the ultimate home away from home experience. Serenity is a state of mind; on board Variety. Home at Sea Single seating dining Indoor & Outdoor Lounge - Bar, Indoor & Outodoor Restaurant, Audiovisual in Lounge, Mini library, Beach Towels, Snorkeling equipment, Kayak, Board Games, Swimming Platform, Wi-Fi Comfort Zone Windows: Upper & Main deck cabins, Portholes: lower deck cabins, Triple Occupancy cabins: Category B, Flat-Screen TV, Mini Safe, Mini Fridge Individually controlled A/C, En suite bathroom with shower, Hairdryers, Telephone for internal use, Central music
Highlights
• Visit a selection of remote and seldom visited islands – not only Rinca and Satonda Islands, but little gems such as Banta Island, whose beaches are usually totally deserted. • Make the most of magnificent snorkelling opportunities, keeping your eyes peeled for tropical fish and Indonesia's famous sea turtles. • Escape the tourists of Komodo Island by visiting Rinca Island, where Komodo dragon-spotting is a much more natural experience. • Unwind with a dip in Satonda Island's incredible crater lake – just one of many superb natural wonders to be found in this wondrous archipelago. • As well as visiting Senggigi Beach, witness the age-old traditional of Indonesian sarong weaving and take a hike to see rural life unfold along the rice fields.
Map