---
from$ 7067 AUD
---
Note: Current p/p indicative rate. Final price may change due to currency fluctuations.
---
---
Overview
This voyage links numerous historic locations on Canada's East Coast, including a known Viking settlement, a Frenchbuilt fortress, several remote mission locations and isolated fishing ports. We journey from the more temperate climate found in the Maritimes, northwards and into the higher Arctic latitudes. Subtle changes to vegetation and wildlife species can be noticed and our expert guides will interpret and explain these changes throughout the journey. The region features strong cultural diversity and we encounter the Nunatsiavut people in small communities along the coastline of Labrador. Numerous wildlife species are found along this coastline including bears, seals, whales and both migratory and resident birds. A particular highlight of our voyage is a visit to Torngat Mountains National Park – home to the highest mountains in Canada, east of the Rockies. This is one of the jewels in the crown of the Canadian National Park network. The Inuit have strong cultural and spiritual connections to the land which we learn about during our visit. Our expedition vessel is the perfect platform for exploring the remote bays and fjords of this spectacular wilderness as many locations can only be accessed by ship. A final highlight awaits as we venture across Frobisher Bay to Monumental Island. This is remote, small-ship expedition cruising at its best.
Departures
Note: Current p/p indicative rate. Final price may change due to currency fluctuations.
Cruise Itinerary
Our adventure begins in the historic port town of Louisbourg, Nova Scotia. First visited in 1597 by the English, the town was fortified in 1713 by the French in recognition of its strategic maritime location. During the 18th century, Louisbourg was the third busiest seaport in North America. We board the ship in the late afternoon in time for a dinner of local lobster as we sail out past the lighthouse, into the North Atlantic and on to Newfoundland and Labrador.
---
This morning we are anchored off the tiny fishing community of Trout River, the access point into Gros Morne National Park. Our zodiacs take us ashore and we are transferred by bus for a visit to the World Heritage-listed Tablelands. This incredible location is notable for its unique geology and exceptional scenery. We explore the boreal wetland landscape, featuring dramatic rock ridges, pitcher plants, and white-throated sparrows. We might encounter the iconic moose as we explore the park. We re-board the ship in the afternoon and continue our voyage northwards.
---
A millennium ago, Viking long-ships would have been found along the beach of L'Anse aux Meadows. L'Anse aux Meadows is where Norseman, Leif Erikson, son of Eric the Red, is thought to have founded "Vinland" around 1000 AD. As we explore the reconstructed sod huts and Norse ruins with the site's resident archaeologist, we see evidence that the Vikings discovered North America five hundred years prior to the arrival of Christopher Columbus.
---
Battle Harbour marks our arrival in Labrador. The location was one of the first British settlements on the east coast of the Americas and was an important gateway to the rich Labrador fisheries. We venture ashore to explore the restored fishing, whaling, commercial buildings found in this remote community. The colorful buildings make for fantastic photographic subjects amid the backdrop of breathtaking coastal views.
---
The ancient rocks of the Canadian Shield (the exposed portion of the Earth's crust) cradle the small coastal hamlet of Hopedale. This remarkable geological feature, estimated to be up to 4 billion years old, greets us as we sail through narrow channels and weigh anchor off Hopedale. We venture ashore by zodiac to visit the Hopedale Moravian Mission which was built in 1782. It's a fascinating place and we learn of the influence of the early Moravian missionaries on the Inuit people of Northern Labrador.
---
Today we enjoy a visit to the historic town of Hebron, once the northernmost settlement in Labrador. The Moravian missionaries established Hebron in the early 1830s and the Germanic influence is clearly seen in the architecture. The Mission was closed and the local Inuit families relocated in 1959, but the original buildings still stand today. This is another designated National Historic Site.
---
Midway through our exploration of Labrador, our attention turns to the magnificent wilderness of the Torngat Mountains National Park Reserve. The Park was established in 2005 and covers almost 10,000 square kilometers of Northern Labrador. It is home to Canada's highest mountains east of the Rockies, and features breathtaking fjords, glacial systems and stunning landscapes. The Inuktitut word "Torngait" means "place of spirits"; these mountains have been home to Inuit and their predecessors for over 7500 years and are of great spiritual importance to these peoples. Polar bears hunt seals along the coast, and caribou herds cross paths as they migrate to and from their calving grounds. There are some terrific opportunities to explore the area on foot and along the shoreline in the zodiacs.
---
Nachvak Fjord in the Torngat Mountains National Park is exceptionally beautiful. The fjord is deep and narrow and stretches more than 20 kilometers. The rocky walls of the fjord soar almost 900 meters above us at several points. Many species migrate through the area during the short boreal summer. Numerous seal species may be encountered including ring, hooded, harp and harbour seals. Minke whales have been known to linger in the fjords, while larger species, including fin and humpback, tend to stay offshore. This is an outstanding location for landscape photography with endless subjects, a dynamic colour range, and interesting lighting.
---
As we reach the far northern stretches of coastal Labrador, we learn of the remarkable events at Martin Bay. Here a German U-boat made the only known armed landing in North America during World War Two. In 1943, U-537 sat at anchor here, while the crew man-handled ashore and established an automated weather station. This station remained undiscovered until the late 1970's when a German historian came across a reference to it in the German naval archives. The equipment was collected by the Canadian Coast Guard in the early 1980's and is on permanent display in the Canadian War Museum in Ottawa. We visit the Button Islands before sailing into southern Davis Strait. Named after Thomas Button who explored the area in 1612, the islands are in the middle of the upwelling of nutrients on the edge of the continental shelf. This action makes it a magnet for thousands of seabirds and other marine mammals.
---
Today we will sail across the mouth of Frobisher Bay and make landfall on Monumental Island, a small, steep-sided outcrop off the southeast coast of Baffin Island. Here we are on the lookout for polar bears and walrus that live around the island in an uneasy truce. While polar bears have been known to attack and kill young walrus, they are no match for a fully-grown male walrus, especially in the water. We enjoy our final zodiac cruise here and tonight we reflect on the last 10-days of exploration while enjoying a sumptuous farewell dinner, attended by the Captain of the ship. During the night the ship will negotiate the narrow channels of Frobisher Bay on the way to our disembarkation point, Iqaluit, capital of the territory of Nunavut.
---
We bid farewell to our crew and disembark the ship by zodiac and, after a short tour of Iqaluit (if time and tides permit), we transfer to the airport for our flight back to Ottawa. On arrival in Ottawa, an airport transfer is provided to a central downtown location.
---
Itineraries are subject to change.
---
RCGS Resolute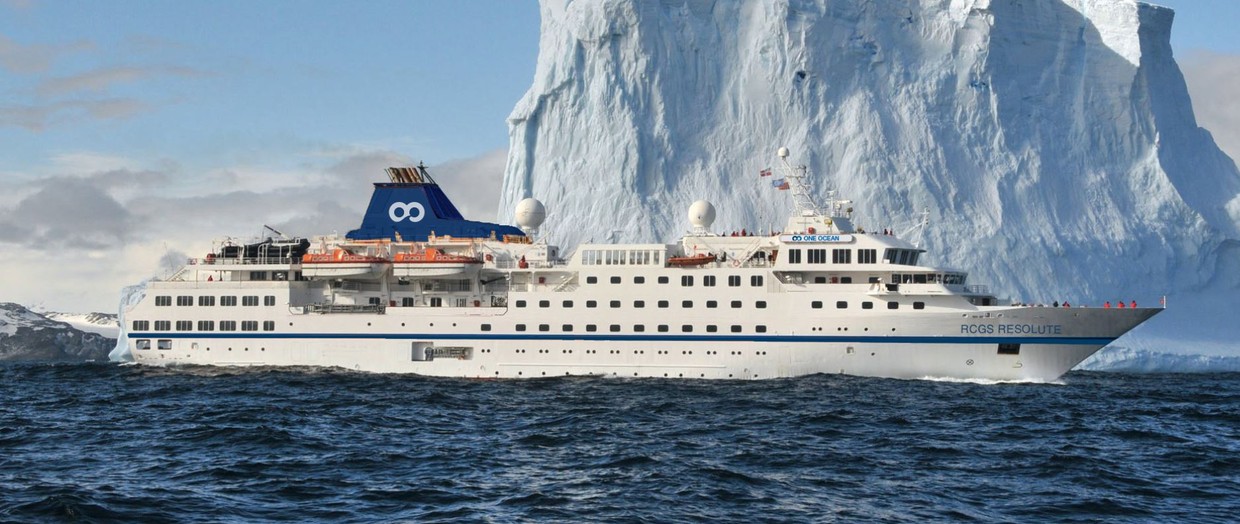 Vessel Type: Polar Expedition Vessel Passenger Capacity: 146 Built: 1993 Named after the HMS Resolute, a British Royal Navy Arctic exploration vessel, as well as the Inuit town of Resolute in Canada's Nunavut Territory, RCGS Resolute will arrive in Canada in November 2018 for its inaugural polar voyage. RCGS Resolute also carries the name of The Royal Canadian Geographical Society (RCGS), since we are exclusive education, environmental science, and expedition partners in Canada's north. This longstanding partnership works to the benefit of our guests, who have the opportunity to learn from and interact with world-renowned educators, researchers, naturalists, marine biologists, artists, historians and photographers. With an unsurpassed ice classification, a proven track record for stability and safety, large indoor and outdoor viewing platforms, and exceptional maneuverability, RCGS Resolute is ideally equipped to guide guests through the world's most pristine regions, further expanding our expertise in exploration and discovery. RCGS Resolute will carry a maximum of 146 passengers in unparalleled comfort, with an array of luxury amenities, educational opportunities and activities tailored to guests' particular interests, and individual, personalized service. Superb Design and Layout. Throughout the ship there are spaces ideally suited to every need. Spacious outer decks provide 360 degree viewing platforms perfect for photography, wildlife watching, birding and appreciating expansive views. The salt water plunge pool, large relaxation deck, hot water jacuzzi are all located aft of the wellness centre (massage therapy, Finnish Sauna, steam room) and well equipped gymnasium. Inside there are multiple areas to explore ranging from our well appointed theatre style presentation room, aft observation lounge and bar, forward observation lounge and bar, and both dining rooms. Add in the One Ocean Expeditions multimedia room, and mobile laboratory and the opportunities are endless. Six Different Cabin Categories. All cabins feature outside viewing ranging from deck three traditional with port holes, up to decks 4 through 6 offering expansive panoramic windows. Cabins all have lower berths that have the ability to be single beds, or 1 double bed depending on our guests needs. Extensive renovations have provided new carpets, high quality cabinetry with soft close drawers, contemporary and spacious bathroom design, all paired with soft accent lighting offering options dependant on our guests daily activities and mood. All cabins offer modern sectional lounge quarters, providing a quiet nook to read or catch up on journalling. Space is exceptional as each cabin offers 22M squared living space, whilst the One Ocean Suites are absolutely palatial offering 44M squared with enough room to entertain or do back - flips (your choice)! Enjoy Great Dining? So do we. At One Ocean Expeditions, the priority is on the expedition. However with every activity, option, event, or excursion we find we build up incredible appetites to indulge in superb and extensive menu options. Our bistro dining room provides early birds the option to get their social caffeine or smoothy start to the day, accompanied by light breakfast style snacks. Full meal service includes buffet breakfast and lunches incorporating an international flare. For those with special dietary requirements - no problem, we can accommodate that too. Dinner is a great opportunity to catch up about the day's events, as well as look to where we expect to explore next. Five course menu options are offered a la carte, and seating is open in our business casual dining room featuring 180 degree sweeping views. There's also an excellent wine list featuring a range of international wines and other beverages of choice. Join us on the Bridge. There is an open-bridge policy and guests are welcome to meet the navigating crew at virtually any time of day; there's always something to learn from the officers on watch and the bridge is one of the best places on the ship for spotting whales and sea birds. The bridge is closed during times of tricky navigation, pilotage, or weather. Operational Safety. There are no compromises here. The expedition staff and crew onboard RCGS Resolute have the deepest respect for changeable weather in the polar regions and the varying sea and ice conditions. That respect is apparent in every decision made throughout the voyage. The ship carries the most extensive inventory of safety equipment on all excursions and require leaders to undergo vigorous and effective safety training programs. Your expedition team are well prepared, so you can relax and enjoy your voyage.
Highlights
• Visit remote ports and local communities along the coast of Labrador • Inuit history and culture plus early European locations, including a Viking settlement • Towering mountains, wildlife and wilderness of the Torngat National Park • Experience the fascinating transition from the Atlantic provinces into the High Arctic
Map