---
from$ 13570 AUD
Ship
National Geographic Explorer
---
---
Overview
Go deep into the experience of arctic wildlife in its natural habitat–discovering and observing polar bears, and the other unique creatures of the Arctic ice. Incomparable wildlife experience Svalbard is the best place on the planet to see polar bears—wild, majestic, in their native habitat: the sea ice. And see them we do–during our season in Svalbard, we observe all manner of behavior from hunting for seals amid the floes to frolicking cubs–all viewable from the proximity and safety of our ship's deck rail. Over the past 30+ years, our ace spotters have given our guests multiple opportunities to experience close sightings. In 2009, we had a seasonal record of 105 bears in Svalbard. In 2010 we observed a staggering total of 229 bears. And in 2011 and 2012, we saw seasonal totals of 156 and 210, respectively. But it's not the number of bear sightings that count, it's the quality, and the fact that you can count on us to deliver this extraordinary experience. In addition to the bears, we'll have the opportunity to see and observe walrus, fascinating creatures and wonderful photo subjects. Reindeer, elusive arctic foxes, fur seals, and a glory of birds–we'll nose up to rock wall rookeries teeming with thousands of birds, see pelagic birds from the ship's rail when we're underway, and Zodiac cruise near a cloud of feeding Arctic terns. Every day is active and engaging You'll get out on adventures every day we're in Svalbard, weather permitting. The islands of the archipelago are ideal for walking, with some hikes revealing artful, sculptural arrangements of whale bones on pebbled beaches, and the ghostly remains of trapper's huts. Your expedition leader will enable daily Zodiac cruises and kayak expeditions, too–enabling you to experience the wonders with all your senses, at water level or eye level. You'll have a choice of activities, plus your choice of naturalists to join–for a movable feast of personalities, insights, and interests. Choice also includes opting to relax too. Enjoy the view from behind Explorer's panoramic glass windows. Or visit the fitness center with its generous views of the ice vistas, or ease into the sauna or a massage in the wellness center. Travel in excellent company Explore under the sure guidance of an expedition leader, an assistant expedition leader, eight veteran naturalists, a National Geographic photographer, plus a National Geographic certified photo instructor, a Global perspectives guest speaker, an undersea specialist, a wellness specialist and a video chronicler. Their knowledge and passion for the fascinating Arctic region is the key to your extraordinary experience.
Departures
Cruise Itinerary
Arrive in Oslo, the capital city where each year the Nobel Peace Prize is awarded in the presence of the King of Norway. Check in to the SAS Radisson Blu Hotel. In the afternoon, our introduction to Oslo begins with a stroll among the famed Vigeland sculptures--hundreds of life-size human figures set in terraced Frogner Park. Next we visit the Fram Museum, dedicated to Norwegian explorers Nansen and Amundsen. The evening is free. (L,D)
---
Depart Oslo on a charter flight, and enjoy breathtaking vistas en route to Longyearbyen. On arrival, visit the Svalbard Museum to learn the story of Svalbard and its context in Norway and the Arctic, from 17th-century whaling to modern mining, research and tourism. Then tour the Gallery Svalbard to view the permanent art and cultural collections as well as studios of local artists. Embark National Geographic Explorer, your base for the next six days. (B,L,D)
---
Our travel in the archipelago is truly exploratory by design, and our exact day-to-day movements will remain flexible, depending on local conditions. Our main focus is the search for Svalbard's amazing wildlife: polar bear, reindeer and walrus. Observe seals and arctic foxes and search for the very symbol of the Arctic—majestic polar bears. Cruising in Svalbard's fjords, venture to the foot of stunning tidewater glaciers. We take our Zodiacs and kayaks to cruise among beautiful icebergs, and experience the geology, wildlife and wildflowers that give color and vitality to the High Arctic. (B,L,D)
---
Disembark in Longyearbyen, meet up with a local guide and take a short bus ride to Camp Barentz in the nearby Advent Valley for a taste of Arctic culture. Here, you'll discover a unique collection of buildings including an authentic gamme, a traditional round building with an open fire in the center, and a lavvo, the traditional tent of the Sami people. Enjoy refreshments and meet some of the friendly, sled dog huskies that reside at camp. Fly back to Oslo and overnight at the SAS Radisson Blue Airport Hotel. (B,L)
---
After breakfast, proceed to the airport or continue on to other adventures. (B)
---
All day-by-day breakdowns are a sampling of the places we intend to visit, conditions permitting.
---
National Geographic Explorer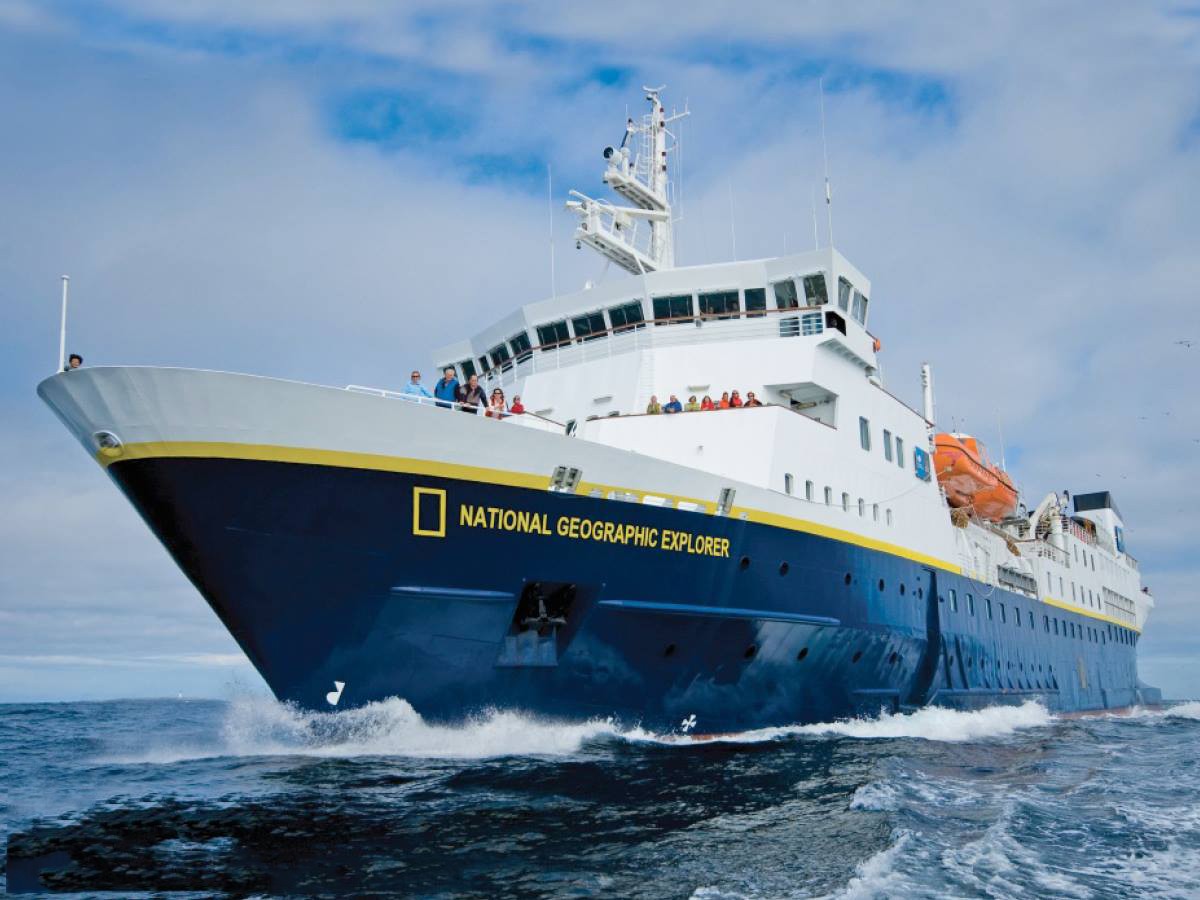 Vessel Type: Luxury Expedition Length: 108 meters Passenger Capacity: 148 (single & twin cabins) Built / Refurbished: 1982 / 2008 National Geographic Explorer is a state-of-the-art expedition ship. It is a fully stabilized, ice-class vessel, enabling it to navigate polar passages while providing exceptional comfort. It carries kayaks and a fleet of Zodiac landing craft. An Undersea Specialist operates a remotely operated vehicle (ROV) and sophisticated video equipment, extending access to the underwater world. Public areas: Bistro Bar; Chart Room; Restaurant; Global Gallery; Library, Lounge with full service bar and state-of-the-art facilities for films, slideshows and presentations; Mud Room with lockers for expedition gear, and Observation Lounge. Our "Open Bridge" provides guests an opportunity to meet our Officers and Captain and learn about navigation. Meals: Served in single seatings with unassigned tables for an informal atmosphere and easy mingling. Menu is international with local flair. Cabins: All cabins face outside with windows or portholes, private facilities and climate controls. Expedition Equipment: Zodiac landing craft, kayaks, Remotely Operated Vehicle (ROV), hydrophone, SplashCam, underwater video camera, Crow's Nest remote controlled camera, video microscope, snorkeling gear. Special Features: A full-time doctor, Undersea Specialist, LEX Photo Specialist and Video Chronicler, Internet Cafe and laundry. Wellness: The vessel is staffed by two Wellness Specialists and features a glass enclosed Fitness Center, outdoor stretching area, two LEXspa treatment rooms and Sauna.
Highlights
• Polar bear and walrus sightings ensured by our skilled veteran spotters • Arctic wildlife & natural history • True expedition adventure––daily flexibility and spontaneity • Active exploration––using kayaks, Zodiacs, hiking & walking • Superlative photos ops & on-board photo assistance • National Geographic expedition team to illuminate it all
Map