---
from$ 2787.79 AUD
---
---
Overview
We are pleased to offer a convenient four-night cruise on the irresistible Irrawaddy River from Mandalay to Pagan disovering the ancient Royal capitals, riverside villages, lively local markets and stunning scenery and sunsets.
Cruise Itinerary
Embark your ship at Sagaing at 16.00 followed by dinner. Moor overnight at Sagaing.
---
Explore Yandabo village, famous for its production of terracotta pottery from the river bank clay. This village is well-known as the place where the first Anglo-Burmese war ended by the peace treaty signed in 1826. Morning walking tour and a visit to a pottery workshop to see first-hand the production process. This is a hands-on experience which you are welcome to try. Visit the Pandaw supported Yandabo School (if no school holidays). Moor overnight at Shwe Tan Tit village.
---
Explore Pakokku, experiencing the local market and town centre by Tuk Tuk. Sail to the Ayardaw charity clinic supported by Pandaw. Afternoon walk around the village. Pakkoku is a city of about 100,000 inhabitants located 30 km from Pagan. Main produce are tobacco, cotton, peanuts, Thanatkha (traditional make-up and sun lotion) and textiles. Visit Pakokku's main market by Tuk Tuk. Stop at a cheroot workshop and discover how traditional cheroot cigars are made. Moor overnight at Tant Chi village.
---
Drive up the winding road of the Tant-Chi-Taung mountain to visit the hill top stupa. On the way back, watch a traditional paper-mache elephant dance performed by the villagers from Tant-Chi. Sail to Salay, a small town which was once a bustling trading port, now a sleepy village filled with colonial architectural treasures and timeless teak monasteries. Walk from the ship to Yoke-Sone Kyaung, the best-known teak carved monastery in Burma, stopping at Salay House on return. Moor overnight at Salay.
---
Morning cruise upstream from Salay to Pagan. Disembark after lunch.
---
Itineraries are subject to change.
---
Pandaw II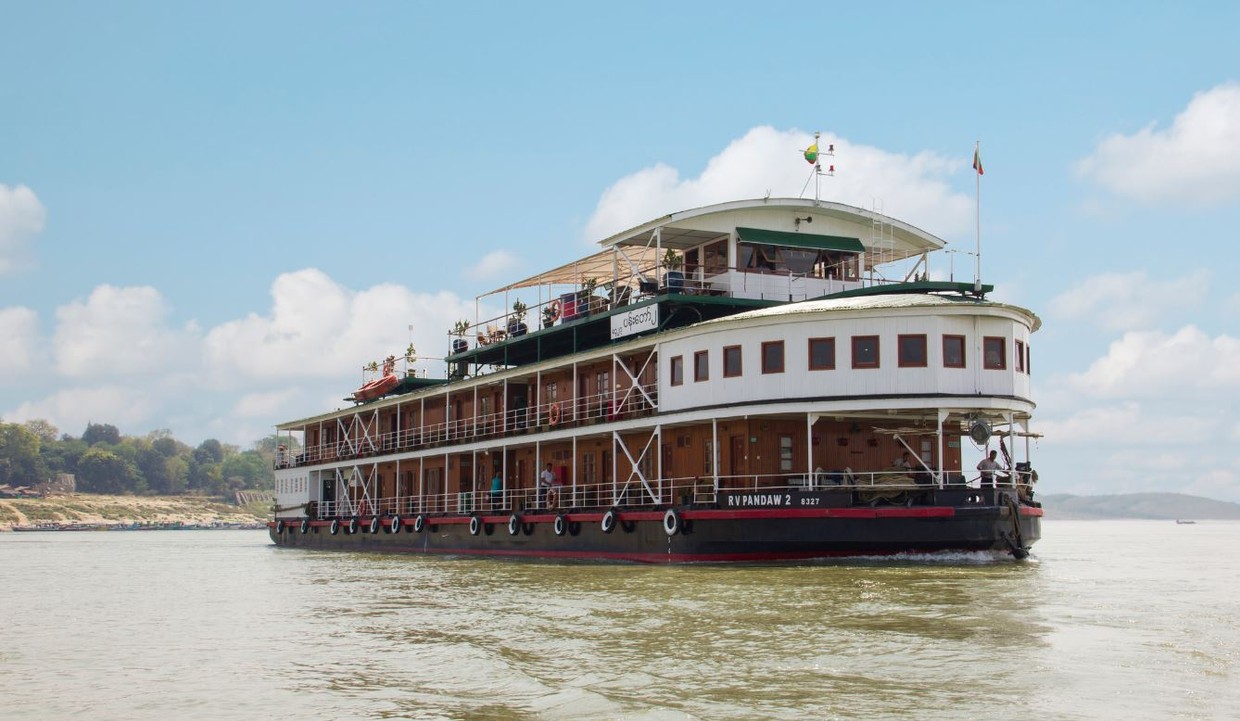 Vessel Type: River Boat Length: 60 metres Passenger Capacity: 48 Built / refurbished: 2002 Pandaw II was our first ever new build back in 2001. Though our oldest ship she is still young in river terms – her prototype the old Pandaw is now over sixty years old and many ships in this fresh water environment are at least 100 years old. She was built in Rangoon at the Dawbone dockyard, then belonging to the Marine Department. In those days there was no electricity and numerous generators surrounded the growing hull powering the welder's torches. Timber mills were rare too and great tree trunks would be delivered to the dockside and be cut into planks on the spot. The result was magnificent and still is. Pandaw II remains the stately queen of our fleet, if not the river. This is the one ship that has not been fully refitted, partly because the crew have treated her with such love and care that she does not need a refit and partly because she is something of a cult ship with a considerable following and we want to preserve the original Pandaw cabin with their real ship's berths and the old door and window arrangement rather than the French windows of our other P class ships. The ship has quality mountain bikes for your independent exploration. ACCOMMODATION • 16 upper deck, 8 main deck staterooms • 170 square feet, finished in teak and brass • Kimonos and slippers • Spa-branded amenities • Unlimited mineral water • Electric mini safe • Central AC with individual control • Imported quality linens with duvet and two kind of pillows • Premium mattresses • Welcome flower arrangement and welcome gift • Mirror • Multi-configuration plugs • Generous closet space and under-bed storage • Hair dryer • Daily nightly turndown service • 24h laundry service • Complimentary evening canapés WINING & DINING • Local master chef heading an experienced international culinary team • Semi-buffet breakfast, Semi-buffet lunch, and seated theme dinners • Daily lean & light menu options • Complimentary coffee, water, tea, soft drinks, local beer, local spirits, juices • Extensive wine list with premium wines • Series of cultural performances, educational talks, cooking classes, and ship tour • Welcome drink on arrival • Welcome cocktail • Farewell Reception • Theme dinners • Spacious, air-conditioned saloon bar with nightly entertainment • Sundeck bar • 24hrs hospitality bar • Onboard bakery with daily freshly baked breads and rolls ON EXCURSIONS • Admissions • Shoe cleaning after excursions • Bottled drinking water • Cold towel service after excursions • Refreshing drink following excursions • Maximum 24 guests per guide on all excursions • Full-size motor coach on all excursions (maximum of 24 passengers per coach) • 1st aid trained assistant guide to follow all tours and excursions SAFETY & SECURITY • All onboard crew is trained and certified as per international marine standards • Fire alarm system in all cabins, public areas and back areas • Fire fighting system in all ship areas • Expert marine superintendant • 24 hrs watch on duty ONBOARD STAFF • Captain • River Pilot • First Officer • Chief Engineer • 1st Engineer • Electrician • Bosun & nautical crew • Ship manager • Housekeeping • Dining • Bar keeper • Chefs • Local tour guides PUBLIC SPACES • Guest relation desk • Fair-trade Shop • Library with contemporary and classic literature
Highlights
• Visit a Lacquerware workshop to explore the process of making lacquer handicrafts which is the specialty craft of Pagan • Explore Pakokku, experiencing the local market and town centre by Tuk Tuk • Explore Yandabo village, famous for its production of terracotta pottery from the river bank clay
Map