---
from$ 3544 AUD
---
Note: Current p/p indicative rate. Final price may change due to currency fluctuations.
---
---
Overview
Natural beauty and 4,000 years of history converge in Italy, Sicily, France, Portugal, Spain and the islands of the Mediterranean. The taste of sweet green olive oil and fresh ripe tomatoes, the sound of carefree children laughing on sun drenched beaches, the sight of myriad yachts at anchor in picturesque harbours… These are but a few sights and scenes of the Western Mediterranean. Replete with sparkling capitals, ancient civilizations and cultured ambiance, it is an incredibly vivid world of mythical lands and tranquil seas, soaring mountains, medieval villages, private coves and sun struck beaches. Wherever you may wander, you will discover the special magic of the Mediterranean that has enchanted travellers for millennia.
Departures
Note: Current p/p indicative rate. Final price may change due to currency fluctuations.
Cruise Itinerary
Malaga's fortress palace of the Alcazaba and the Castillo de Gibralfaro are splendid examples of Moorish architecture. But it is in Granada that you can see the most romantic and magnificent expression of the Arabesque style in the glorious Alhambra Palace.
---
Tangier was the real model for the famous American film «Casablanca» with Humphrey Bogart and Ingrid Bergman. It still retains its faded mongrel charm - not entirely Moroccan, European or African but a heady mix of all three.
---
Cadiz called ''the cup of silver'' is almost African in appearance, its streets are lined with palm trees, its churches topped with dome-like cupolas. Take advantage of our optional tours to Seville, the irresistible capital and cultural centre of Andalusia with its colourful and festive lifestyle.
---
Today, Safi is mainly modern, home to a fishing port and diversified industries. The old town which lies within the city is still very much alive. Here you may be tempted to buy pottery typical of this part of the region.
---
Arrecife is the diverse and interesting capital of Lanzarote. It has a striking golden sand beach which is sheltered by a reef and a great selection of bars and restaurants. Worth a visit is The Castillo de San Gabriel in the centre with it's impressive drawbridge that was constructed in 1599 to help defend against pirate attacks. The gorgeous little La Recova market is tucked away and there is a selection of artisan craft shops together with a fresh food market on the weekdays.
---
Puerto del Rosario is the capital of Fuertaventura and is known for its whitewashed houses and open-air artworks, including giant snail sculptures along the harbor promenade. From here you can easily explore the islands attractions such as Islote de Lobos Nature Reserve. For the energetic then windsurfing is a popular choice as Fuerteventura is one of the best places in the world to do sail sports.
---
This 15th-century city with a semitropical colonial ambience is a favorite stopping place for yachts crossing the Atlantic. Visit the Casa Colon, named for the great explorer, and do some exploring of your own by adventuring to the volcanic crater of Caldera de Taburiente National Park. Its lunar landscape and exotic vegetation take you to a new world.
---
Itineraries are subject to change.
---
Star Flyer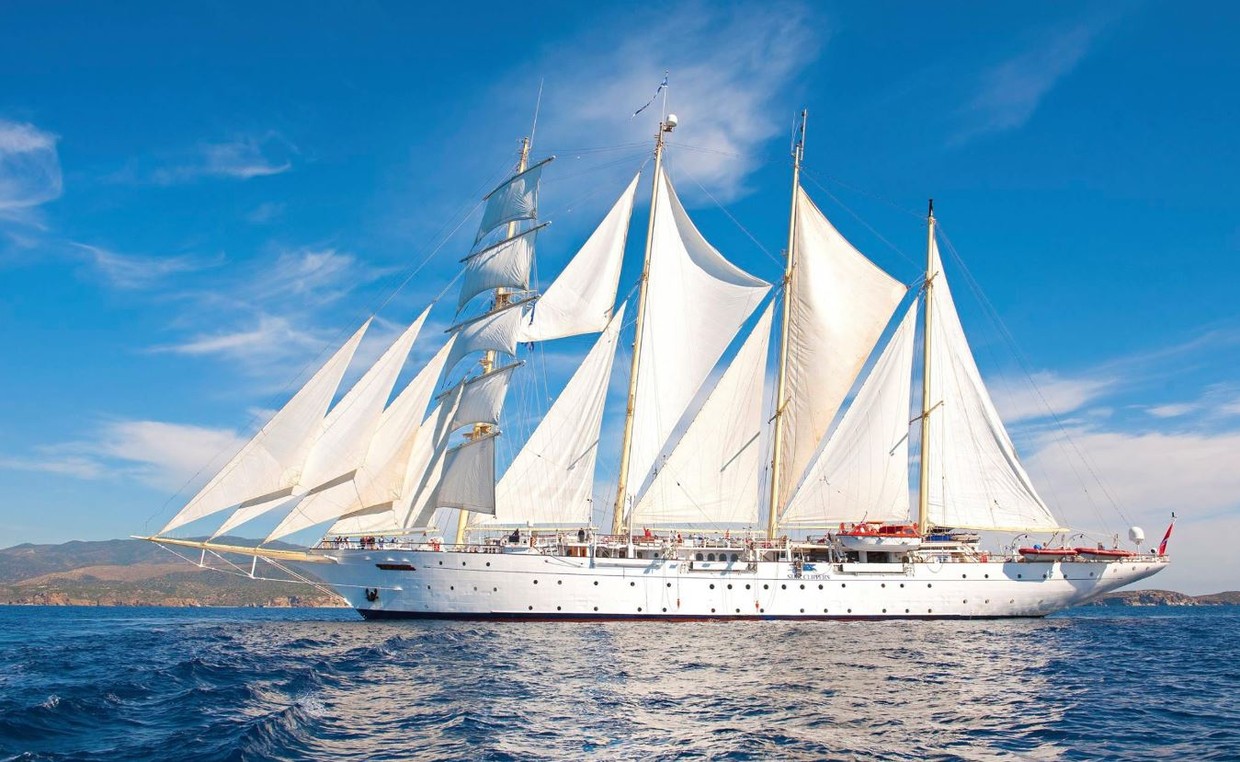 Vessel Type: Tall Ship Length: 109.7 m Passenger Capacity: 170 Star Flyer is a true clipper ship reflecting it's proud heritage in every inch of her polished brass and gleaming brightwork. Step aboard this unique vessel and discover a new age of sail, where the traditions of the past are happily married to the comforts and amenities of the present day. Star Flyer is a modern cruise ship in every way, created for luxury-loving passengers who also love the traditions and romance of the legendary era of sailing ships. Star Flyer is 360 feet long and carries just 170 guests in pampered comfort. Life aboard is blissfully relaxed, much like traveling on a private yacht. You'll never feel confined on Star Flyer. Ship offers spacious accommodations and expansive teak decks with ample space and not one, but two swimming pools. In fact, you'll find that this ship offers more outdoor space per passenger than most conventional cruise ships. The décor of Star Flyer is reminiscent of the grand age of sail. Antique prints and paintings of famous sailing ships please the eye, while teak and gleaming mahogany rails are richly reminiscent of Star Clippers' proud nautical heritage. All Star Clippers ships feature open-seating dining in an elegantly appointed dining room, our convivial indoor-outdoor Tropical Bar and Piano Bar, and an Edwardian style library where a Belle Époque fireplace glows with a warmth that reflects the friendliness and enthusiasm of Star Clippers' hospitable officers and crew.
Highlights
• Lounge on Dalia Beach at Tangier • Explore the fantastic caves of Hercules at Tangier • The Castillo de San Jose Museum, Arrecife
Map