---
from$ 5678 AUD
---
Note: Current p/p indicative rate. Final price may change due to currency fluctuations.
City
St. John's to New York City
---
---
Overview
From St. John's, we sail to beautiful St. Pierre and Ferryland, before exploring the Magdalen Islands with their magnificent red cliffs. We stop at picturesque Baddeck on Cape Breton Island, and make our way to historic Louisbourg, before visiting the vibrant city of Halifax. Scenic Yarmouth is next before our voyage culminates in the great metropolis of New York. French culture in powerful nature We cruise to the French town of St. Pierre to experience its unique atmosphere. Next, we head to the Magdalen Islands, and call in to Cap-aux-Meules to explore the beautiful cliffs, harbours and picturesque bays. Baddeck, our next stop, is a lovely village nestled on the shores of the Bras d'Or lakes. Nova Scotia history Then we sail on to the rugged eastern shores of Nova Scotia to visit the historic city of Louisbourg, known for its amazing French fortress, before our call at vibrant Halifax, a city that manages to blend old and new successfully, with fantastic outdoor activities and a rich cultural life on offer. Our final stop in Nova Scotia is Yarmouth, boasting magnificent scenery and an enchanting history. Finally, we make our way to our last port of call, the city that never sleeps: New York.
Departures
Note: Current p/p indicative rate. Final price may change due to currency fluctuations.
Cruise Itinerary
St. John's is the oldest and most easterly city in North America, with narrow streets and hidden alleyways - is a city full of character. We recommend you explore the history of this place under the striking twin clock towers of the Basilica of St. John the Baptist.
---
Visit the site of the first permanent settlement on Newfoundland, established in 1625. Today there is an interpretation centre, conservation laboratory and a re-creation of a 17th century kitchen for us to experience. The beautiful setting of Ferryland is great for coastal walks, taking in cobble beaches, meadows and the photogenic Ferryland Lighthouse. Join the optional excursion to explore the south end of the Avalon Peninsula and the Mistaken Point Ecological Reserve.
---
Even though Paris is very far away, the people living in St Pierre and Miquelon are very proud of being French. This is France's oldest overseas territory and is still a part of the French Republic. So today you can enjoy a visit to a place where you find the typical French way of life with nice bistros, cafés, wine, cheese, baguettes, chocolates and pastries. Join our optional excursions to Île aux Marins or experience the local life with a walking tour of St. Pierre.
---
Twelve islands make up the roughly 100 km long sand archipelago called Îles de la Madeleine. The six largest of these islands are connected by many kilometres of thin sand dunes, peppered with fuzzy tufts of grass. Shaped by wind and waves, the iron-rich red and grey sandstone cliffs amaze with their spectacular forms. The coastline of beaches is dotted with harbours, multi-coloured houses and picturesque bays. We dock in Cap-aux-Meules, home to more than half of the archipelago's population. Long before the arrival of Europeans, native people came to the islands to fish and hunt for seal and sea cows. Preceded by Basque fishermen, Jaques Cartier arrived in 1534 and wrote in his logbook the first recorded reference to the islands. By 1765, the islands were inhabited by 22 French-speaking Acadians and their families. The locals who live here today are called Madelinots, and they identify themselves both as Acadians and Québécois. Others are descendants of survivors from the more than 400 shipwrecks on the island. Come ashore and discover this little outpost, where high winds and ocean storms are a part of life. Have a bite to eat at Café la Côte, Pas Perdu, Café d'Chez Nous or something to drink at Bar Le Central to feel the island's bohemian pulse. If you feel like being active, you can go kayaking or enjoy a hike in this relatively flat terrain.
---
Situated right in the heart of Cape Breton Island, Baddeck is a quaint little village, yet vibrant and invigorating due to its location known as the 'beginning and end' of the world. The famed Cabot Trail, considered to be one of the most beautiful in the world, can be found here. Situated on the shores of the Bras d'Or Lakes, the area offers wonderful hiking opportunities, including a short hike to the Uisge Ban Falls – a comfortable and pleasant trek to the waterfall in the Uisge Ban Provincial Park.
---
Sailing along the eastern shores of Nova Scotia, we head for the large island of Cape Breton. Then we reach Louisbourg, home to the historic jewel, the Fortress of Louisbourg, a National Historic Site. Here you can experience what life was like in a bustling French fortified town in 1744. As you might expect, the rugged coastal setting offers up plenty of outdoor adventure, with brilliant hiking and biking trails. And as one of the busiest crab and lobster fishing villages in the Maritimes, Louisbourg Wharf is the perfect place to watch the day's catch coming in, and maybe sample some fresh seafood.
---
While the area around Halifax has been inhabited by native Mi'kmaq peoples for millennia, modern Halifax was founded in 1749 as a British military outpost. Today it is Atlantic Canada's entertainment and cultural capital, melding the old and new worlds. Modern office towers of glass and steel stand beside historic buildings that once stored the booty of privateers. Located on the second largest natural harbour in the world, life here revolves around the sea and the surrounding areas offer plenty of great activities on land, water and in the air. Spend some time to explore this vibrant urban centre set on the edge of true wilderness.
---
A lovely historic town built on shipbuilding and trade, Yarmouth boasts fine Victorian homes, museums, churches, wharves and other hidden gems. Join an excursion to see ornate Captain´s homes, and the lighthouse that guided them safely back home after long journeys at sea. Or take a seaside walking trail to Cape Forchu, and explore the rugged landscape as you take in the stunning views.
---
A day at sea means you can join the lectures by the Expedition team, spend time on deck or in the Panorama Lounge with fellow travellers as we sail south. Enjoy a refreshing workout in our well-equipped fitness room with a panoramic ocean view or let your muscles relax in one of the outdoor whirlpools.
---
An early morning arrival, as we sail past Lady Liberty and into the harbour of one of the most fascinating cities in the world before we say farewell.
---
This is an expedition where the elements rule, and the weather, wind and ice conditions will determine our final schedule. Safety is paramount and the captain will decide the sailing itinerary during the voyage. Therefore, this itinerary is just an indication of what you can experience, and why every expedition with Hurtigruten is unique.
---
Fram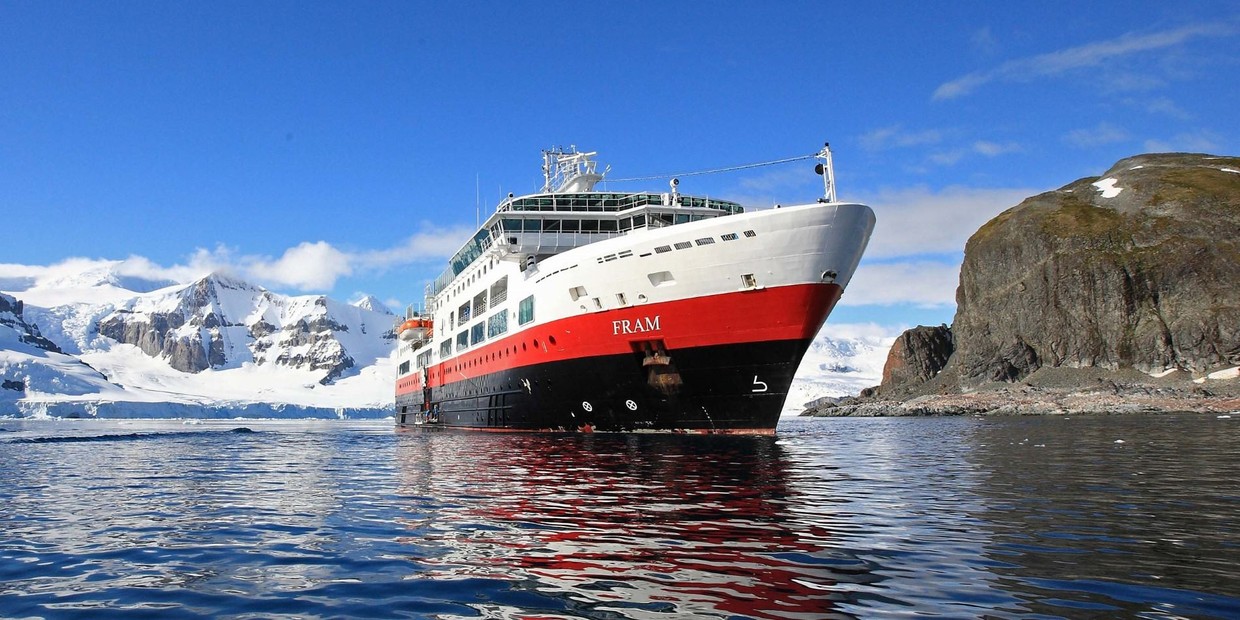 Vessel Type: Expedition Length: 114m Passenger Capacity: 276 Built: 2007 MS Fram is designed for sailing in polar waters, holds the highest safety standards and is the perfect size for optimum nautical manoeuverability and guests' comfort. With space for only 276 guests, you are sure to get to know many of your fellow travellers. You will share stunning sights and memories of a lifetime long after returning home. The Norwegian word Fram means 'forward' – lifting expectations of the voyage at hand. MS Fram was built in 2007 with one mission in mind - to bring her guests closer to nature, wildlife and unforgettable experiences. As well as offering numerous lounges in which to relax, our more active guests can use our well-equipped gym. Meanwhile, on deck, our Jacuzzis guarantee you surreal memories when passing the towering icebergs of Antarctica or Greenland.
Highlights
• Explore beautiful Newfoundland and discover its small-town charm • Visit the unique Magdalen Islands • Enjoy culture, history and natural beauty every day of the voyage • Experience the thrill of sailing into New York
Map