---
from$ 10056 AUD
---
Note: Current p/p indicative rate. Final price may change due to currency fluctuations.
City
Ushuaia to Puerto Montt
---
---
Overview
Discover the beauty and remoteness of Chile's little-known Patagonian coastline. Zodiac-cruise through narrow fjords flanked by glaciers. Scan the seas for charismatic sea lions, dolphins, and the elusive blue whale, which is known to visit these waters. Keen birdwatchers will delight in the abundant birdlife, with imperial cormorants, flightless steamer ducks, tree-runners, woodpeckers and condors found in the region. Spend two days hiking in renowned Torres del Paine National Park, and visit remote coastal villages accessible only by sea.
Departures
Note:
Current p/p indicative rate. Final price may change due to currency fluctuations.
Cruise Itinerary
Arrive in Ushuaia, where you will be met by a representative of Aurora Expeditions and transferred to your group hotel (preferred flights only). Upon arrival at your included hotel, kindly remind hotel check-in staff to provide you with Aurora Expeditions cabin tags. Please clearly label the tags with your name and ship cabin number.
---
This morning, please ensure your cabin luggage is fitted with cabin tags clearly labelled with your name and cabin number. Please take your cabin luggage down to hotel reception by 8.00 AM. Your luggage will be collected from your hotel and transferred directly to port for clearance and delivered to your cabin ahead of your arrival on board. Keep any valuables or personal items with you throughout the day. Once you have checked out of your hotel by 11.00 AM, you have free time before meeting back in the hotel lobby at 2.00 PM to commence a tour of Ushuaia. Alternatively, enjoy time at leisure and make your own way to the pier by 4.00 pm for embarkation. Ushuaia, capital of Tierra del Fuego is located at the shores of the Beagle Channel and surrounded by the Martial Mountains giving you a unique landscape in Argentina, which is the combination of mountains, sea, glaciers and forests. On this introductory tour, you will visit "La Mision" neighbourhood, the old Government House, and the upper area of the city, which offers beautiful panoramic views of Ushuaia and the Beagle Channel. During the excursion you will see the antique houses that belonged to the first families settled in Ushuaia. The excursion ends with a visit to the Old Prison Museum before transferring to the pier for embarkation at approximately 4.00 PM. After embarkation, you'll have time to settle into your cabin before our important mandatory briefings. As the ship pulls away from port, we'll gather on the deck to commence our adventure with spectacular views over Ushuaia and Tierra del Fuego. This evening, get to know your fellow expeditioners and friendly expedition team and crew at a welcome dinner. (Breakfast and dinner included. Lunch is at own expense)
---
As we travel into the Beagle Channel, the important waterway that allowed ships to avoid the notoriously rough waters around Cape Horn, we follow the route that a young Charles Darwin took on board the famous HMS Beagle back in 1831, a five-year expedition that forever changed his life and which led him to develop his seminal theory of evolution. Sailing west from Ushuaia, you travel through a dazzling stretch of the 240-kilometre (150 mile) long Beagle Channel called Glacier Alley – or 'Avenue of the Glaciers', as it's more elegantly known. You'll marvel at this string of tidewater glaciers pushing down to the edge of the sea from the enormous Darwin Ice Field. Surrounded by snow-capped peaks, most of the glaciers were named after European countries or the explorers who discovered them: Holland, Italy, Romanche, Spain, Garibaldi. Weather permitting, we'll board our Zodiacs for a closer look at the impressive Romanche Glacier. Even if fog obscures the view, the sound of the cracking ice as it calves into the water is sure to impress. Apart from the spectacular scenery, Glacier Alley offers opportunities to spot wildlife such as penguin rookeries and South American fur seals.
---
Established in 2003 as Chile's first marine reserve, Francisco Coloane was the first known feeding ground for humpback whales along the Pacific coast of South America. The park honours Francisco Coloane, a celebrated Chilean author who wrote many stories of ocean adventures about Patagonia and Antarctica. Coloane was himself an adventurer, explorer and son of a whaler. Around the southern area of Santa Ines Island, surrounded by spectacular views including the tidewater glacier pushing down the rugged mountainous island, we spend time kayaking and Zodiac cruising, getting a close look at Magellanic penguins, imperial cormorants, flightless steamer ducks, and southern fur seals. Around Carlos III Island, a known feeding ground for the humpback whales, we hope to see the majestic creatures from the comfort of our ship, or if conditions permit, from our kayaks or Zodiacs.
---
As we venture north, we enter one of the many channels and fjords of Patagonian Chile. Be prepared to experience wild weather. The fjords and islands of Chilean Patagonia take the brunt of the prevailing westerlies that blow across the southern seas, and here, the wind can blow almost constantly, and rain and snow can fall all year round. We may sail through Montañas Fjord, a long fjord flanked by rugged mountains and a number of glaciers including Herman, Bernal, and Paredes. From the observation areas and perhaps from the bridge, it's an ideal opportunity to watch the scenery unfold as you sail through this beautiful channel. Enjoy informative and entertaining presentations from our hand-selected expedition team, who will bring to life the natural environment, wildlife, culture and history of the places you'll be experiencing.
---
Puerto Natales is the gateway to Torres del Paine National Park, world-renowned for its granite towers, which give the park its name. These gigantic spires were carved by glacial ice and upon entering the park, you will see a series of lakes with intense colours, mountains covered in ice, and an array of local fauna. In Patagonia, you will feel the immensity of nature and delight in feeling completely insignificant in its presence. The jaw-dropping landscapes of turquoise waters, glaciers and towering granite horns of the Torres del Paine National Park is a humbling experience. You will have two days to experience the wonders of Torres del Paine National Park on various hikes suited to your fitness level. You will pass several estancias (ranches) en route to the national park, and you will witness the landscape change from a steppe eco-region to deciduous forest. Along the way, pause amongst the mountains to admire views of the lakes called Amarga, Sarmiento, and Nordenskjold, and Salto Grande. You may be able to see some of the local fauna, including many species of birds including the majestic condor. Look out for foxes, huemul (Andean deer) and guanacos, which are wild camelids related to the llama. The reclusive difficult-to-spot puma has also been seen inside the national park where authorities are happy to report a healthy growing population. We spend the night at a comfortable hotel located just outside of the national park offering superb mountain and river views. Here you will enjoy local cuisine and Chilean wine and hear about the various hiking options available to you and suited to your individual interests and fitness level. On the afternoon of your second day in Torres del Paine National, you will be transported back to the ship in time for dinner, swapping stories on the drive back, of your exploration of the park. You can choose from one of the following three itineraries to suit your fitness levels: Easy, Medium, and Difficult Day One Easy - minimal walking required with visits to the national park's most impressive lookouts, shorter days. Highlights include: Sarmiento Lake viewpoint, Laguna Amarga lookout, Nordenskjold Lake lookout, Salto Grande lookout, Lunch at Pehoe Lake End the day at Villa Serrano to check-in to your hotel for the evening Medium – easy treks of up to 14 km / 8.7 mi per day Lazo-Weber trek, stopping for lunch during the trek. The trek is not difficult but it is long in distance. We recommend walking poles for this trek. End the day at Villa Serrano to check-in to your hotel for the evening Difficult – longer and more challenging treks of up to 22 km / 13.7 mi per day Fauna Trail from Sarmiento to Amarga, Salto Grande + Mirador Cuernos, Lunch at Pehoe, Lake Cóndor lookout End the day at Villa Serrano to check-in to your hotel for the evening Today's itinerary consists of three short treks, which combined makes for a long, challenging and rewarding day. Accommodation: Hotel Rio Serrano (or similar) Day Two Easy Depart from Villa Serrano. Visit Cascada del Río Paine and Laguna Azul. Stop at Cerro Castillo on our drive back to Puerto Natales to rejoin the ship. Medium Today's itinerary consists of two short treks of up to 6 km / 3.7 mi each. Salto Grande + Mirador Cuernos, Nordenskjold Lake lookout, Fauna Trail from Sarmiento to Amarga, Laguna Amarga lookout, Drive back to Puerto Natales to rejoin the ship Difficult Las Torres Base trek - up to 20 km / 12.5 miles. You will explore the Ascencio Valley, walking through a beautiful Lenga forest and getting up close to the astounding Torres del Paine viewpoint. Throughout the trek you will walk through forests, streams and glacier moraines. Drive back to Puerto Natales to rejoin the ship
---
At low tide this morning, we cross the White Narrows – a narrow channel of water approximately 80 metres wide. Find a spot on one of our many observation areas and appreciate the masterful skills of our Captain as they navigate us through this difficult channel. At the heart of Chilean Patagonia lies Bernardo O'Higgins National Park. More than 320 kilometres (200 miles) from one end to the other, the park encompasses Patagonia's Southern Ice Field, which in combination with its northern counterpart forms one of the largest expanses of glacial ice outside the Polar Regions. The only way to visit this area is by sea, through a maze of fjords that ultimately leads to the entrance of Pío XI, named in honour of Pope Pius XI by Father Alberto de Agostini, an Italian missionary and explorer, who in 1931 was the first person to cross the Southern Ice Field. Of the 48 glaciers in the Southern Ice Field, nearly all are retreating, except Pío XI. Scientists have not been able to explain exactly why it has advanced so far and so fast over the past 80 years. In any case, Pío XI Glacier is an anomaly in a world where nearly all glaciers are retreating and being able to see it up close is a privilege. We head to Puerto Eden on our journey northwards, navigating more challenging passages including Paso del Abismo, a very narrow and spectacular channel where you can continue to enjoy remarkable scenery.
---
Located on the east coast of Wellington Island, inside Bernardo O'Higgins National Park, Puerto Eden is a tiny fishing village connected by intricate canals, imposing mountains, icefields, and is considered one of Chile's most isolated inhabited places. The village is known for being the home to approximately 25 Kawésqar indigenous inhabitants – roughly 10% of the population of the village. The village is connected by beautiful timber boardwalks called 'pasarelas'. Kawésqar are traditionally nomadic sea people and it comes as no surprise that the main economic activity is fishing - mussels being a local speciality. Known for their excellent craftsmanship for canoe-making and basketry, local handicrafts are also a speciality, and you'll have ample opportunity to meet the locals and to purchase locally-made handicrafts directly from them. You'll enjoy exploring the picturesque boardwalks over the maze of canals, meeting the friendly locals, and soaking in the tranquil natural beauty of this isolated hamlet.
---
Leaving Puerto Eden behind, we re-enter the channels for a few days navigating our way through Patagonia's maze of fjords towards Chiloé. Our team of experts will continue to deliver informative and entertaining presentations in the lecture theatre or you may choose to enjoy a book from our library, work up a sweat in the fitness centre, treat yourself to a massage in our wellness centre, or relax in the jacuzzi and sauna and simply enjoy the splendid scenery. Spend time on the decks to scan for whales, dolphins and seabirds, while admiring the beautiful landscapes of the maze of channels and islands around. We will be sailing along part of the 145 km / 90-mile long Moraleda Channel, which separates the mainland from the huge archipelagos of Chonos and Guaitecas. To the east we will see magnificent Andes peaks such as the Mentolat, Melimollu volcano, and the Maca Volcano. We will be scanning the waters for the occasional presence of pods of killer whale that predate on the numerous South American sea lion colonies located along the coast and forested islands.
---
Spend the morning exploring the delightful and impressive coastline of Tic Toc Bay – either ship cruising or perhaps by Zodiac and kayak. This whole area has been recently recognised as one of the few marine parks of Chile based not just on the seasonal presence of the blue whales but also on the rich array of other cetaceans, marine mammals, and seabirds. In the Corcovado Gulf, you will enjoy watching a good sample of oceanic seabirds including black-browed albatross, southern giant petrel, southern fulmar and long-distant migrants such as the migratory Arctic skua. Hike at a unique reserve that spans over 10,000 hectares of pristine rainforest featuring incredible biodiversity. Continue to keep watch for whales in the Corcovado Gulf as we sail into Chiloé, an archipelago of lush islands, a land of myths and legends, unique folklore and culinary traditions. It's a region blessed with natural beauty and culture, cherished by Chilenos. Explore this mythical island with its colourful timber churches, 16 of which have been declared World Heritage Sites by UNESCO. In Castro, discover palafittes – colourfully-painted timber houses built on stilts above the water – and enjoy the wit and warmth of the Chilote people whose traditions give this unique archipelago its distinctive character. Chiloé is renowned for its superb shipbuilding heritage and carpentry skills and nowhere else in Chile showcases this better than in Dalcahue village, where you'll visit a few shipyards, enjoy one of Chiloe's 16 UNESCO World Heritage-listed timber churches, and see some of the most impressive wood shingle houses anywhere in the world. Gastronomy is another principal reason why Chilenos travel to Chiloé. Blessed with abundant seafood such as mussels and cod, and with hundreds of potato varieties to choose from, the local cuisine is an experience to savour in Chiloé. You will sample traditional curanto, a specially-prepared meal and one of the most ancient recipes still being used today. Archaeologists discovered a 6000-year-old cooking pit that contained skeletal remains of coypu, sea lions, birds, fish, and whales, as well as shells from scallops, snails, abalones, mussels, and clams. These were the vestiges of an early curanto. The word curanto means "stony ground," and is more of a preparation style than a strict recipe. The process begins by filling a metre-deep hole, which traditionally is filled with rocks, then topped with locally-sourced timber logs burned to heat the stones for cooking. The ingredients have changed over the centuries, but these days, a mix of shellfish, smoked meat, chicken, longaniza (sausage), and potatoes are the most popular choices. Potatoes are special to Chilotés and hundreds of varieties are cultivated in Chiloé. Traditional curanto features multiple potato varieties prepared three different ways – whole-steamed in their skin, chapaleles (potato dumplings) and milcaos (potato pancakes). After loading ingredients into the pit, it's covered with wild rhubarb leaves, damp sacks, and packed dirt. As the shellfish cooks, the shells open and release juices that sizzle on the hot rocks and help steam the rest of the food. After a few hours of wet roasting, a mouth-watering feast awaits, and since the large pits lend themselves to feeding crowds, curanto is often prepared to enliven family gatherings and special occasions. After your shore excursion, enjoy curanto lunch while local musicians offer a taste of local folklore music. Shore Excursion (choose one of the following) Castro City and Dalcahue Discover the main attractions of Castro town including the "Feria Yumbel" (local market), palafittes (houses on stilts), museums, churches and the crafts market. Afterwards, visit Tey's church, a building that was moved from its original place to where it is today. The moving of an entire building is known as "Minga de Tiradura", a project in which the entire community volunteers help. Continue to the town of Dalcahue, famous for its artisanal shipyards, for one of the 16 World Heritage churches known for its unique shingle design. Dalcahue is also known for its beautiful houses, its tiny museum, and as a meeting place for local artisans who gather at their craft market to sell their creations. You will visit the typical "cocinerias" or eateries serving up delicious variety of freshly-prepared local dishes for which the area is famous. Finally, watch the unearthing of the curanto and savour its delights. Castro City and Chonchi Discover the main attractions of Castro town including the "Feria Yumbel" (local market), palafittes (houses on stilts), museums, churches and the handicraft market. Next follows a visit to the beautiful churches of the area that were declared UNESCO World Heritage Sites, located in the areas of Nercon, Vilupulli and Chonchi. Afterwards, continue to Chonchi, nicknamed the "city of three floors" for its terraces, with important sites such as the Museum of Traditions, Accordion Museum and its attractive waterfront. Finally, watch the unearthing of the curanto and savour its delights. Chiloé National Park This tour goes through the natural landscapes that amazed Charles Darwin during his explorations of the Huillinco and Curao Lakes and Pacific Ocean. At Chiloé National Park visit the interpretation centre, walk along lovely "Sendero el Tepual" a pathway that winds through Chiloé's thick and humid forest. Drive back to Castro town and watch the unearthing of the curanto and savour its delights.
---
Our voyage ends In Puerto Montt. Farewell your expedition team and fellow adventurers before transferring to the airport for your onward travels. NOTE: At the conclusion of the voyage, we do not recommend booking flights departing Puerto Montt prior to 12.00 pm on the day of disembarkation in case there are delays.
---
Itineraries are subject to change.
---
Greg Mortimer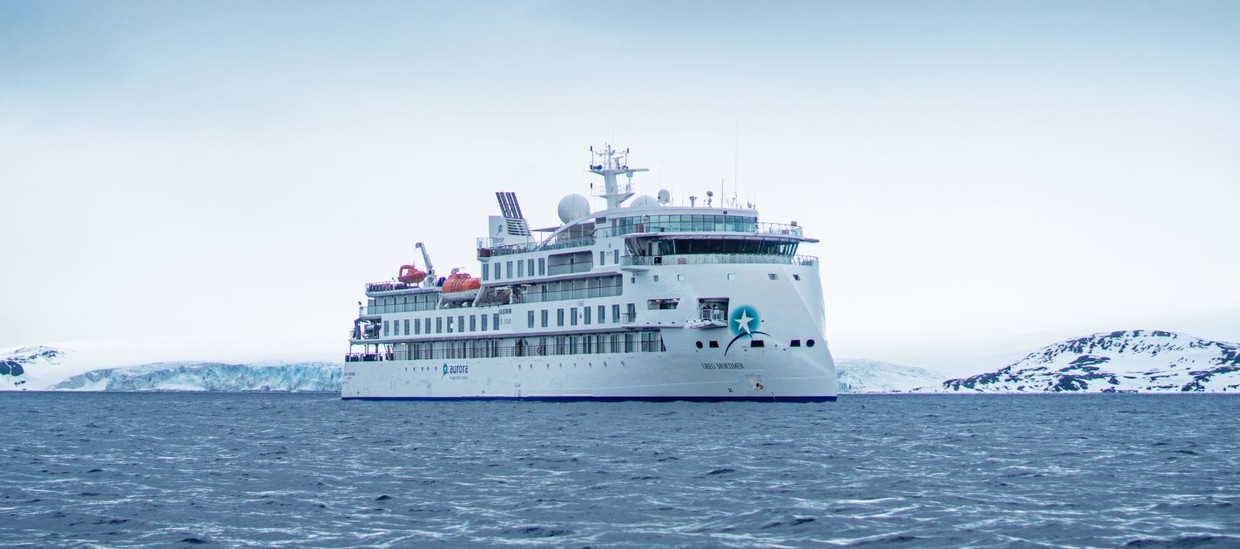 Vessel Type: Expedition Length: 104 metres Passenger Capacity: 130 Built: 2019 Capable of negotiating the strongest winds and waves, the Greg Mortimer is built to world-class polar standards – designed in close consultation with our expedition specialists, taking advantage of our more than 25 years of experience. The Greg Mortimer redefines expedition cruising for the future, with just 120 passengers on board in the polar regions. Not only is the ship bigger to contend with adverse weather conditions, its added creature comforts make for a more enjoyable journey out on the open ocean. The Greg Mortimer remains true to our ethos and focus on multiple landings, flexible itineraries and family atmosphere – just with an improved home base! As a modern and custom-designed ship, the Greg Mortimer is at the cutting edge of nautical technology. Robust, powerful and built with our guests in mind, this ship marks a significant investment in our fleet's capabilities. From the European Arctic to the depths of Antarctica, and other far-flung destinations in-between, the Greg Mortimer will make your journey a breeze! Greg Mortimer X-BOWX-BOW™ Our expeditions face some of the worst Mother Nature can throw at us. However, this won't be problem on the Greg Mortimer with the introduction of the patented X-BOW™, created by Norwegian ship designer ULSTEIN. As one of the leaders in marine engineering, ULSTEIN's X-BOW™ is an inverted bow concept that's been built on over 100 vessels in the shipping industry. Excitingly, we are the first expedition cruise operator to utilise this technology for the challenging open ocean waves! Hydraulic viewing platforms Although there is no doubt that you'll love the aesthetics of the Greg Mortimer, we are all here to admire the spectacular landscape and spot the elusive wildlife in their natural habitat. To ensure you get the best views possible, the new ship features unique viewing platforms, custom-built for the Greg Mortimer. Accessed from Deck 5, the two platforms fold out hydraulically for unobstructed views of passing marine life and seabirds – make sure your camera is locked and loaded! Zodiac launching platform Zodiacs are a vital part of getting up close and personal on your adventure – sneaking into areas that the Greg Mortimer can't reach. On this new ship, there are specially designed launching platforms that enables us to load Zodiacs easily and quickly, allowing you to spend more time exploring on the two to three daily landings. There are 15 Zodiacs that are boarded from either side of Deck 3 (sea level), perfect for when there is a group of fluffy cute penguin chicks that we need a photo of! Activity Platform Regardless of your destination, we offer a number of additional activities to allow you to see more of the environment. From kayaking and diving to climbing and ski touring, it's these optional activities that often leave the biggest impression on your trip as a whole. Onboard the Greg Mortimer, there is a spacious prep and loading platform for these activities and more – designed in consultation with our expert activity guides. Environmentally friendly Climate change and carbon emissions continue to be major issues that everyone needs to be aware of and actively managing. This includes reduced emissions into the air and sea, lower energy consumption, high fuel efficiency, reduced light pollution for minimal wildlife disruption and lower on-board plastic use. It's vital to also mention the state-of-the-art virtual anchoring technology of the X-BOW™, which means the ship can float anchorless while launching Zodiacs, kayaks etc, without disturbing delicate sea floor areas. Safety features This starts with the return-to-port equipment – not compulsory on a ship of this size – which duplicates the propulsion system. This enables the ship to maintain operating systems and comfort in the event of engine failure. Furthermore, the Greg Mortimer is Polar Code 6 compliant, holds BV class and is fully compliant with the latest SOLAS requirements. It's also built with a Rolls Royce stabiliser system. If there's an incident or accident during your adventure, the ship has an on-board, fully-stocked medical centre – where our trained medical team can provide necessary treatment in a timely fashion. Safety continues to be an issue that our team takes very serious and the Greg Mortimer allows us to create an environment where you can concentrate on the brilliant landscape and wildlife, without worrying about your wellbeing. Ship Life Greg Mortimer is designed to serve your every need. It's your bedroom, bathroom, lounge, dining room and even your observatory. Make yourself at home, the Greg Mortimer is yours to enjoy! Observation Points Let's face it – you don't want windowless rooms when travelling around some of the most beautiful locations around the world. This is why the Greg Mortimer is designed with plenty of dedicated observation spaces – ideal for keen bird spotters, wildlife watchers and those wanting to watch the scenery go past. From the indoor 180-degree lounge and outdoor 360-degree open deck, both on deck 8, to the 270-degree open sundeck on level 7, there are plenty of observation points to share around the ship! If these are full, then you can take up a spot on one of the two hydraulic viewing platforms on deck 5. Aurora Expeditions also has an open bridge policy, which means at any point you can come up to the bridge and check out what the captain and officers are up to. From watching navigational practices to observing mapping techniques, you can get a firsthand look at the inner workings of the Greg Mortimer. Shore excursions Although the ship is fun, the real enjoyment comes from the many shore excursions that are available. Depending on the weather and itinerary, it's possible to take two to three landings daily, taking a look at everything from rock formations and ancient ruins to cute groups of penguins. We know time is of the essence in these wild locations, so the Greg Mortimer has been designed with 15 Zodiacs, which means you can maximise your time on shore. From four dedicated sea level launching platforms, transfers are quicker, safer and enable you to get closer to the action for a longer period of time. Just remember to charge your camera before you step onto the Zodiac! Activity options From kayaking and skiing to diving and climbing, these are one-in-a-lifetime opportunities that you need to take advantage of. Aboard the Greg Mortimer there is a specially designed launching platform for all activities, a concept overseen by our activity experts. This area also includes individual lockers in the expansive mudroom and rapid drying areas for wetsuits so you can quickly get warm after exploring in the elements! Dining From the moment you step onto the Greg Mortimer, we aim to give you the best hospitality service possible. Starting with the official Captain's welcome, as our guests, you're welcome to 24 hours complimentary coffee, tea and snack facilities in addition to the range of different menu options and courses for each meal. Meals are served in large dining room/restaurant with family style dining, perfect to swap stories with your new expedition family. Enjoy the range of house wine, beers and soft drinks included with dinner after a long day in the wild, preparing yourself for another exciting day to follow. On the last day of your trip, the team on the Greg Mortimer put on a special farewell four-course dinner and cocktails – a perfect way to reflect on your time on the ship and consolidate lifelong friendships with the people you've met on-board. On-board entertainment When you're relaxing during a sea day or you have a little downtime on the ship between excursions, what is there to do onboard the Greg Mortimer? Plenty! On all our expeditions, there are experts who lead presentations in the spacious lecture room so you can understand the region a little better. These often include topics as broad as history and culture to biology and climate change, these presentations aim to educate and entertain. If you're keen to just watch the surroundings and keep your eyes peeled for wildlife, you have access to two bars/lounges where the stunning floor to ceiling windows offer a special perspective on the landscape. The Greg Mortimer is also decked out with other facilities for your enjoyment. There is a library on Deck 5 with books and maps and a Wellness Centre complete with gym equipment, sauna and spa. Feeling a little sore after walking around all day? Treat yourself to a massage at the Wellness Centre and feels the aches disappear! Keen photographers and artists will revel in the multimedia room on Deck 5.
Highlights
• Discover the Francisco Coloane Marine Park, Chile's first marine park, which can only be explored by small ship. • Spend two days hiking among dramatic rock towers and teal-coloured glacial lakes in Torres del Paine National Park • Marvel as the captain skilfully navigates the ship through tight narrows • Visit UNESCO World Heritage-listed timber churches in the delightful Chiloé province
Map