---
from$ 2903 AUD
---
Note: Current p/p indicative rate. Final price may change due to currency fluctuations.
City
Las Palmas to Las Palmas
---
---
Overview
A short break from your daily routine Neither golden autumn nor the white of winter – the last days of November are hanging over the calendar just like a sad grey rain cloud. If you don't feel like doom and gloom, leave your daily routine and the hot water bottle behind and escape to the Islands of Eternal Spring. On the Canaries, you can recharge your batteries with plenty of sun. Sailing with the trade winds around the Canary Islands Beautiful days of sailing are guaranteed, when the Azores high sends steady north-easterly trade winds to the Canaries. At comfortable four to five Beaufort and agreeable temperatures of around 20 degrees, the windjammer explores the sunny shores of Gran Canaria, La Gomera and Tenerife over a long weekend. Magic forest and moonscape: two famous national parks These two UNESCO World Natural Heritage Sites could hardly be more different: While the evergreen cloud forest Garajonay at the heart of La Gomera offers fascinating scenery made up of rivers, waterfalls and dense moss, Tenerife's Las Cañadas del Teide national park is extremely dry. With tall lava tongues and bizarre rock formations, its volcanic landscape looks almost like the surface of the moon.
Departures
Note: Current p/p indicative rate. Final price may change due to currency fluctuations.
Cruise Itinerary
With its black volcano almost 2,000 metres (6,561 foot) high and endless white beaches along the coastline, the island of Gran Canaria displays a huge variety of landscapes. A "continent in miniature" with rugged rock formations, dense pine forests, dry valleys and reservoirs in the interior, lush vegetation in the north, shimmering dune landscapes in the south and weirdly shaped cliffs in the west. Almost half the island has been registered by UNESCO as a Biosphere Reserve. The capital, Las Palmas, is no less colourful, with its port and history stretching back 500 years. The showpiece of this historic old town is the magnificent Santa Ana Cathedral.
---
Many people consider La Gomera to be the most wildly romantic island in the Canaries. Rugged gorges, craggy hillsides, fertile valleys and evergreen cloud forests characterise the landscape. The Garajonay National Park, a UNESCO World Heritage Site, embraces the whole central mountain area and is an unusual little spot. Ancient bay trees, heather bushes as high as trees and metre-high ferns form a cloud forest where treemoss hangs from the trees and mosses cling to gnarled branches - a truly mystical natural spectacle which has existed for millions of years.
---
Even from afar you can see the impressive panorama with Tenerife's landmark, Mount Teide. Its peak is the highest in Spain at 3,718 metres (12,200 foot) and is often covered in snow. The Las Cañadas National Park, a UNESCO World Heritage Site, is a high volcanic plateau at the foot of Teide, surrounded by a circle of rock that rises up steeply. Volcanic activity has created strange-looking rock formations here which are adorned with a huge range of colours and seem like a unique synthesis of nature's art. In contrast to this are the fertile valleys of the north, a barren, almost desert-like south and the island's vibrant capital city, Santa Cruz.
---
Itineraries are subject to change.
---
Sea Cloud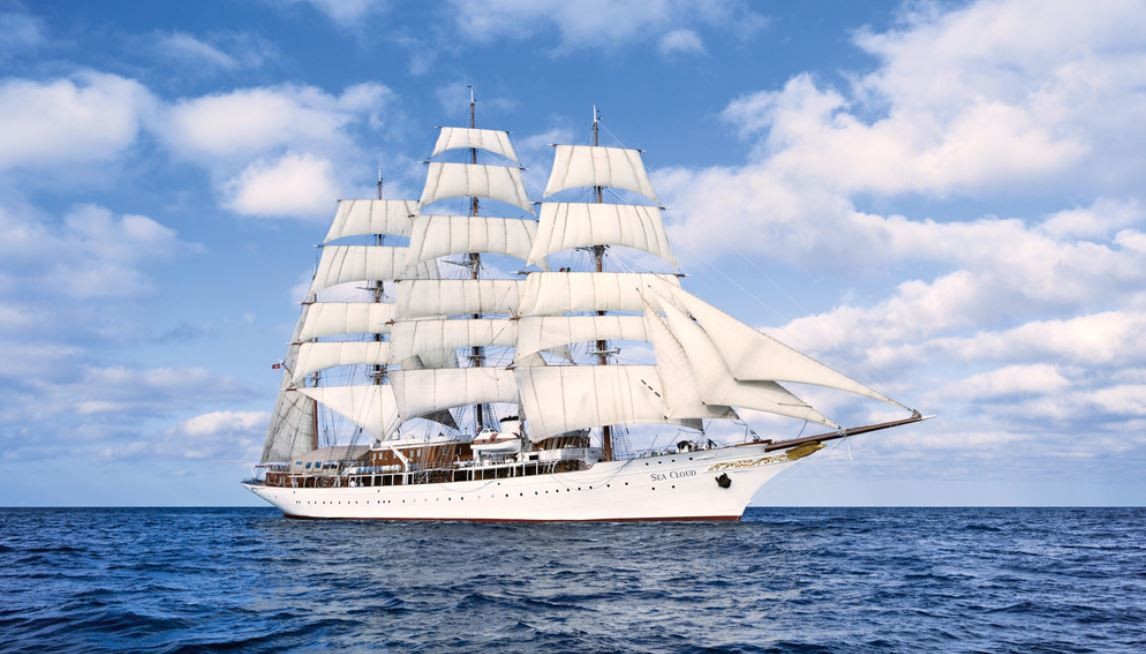 Vessel Type: Tall Ship (Sailing) Length: 109 metres Passenger Capacity: 64 Built / refurbished: 1931 / 2011 Sea Cloud is a ship with a soul, imbued by the original owners, Marjorie Merriweather Post and her husband E.F. Hutton in the 1930's. The ship has played host to royalty, known service in wartime, and sailed the world over. She is a vessel of incomparable grace that harks back to the golden age of ship travel. Once you've been on Sea Cloud under full sail, you'll begin your own love affair. Welcome aboard a legend Sea Cloud accommodates 58 guests in 28 outside cabins including two original owner's suites that still feature original marble baths and fireplaces. At 360 feet she is an expansive ship with extensive public spaces on the top deck, where we luxuriate in deck chairs and watch the crew of 18 go aloft in the web of riggings to hand-set her 30 sails. Her dining room is hung with marine oil paintings of the period and accommodates all guests at once for a single seating. We'll gather in the lounge each evening for Recap. Life aboard is a uniquely pleasing mix of elegance and informality—a return to the golden age of sailing in shorts and deck shoes. You'll find all shipboard services impeccable. Discover the romance of tall ship sailingExperience something many people don't know exists in the 21st century—the romance of life under square sails. Discover the thrill of standing on deck as Sea Cloud gently glides through the water, her crew aloft in the riggings, running out and reefing sails. Settle in to your favorite areas on the top deck and bask in the incomparable experience of traveling aboard the finest tall ship to ever sail the seas. Lose yourself in an adventure that, in this day and age, is almost unimaginable. Please note deck and suite plans are indicative only and may vary slightly.
Highlights
• A short break from your daily routine • Sailing with the trade winds around the Canary Islands • Magic forest and moonscape: two famous national parks
Map