---
from
---
Note: Current p/p indicative rate. Final price may change due to currency fluctuations.
---
---
Overview
Along the western coasts of Spain and France, Euskal Herria - the Basque Country - awaits rediscovery. This diverse countryside with its mountains, estuaries, forests and winding coastlines, is a pleasure that can indulged by all five senses. Yet it is the people of this land that are the most intriguing. Europe's oldest nation, but never a country. An ancient language with no relation to any other on earth. An enduring culture whose impact on the world stretches far beyond the stunning countryside nestled at the base of the Cantabrian Sea.
Departures
Note: Current p/p indicative rate. Final price may change due to currency fluctuations.
Cruise Itinerary
Arriving independently in Bilbao, we'll meet our Adventure Canada group and staff for an afternoon guided walking tour of Bilbao's Old Quarter which dates back to the 700s.The Guggenheim Museum in Bilbao by Canadian-American architect Frank Gehry is widely considered an architectural masterpiece. In the afternoon, we'll embark the Ocean Endeavour and begin our journey down the Bilbao River, headed for the Bay of Biscay!
---
The Urdaibai Estuary is home to a vast salt marsh, making it an important stopping place for migratory birds. More than 245 bird species have been sighted in the Urdaibai Biosphere Reserve, which is also home to hundreds of varieties of trees and plants, and numerous land animals. We'll visit the marshland for birdwatching and sightseeing.
---
The old fishing and whaling village of Getaria is considered one of the Basque Country's most charming port towns. Maritime traditions run deep here in the hometown of Juan Sebastian de Elcano, the ship's captain responsible for completing the first world circumnavigation after Magellan's death midway through. After visiting the historic port and archaeological sites, we will travel up to the vineyards overlooking the village where the Hondarribi Zuria grape is grown, for a demonstration and tasting of the local Txakoli wine. A mountain islet offers lovely hiking opportunities.
---
The historic city of San Sebastian is framed by sandy beaches and a backdrop of green-clad mountains. Here you'll find wonderful architecture and fabulous food. A tour of the Parte Vieja (Old Quarter) leads to an opportunity for pintxos, the tapas-like snacks that are the heart and soul of Basque food culture. We'll also visit the Albaola Sea Factory Museum and the replica of the San Juan, a Basque whaling ship discovered sunk in the harbour of Red Bay, Labrador.
---
Only a few kilometres up the Urumea River from San Sebastian, Astigarraga is famed for its cider. We'll visit a family of cider-makers who have five centuries of experience producing cider in the region—and a special connection to Adventure Canada. The Astarbe family were cultural contributors on a Basque-focused tour of Newfoundland and Labrador. They are keen to host us and showcase their unique connection to the land and history of their region.
---
Iparralde (Northern Basque Country) offers a more intimate and rural experience than its urbane Spanish counterpart. We will visit the town of Espelette, famed throughout Europe for its peppers and its picturesque Basque architecture of whitewashed facades and red roofs. Sare, a tiny village at the base of the Pyrenees, offers an option to travel by rack railway to the summit of Larrun Mountain. From there we cross the border back into Spain to Zugarramurdi, in the mountains of Navarre. We'll visit the prehistoric caves where the witches' sabbaths were alleged to have taken place. The proximity of our three stops means that traveling between them can be done on foot, by bicycle or by shuttle bus.
---
The wine capital of the world, Bordeaux, France has so much to offer visitors: cuisine, wine, markets, architecture, museums and more. Passengers will have the opportunity for a guided tour of the Old City, a designated unesco World Heritage Site. We'll be alongside overnight to allow passengers to savour food, drink, and nightlife in fabled Bordeaux!
---
The Ornithological Reserve at Arcachon Bay contains dunes, marshes, reed beds, and meadows, providing habitat for as many as 260 bird species year-round. The reserve is also an important migratory stopover and wintering ground for a wide variety of species. Both long and short walk options are available, with blinds and raised viewing platforms that offer excellent bird-watching opportunities for all.
---
Brittany's largest island at 17 by 9 kilometres, Belle-Île is known for its plant life. The island's flora includes eucalyptus, exotic gingko, mimosa, fig, and oleander. There is excellent hiking and biking along coastal pathways and roads, many offering secluded beaches. Rock pyramids known from Claude Monet's paintings form an intriguing geological attraction.
---
Brest has been an important naval port for hundreds of years. The Maritime Museum here is in an 11th-century medieval castle remodelled by Vauban, who also oversaw the construction of the Citadelle at Belle-Île. This morning we bid farewell to the Ocean Endeavour and transfer to the airport, or passengers can independently stay to enjoy Brest and travel onward.
---
Itineraries are subject to change.
---
Ocean Endeavour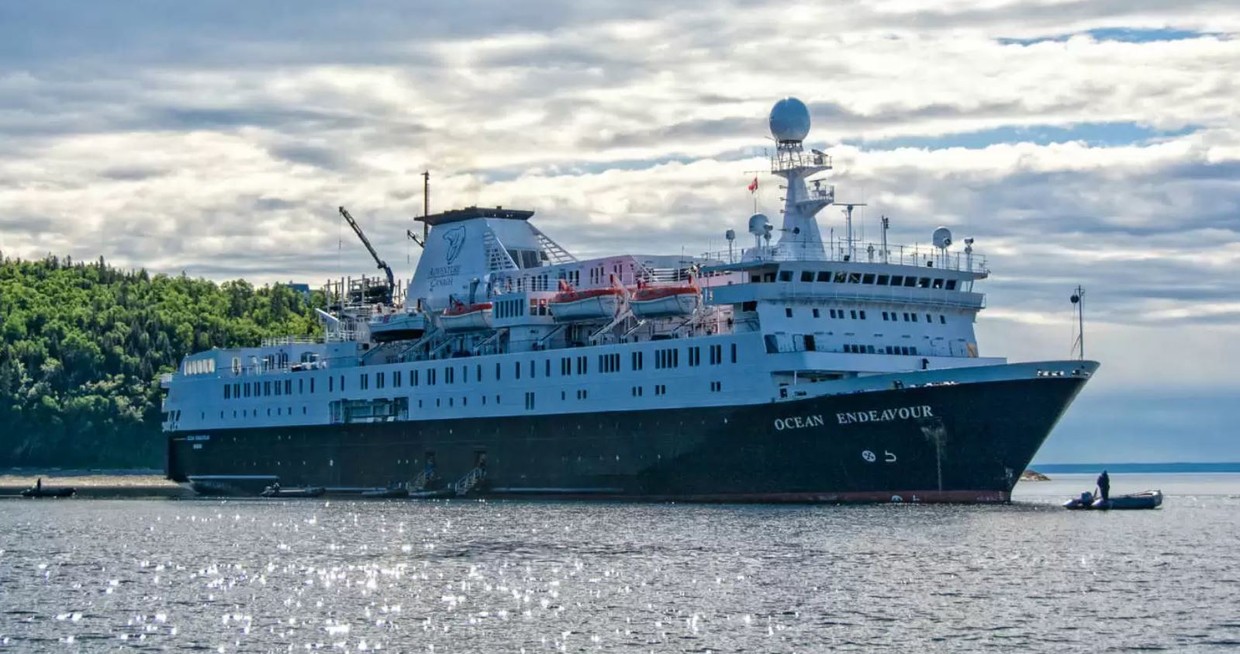 Vessel Type: Expedition Length: 137m Passenger Capacity: 199 Built: 1982 - refurbished 2001, 2004, 2010, 2015, 2016, 2018 Ocean Endeavour is a comfortable, well-appointed small expedition ship expertly engineered to explore the Polar Regions. The ship has an ice-strengthened hull, Zodiacs for exploration and remote landings, and advanced navigation equipment. The newly-refurbished vessel offers a superb guest experience with an expansive choice of cabin categories, large cabins and common areas, a sundeck and observation area, plenty of deck space for polar landscape viewing, and lounges for learning and reflection. The ship's interiors have a contemporary aesthetic that provides a bright and spacious feel throughout. Endeavour is also the only polar adventure ship in Antarctica focused on health and wellness , and offers a contemporary approach to cuisine and newly-designed health and fitness features. Facilities include a spa serviced by organic spa provider VOYA, His & Hers saunas, a salt water pool, a gym, and a juice and smoothie bar. Complimentary activities include yoga and stretching classes, an exclusive Polar Photography program, the Scientists in Residence program, and more adventure activities than any other Quark vessel. The ship also has a polar library, and a Polar Boutique for gifts and any needed gear. Features of the Ocean Endeavour VOYA spa treatments and beauty products, Choice of 13 cabin categories, Bright, spacious cabins and common areas, Plenty of deck space for observation, Lounge with expansive views, Quiet zone for contemplation, Newly-refurbished restaurant, Contemporary dining with complimentary wine with dinner, Juice and smoothie bar, Lecture theater, Polar library, Polar boutique, Health and Wellness, Spa treatments and beauty products by spa provider VOYA - Organic Beauty From The Sea, Spa menu for face, body, hair and nails, including the exclusive Quark Explorer's treatment, and signature VOYA hand and foot rituals, Yoga and stretching classes, His & Hers saunas, gym, and heated salt water pool Full range of adventure activities including: kayaking, camping, mountaineering, cross-country skiing, stand-up paddleboarding, Zodiac cruising, shore landings and hiking/ walking. Deck plan varies for the trips to Antarctica
Highlights
• Immerse yourself in the Unique Basque Culture • Visit the Tree of Gernika • Indulge in the local food • Immersive Cider House experience in Astigarraga • Enjoy Excellent Birding at the Le Teich Ornithological Reserve • Enjoy a glass of wine in Bordeaux
Map