---
from$ 3355.34 AUD
City
Kuching to Kota Kinabalu
---
---
Overview
Borneo has some of the world's most wildlife-rich equatorial rain-forests, incredible landscapes and rich indigenous culture. We will discover West Borneo, shared by Malaysiaand Brunei. Ancient rainforests, jungle wildlife, picturesque coastal 'kampung' (villages), a culinary melting pot: Borneo is calling!
Cruise Itinerary
Embarkation 3 pm - Overnight in port.
---
Today our optional excursion will take us to the Bako National Park in search for the world- famous proboscis Monkeys. In the afternoon we board the Panorama II right from the beach and sail to nearby Lakei Island for an afternoon of relaxation. Overnight at sea to Mukah.
---
Mid-day arrival in Mukah. Disembarkation and optional excursion in the Melanau Heartland home of the Melanau. Visit Lamin Dana, a traditional Melanau house built above the water. Marvel at their intricate costumes and handicraft. Overnight at anchor.
---
Full-day optional excursion to Sibu, a city built along the might Rajan River, the largest river of Malaysia. Spend the morning in town, strolling around Old Sibu markets and visit the 7 Storey Chinese Pagoda. After lunch go up river with fast boats in Iban territory. Late evening return to Sibu and Mukah - Overnight at sea to Bintulu.
---
Morning arrival in Bintulu. Our optional excursion will take us to Similajau National Park designed around a mangrove forest and the Likau River. Later we will drive back to town and we will strol through Pasar Utama and Pasar Tamu markets. Back to the ship for a late lunch. Overnight at sea to Miri.
---
Early morning disembarkation. This morning our optional excursion will take us by plane to Gunung National Park, a World Heritage site. During the first day there will be time to take the 3km elevated plank-walk to Lang Cave, the largest cave passage in the world. Explore the impressive stalactites and stalagmites before proceeding to Deer Cave; Less adventurous guests can select the Iban Longhouse & Lambir Hill & Waterfalls optional excursion. In the evening we sail to Brunei. Overnight at sea.
---
Today you will discover the Sultanate of Brunei 2 facets with your full-day optional tour. First Brunei's countryside and the rural life of the Dusun, Iban and Kedayan indigenous people. Enjoy lunch and a Ngajat traditioonal dance performance. Return to town and revel at the Palace of Light and other intricate monuments and palaces. Overnight at sea to Kota Kinabalu
---
Morning arrival in Kota Kinabalu, the capital of the Sabah region and also often called KK. We have two optional excursions in today's program. A day excursion by air to Sandakan in North Borneo for a full day at the Sepilok Orang utan Reserve and a Kinabatangan River cruise. Alternatively you can select the Kianbalu Park and Poring Hot Spring tour in the area of the Kinabalu mountain, Southeast Asia's highest mountain. A 41-high canopy walk will allow you to admire Borneos's fauna and flora. Farewell dinner at the sounds of Malay music.
---
Disembarkation 9:00 to 10:00.
---
Itineraries can be changed at the discretion of Variety Cruises and of the Vessel's Captain in case of adverse weather conditions - winds of 6/7 beaufort or more depending on the vessel- on port authorities not allowing a vessel to leave port or in case of other extraordinary conditions. S
---
Panorama II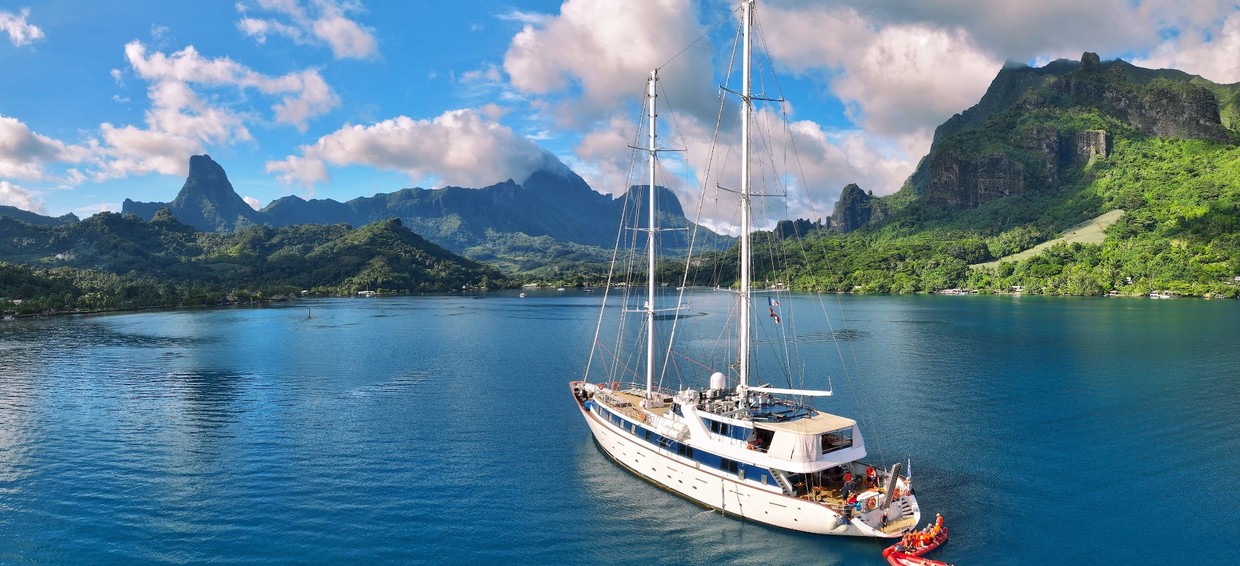 Vessel Type: Sail Cruiser Length: 50 metres Passenger Capacity: 49 Built / refurbished: 1993 / 2008 / 2012 / 2015 Imagine a place far from home that feels just like home, where the borders are delineated by the golden shores of the sea; and home is wherever the anchors drop. Imagine 164 feet of comfort, sleek beauty, and safety classified by the latest International "Safety of Life at Sea" (SOLAS) standards. Imagine your floating home on board the sleek, classic design Mega Yacht as she spreads her white sails through the seas under the name PANORAMA II, waving her Greek flag through the wind. Discover the world by sea at 10 knots per hour, in her un-rushed pace, one island or seashore at a time on board the ultimate 3 masted motor sailer cruiser. Panorama loves to seduce her select 49 guests with her classic lines and wood paneled lounges redefining what yachting was meant to be. A spacious lounge with ample space, dining areas decorated with warm colors, rich library and two decks for sunbathing, shaded areas and outdoor bar and loungers are just some of the elements that define her essence. 360° views of unobstructed ocean are your eyes' canvas painted with ocean blue and deep green mountains. Embrace freedom as the Panorama II sets her white sails seduced by the clear winds of the sea. Mingle with likeminded travelers in our public areas, enjoy a moment to yourself in our ample deck space, or retreat to one of our 25 ocean view cabin-sanctuaries all offering windows or portholes connecting you with mother nature's wonders. Panorama II's experienced crew of 18 is trained with hospitality at heart to pamper her guests and guarantee the ultimate home away from home experience. Serenity is a state of mind; on board Variety. Home at Sea Single seating dining Indoor & Outdoor Lounge - Bar, Indoor & Outodoor Restaurant, Audiovisual in Lounge, Mini library, Beach Towels, Snorkeling equipment, Kayak, Board Games, Swimming Platform, Wi-Fi Comfort Zone Windows: Upper & Main deck cabins, Portholes: lower deck cabins, Triple Occupancy cabins: Category B, Flat-Screen TV, Mini Safe, Mini Fridge Individually controlled A/C, En suite bathroom with shower, Hairdryers, Telephone for internal use, Central music
Highlights
• Ancient Rainforests. If you've always longed to experience the humid fecundity of a real equatorial rain forest, Borneo will fulfill your wildest dreams. • Jungle Wildlife. Glimpse a wild orangutan or proboscis monkey swinging through the jungle canopy, spot an Irrawaddy dolphin in the shimmering waters of the South China Sea, or lock eyes with a pygmy elephant, clouded leopard or saltwater crocodile. • Cultural Riches. Borneo brings together an astonishing array of cultures and languages, and age-old traditions of hospitality mean visitors are welcomed. Discover the picturesque coastal kampung (villages) of Sabah and Sarawak and interact with indigenous groups.
Map