---
from€ 1950 EUR
---
---
Overview
A cruise unraveling vibrant Havana, the colonial cities of Cienfuegos and Trinidad, the island of Juventud and the crystal clear seas and amazing underwater life in Maria La Gorda.
Departures
Cruise Itinerary
Meeting at 10 am at the Melia Cohiba Havana for your 4 and a ½ hour bus transfer to Cienfuegos withfellow passengers where you will embark your ship. After checking in you will have the opportunity totake a 3 hour Optional Cienfuegos city tour, the only city in Cuba founded by French settlers. It is alsoknown as the Pearl of the South. In 2005 it was declared a UNESCO World Heritage site. Our walking tourwill take us to a graphic arts workshop and to Parque Marti in the centre to see some outstandingexamples of its architecture representing the new ideas of modernity and urban planning as developed inLatin America from the 19th Century. Dinner on board and overnight at sea to Casilda for Trinidad.
---
This morning we disembark in port for an Optional Trinidad excursion. Trinidad is a meticulouslypreserved Spanish colonial city, with its rich architecture, cobblestone streets, palaces and plazas. It issometimes referred to as the 'Museum City of Cuba." This morning we will walk through the town with arepresentative of the Office of the City Historian interacting with residents along the way. We will attenda local architect's presentation and visit a scale model of the city. Stop at the Romantic Museum locatedin the old palace of the Count Brunet with samples of furniture and decorative arts. Visit the uniquewoodcarving studio of Lazaro. Dinner on board and overnight at sea to Isla de la Juventud- the Island ofYouth.
---
Late afternoon arrival in Bay of Singuanea, where we will spend the night.
---
Until 1977, the island was called the Isle of Pines. In 1978 Fidel Castro turned the island into one grandCommunist school for students from around the world and thus the Island of Youth. Your OptionalJuventud excursion starts. Disembark on the beach where you will board the bus for the short drive,enjoying panoramic sightseeing until you reach the Presidio Modelo, an abandoned panopticon prisonwhere both Fidel and Raul Castro were imprisoned from 1953-1955. Enjoy lunch in an authentic localrestaurant before visiting an art school and the maternity ward of a local hospital. There will be some freetime for independent exploration and enjoyment around Nueva Gerona's grand boulevard beforereturning to embark the ship. Overnight at sea.
---
After breakfast, we disembark in Maria La Gorda for an optional land tour to visit a local school to meetthe Cuban children and their teachers, and discuss the differences and levels of the Cuban and Americaneducational systems, particularly in the rural areas of the country. Visit the headquarters ofGuanahacabibes National Park, one of the country's largest nature reserves on the westernmost tip of theisland. The peninsula is one of the last refuges of aboriginals fleeing from the Spanish conquistadors andalso holds some 140 archaeological sites linked to life of aboriginals known as Guanahatabeyes. Timepermitting,we will venture into the park to meet with the naturalists and locals. Free time for swimming,snorkelling and a BBQ lunch on the beach. Check into the Hotel Maria La Gorda or similar for overnight.
---
Depart early in the morning by bus for a land tour by bus included in your cruise fare to the Vinales Valley,a UNESCO World Heritage site in the Pinar del Rio Province of Cuba. Encircled by mountains, its landscape is interspersed with dramatic rocky outcrops. Traditional techniques are still in use for agriculturalproduction, particularly of tobacco. Visit a tobacco plantation where you will learn about the productionof those world famous Cuban cigars. After lunch at an organic restaurant, we depart for our 3 hourtransfer to the Hotel Nacional de Cuba for an engrossing lecture with well-known architect Pedro Vasquez.Return to the Panorama for dinner, followed by an optional visit to the Café Taberna or similar toexperience the wonderful salsa music of the Buena Vista Social Club style performance. Overnight in port.
---
After breakfast, disembark for an optional walking exploration through Havana Vieja, or Old Havana, andCentro Havana. Witness a mixture of beautiful old baroque and neo-classical monuments, arcades andprivate balconies. For an enhanced sightseeing experience, flag down a uniquely decorated local"bicitaxi," or bicycle taxi. We will stop at a local restaurant for lunch, followed by a scenic drive in vintageAmerican cars to Finca Vigia, beloved home of Ernest Hemingway where he lived for 21 years and wroteFor Whom the Bell Tolls and The Old Man and the Sea. Return to the ship for farewell dinner and overnightin Sierra Maestra Port- Old Havana.
---
Disembarkation after breakfast at 9 am.
---
Itineraries are subject to change.
---
Panorama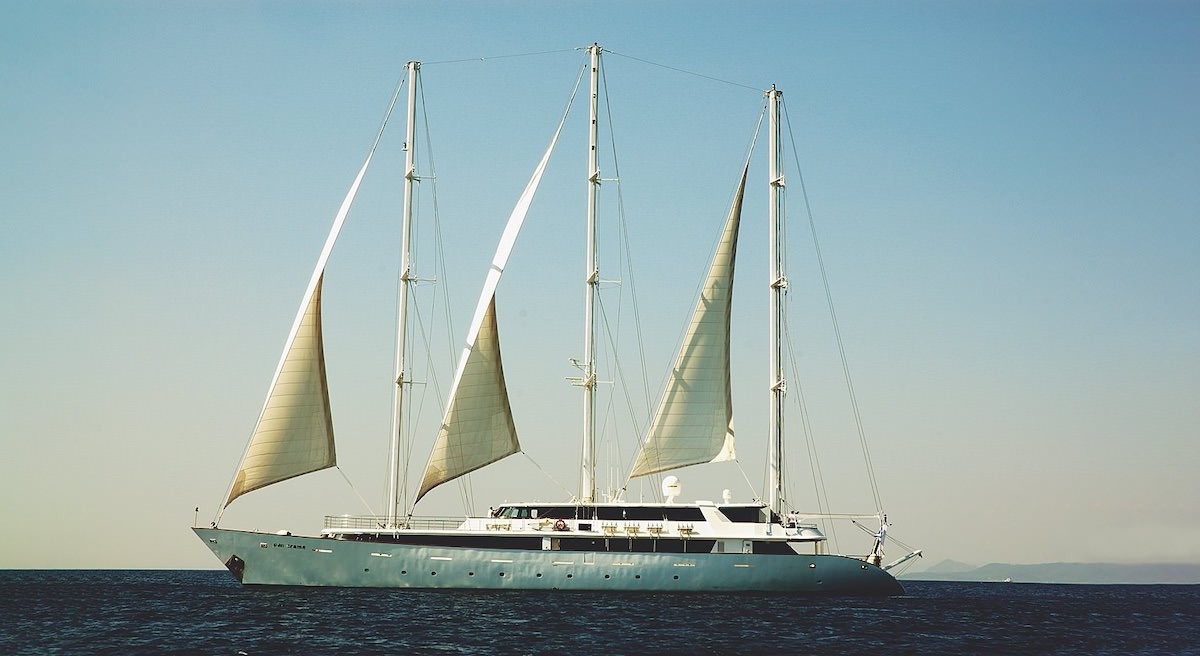 Vessel Type: Luxury Yacht Length: 53 metres Passenger Capacity: 49 Built / refurbished: 1993 / 2009 Imagine a place far from home that feels just like home, where the borders are delineated by the golden shores of the sea; and home is wherever the anchors drop. Imagine 173 feet of comfort, sleek beauty, and safety classified by the latest International "Safety of Life at Sea" (SOLAS) standards. Imagine your floating home on board the sleek, classic design Mega Yacht as she spreads her white sails through the seas under the name PANORAMA, waving her Greek flag through the wind. Discover the world by sea at 11 knots per hour, in her un-rushed pace, one island or seashore at a time on board the ultimate 3 masted motor sailer cruiser. Panorama loves to seduce her select 49 guests with her classic lines and wood paneled lounges redefining what yachting was meant to be. A spacious lounge with ample space, dining areas decorated with warm colors, rich library and two decks for sunbathing, shaded areas and outdoor bar and loungers are just some of the elements that define her essence. 360° views of unobstructed ocean are your eyes' canvas painted with ocean blue and deep green mountains. Embrace freedom as the Panorama sets her white sails seduced by the clear winds of the sea. Mingle with likeminded travelers in our public areas, enjoy a moment to yourself in our ample deck space, or retreat to one of our 25 ocean view cabin-sanctuaries all offering windows or portholes connecting you with mother nature's wonders. Panorama's experienced crew of 18 is trained with hospitality at heart to pamper her guests and guarantee the ultimate home away from home experience.
Highlights
• Discover Havana, Casilda, Trinidad & Juventud • Enjoy Singuanea, Maria La Corda, Vinales, Pinar del Rio & Cienfuegos