---
from€ 1600 EUR
---
---
Overview
A cruise voyage the archipelago of Cape Verde with its welcoming locals and its intoxicating mixture and spellbinding blend of African and Portuguese influences in architecture, food, customs and traditions. Being blessed with a pleasant year-round climate, the archipelago offers a diverse range of landscapes from verdant mountain ranges, lush hills and jungles to explore, to volcanic landscapes or wide deserted beaches.
Departures
Cruise Itinerary
Embarkation at 4pm at the port of Palmeira, Sal. Dinner on board and departure at midnighttowards Boavista. Overnight at sea.
---
Early morning arrival at Sal Rei, Boa Vista. Boavista offers the most beautiful beaches of thearchipelago, and amazing landscapes, both on its coasts and in the heart of the island. Relax onthe beach or enjoy an all-day optional excursion to discover the most authentic aspects of theisland: its villages with colorful facades, its artisans of ceramics, and its agriculture. Lunch at alocal restaurant, before we return on board to sail towards Santiago island. Overnight at sea.
---
Early morning arrival at Praia, Santiago, the largest of the islands of the archipelago.After a morning at leisure and lunch on board, the optional afternoon excursion will bring us toCidade Velha, the first colonial city built in the tropics and classified by Unesco. The fort and thenearby settlements were once a thriving slave trade centre. Late in the evening we will sail northtowards Fogo, the island of fire. Overnight at sea.
---
Early morning arrival Fogo, with its dominating sight of the Fogo Volcano which rises 3,000meters over the sea level. Our optional full day excursion will bring us at the top of the volcano,right at the crater edge. You will walk through a landscape of lava. Lunch will be at the crater'svillage. We will also visit the city San Felipe with a characteristic colonial charm. Late in theevening we will sail to Sao Vicente. Overnight at sea.
---
Once a vibrant commercial island, it has evolved into a cultural center and Mindelo is one of themost well preserved colonial cities in Cape Verde. Our optional walking excursion will allow youto visit galleries and discover busy restaurants, musical events that give Mindelo its label of theCultural Center of the Cape Verde. It is no surprise that the National Museum of Handicrafts islocated in Mindelo. Overnight in port.
---
Early in the morning depart for a short sail towards the island of Santo Antao, the greenest of allCape Verde Islands with landscapes of verdant plantations of sugarcane alternate old craters.Our optional full day excursion will include the luxuriant Valley Paul where sugarcane is stillexploited and where you will taste the "grogue" the national drink of the Archipelago. You willalso reach the Valley of Ribeira das Patas and discover rock formations coming from lavaformations. Dinner on board and overnight in port.
---
This morning, choose from two optional excursions: a) enjoy an optional full day excursionincluding lunch, discovering the major sites of the island, passing by the famous road of Corda,Água das Caldeiras, Ribeira Grande, Ponta do Sol and, of course, by Paul – a green jewelamong the villages of Santo Antão. On the way we will visit plantations of sugar cane and wewill taste in home-distillery "grogue" – the white rum made by sugar cane. Or b) enjoy anoptional half day excursion, to the south-western part of the island - a safari through volcaniclandscapes, pozzolans fields and isolated villages with dropwise agriculture and different kind ofplantations.Return on board to depart towards Sal. Overnight at sea.
---
Early morning arrival at Palmeira port, Sal. Disembarkation at 8-9 am after breakfast.
---
Itineraries are subject to change.
---
Harmony V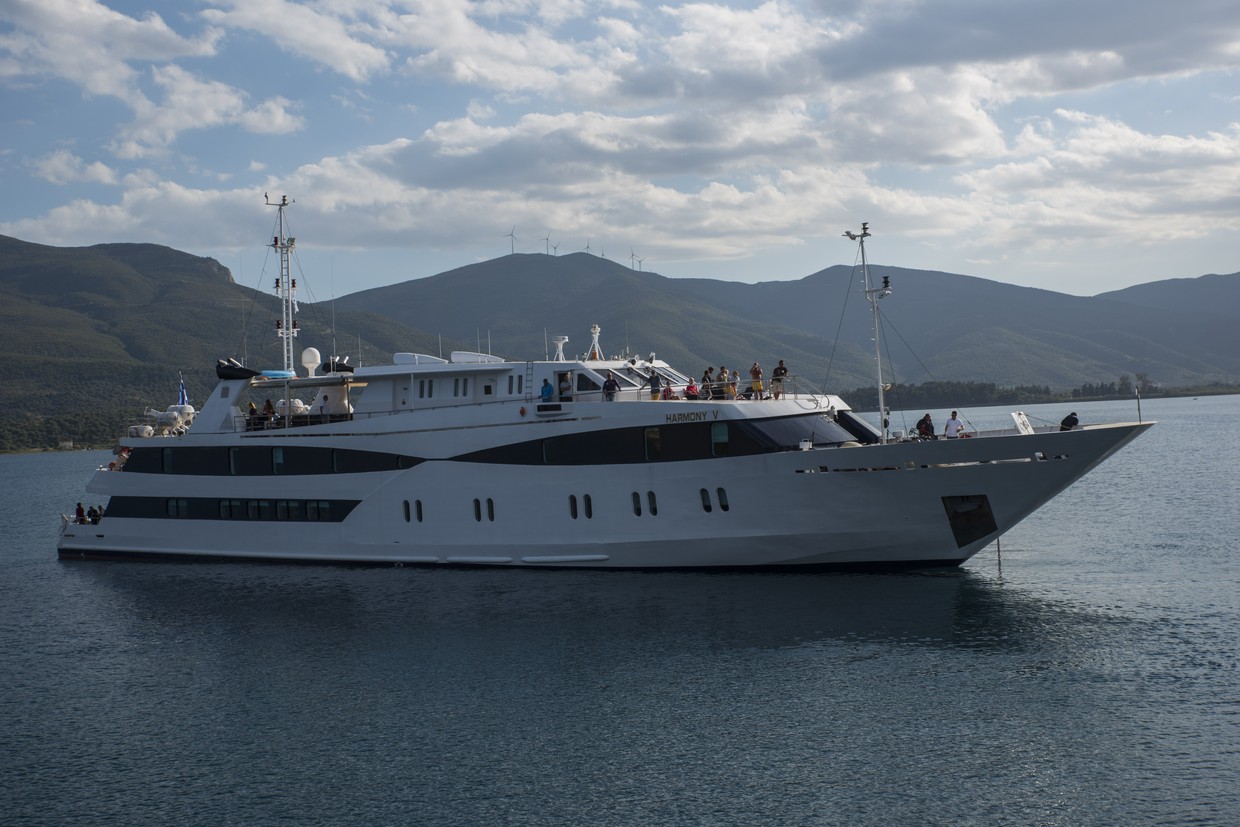 Vessel Type: Motor Yacht Length: 55 metres Passenger Capacity: 49 Built: 2009 Imagine a place far from home that feels just like home, where the borders are delineated by the golden shores of the sea; and home is wherever the anchors drop. Imagine 179 feet of comfort, beauty, and safety classified by the latest International "Safety of Life at Sea" (SOLAS) standards. Imagine your floating home on board the sleek, contemporary state of the art Mega Yacht that sails the seas under the name HARMONY V, waving her Greek flag through the wind. Discover the world by sea at 10 knots per hour, in her un-rushed pace, one island or seashore at a time. Harmony V loves to seduce her select 49 guests with her sleek lines and ample deck space redefining what yachting was meant to be. A spacious lounge with ample space, dining areas decorated with warm colors, large windows offering pristine views of all destinations, shaded areas and outdoor bar and loungers are just some of the elements that define her essence. 360° views of unobstructed ocean are your eyes' canvas painted with ocean blue and deep green mountains. Mingle with likeminded travelers in` our public areas, enjoy a moment to yourself in our ample deck space, or retreat to your cabin-sanctuary all offering windows or portholes connecting you with Mother Nature's wonders. Harmony V's experienced crew of 18 is trained with hospitality at heart to pamper her guests and guarantee the ultimate home away from home experience. Home at Sea Single seating dining Indoor & Outdoor Lounge - Bar, Indoor & Outdoor Restaurant, Audiovisual in Lounge, Mini library, Beach Towels, Snorkeling equipment, Kayak, Board Games, Swimming Platform, Wi-Fi Comfort Zone Windows: upper & main deck cabins, Triple Occupancy cabins: Category A, Flat-Screen TV, Mini Safe, Mini Fridge, CD & DVD player, En suite bathroom with shower, Individually controlled A/C, Hairdryers, Telephone for internal use, Central music
Highlights
• Discover Sal, Boa Vista & Praia • Enjoy Fogo, San Vincente & Santo Antao
Map