---
from$ 3365 AUD
---
Note: Current p/p indicative rate. Final price may change due to currency fluctuations.
City
St. Martin to St. Martin
---
---
Overview
Discover the hidden gems of the Caribbean only accessible by small ship. A Classic cruise from St Martin to Martinique to Barbados via St Lucia and Grenada. We explore ashore and have plenty of time for swimming and snorkelling. We sail on a small ship akin to a superyacht and we will be royally looked after by the crew. In St. Lucia you can enjoy an optional rainforest canopy zip-line excursion. In Tobago Cays Marine Park we will have plenty of time for swimming and snorkeling to enjoy the pristine coral reefs, crystal-clear waters, and deserted white-sand beaches. Bequia is the second largest island of the country of St Vincent and the Grenadines, and is dotted with small picturesque villages and brightly-colored coral reefs, we will have a swim stop and BBQ. We will also have a day in the Caribbean paradise of Barbados.
Departures
Note: Current p/p indicative rate. Final price may change due to currency fluctuations.
Cruise Itinerary
Embarkation at 4 pm (Late embarkation available). Dinner on board and early morning departure for Antigua
---
Early morning arrival at Antigua. It's said that Antigua has 365 beaches – one for every day of the year. Swim stop and deck BBQ as we sail towards Montserrat. Early afternoon arrival at Montserrat, the "Pompeii of the Caribbean"—an island that is half lush, half covered in ash by a volcano eruption in 1995. Optional afternoon tour to the Montserrat Volcano Observatory and enjoy grand views of the volcano and surrounding areas. Early morning departure towards Saba.
---
This morning, enjoy swimming with views to Saba's volcanic peaks rising majestically from the water. Deck BBQ and sailing towards St. Barth's. Early afternoon arrival. Afternoon at leisure to take a stroll through Gustavia, the relaxed capital, and visit the 17th-century forts. Or, take an optional afternoon hike along the Colombier Beach Trail, for a chance to see nesting red-billed tropicbirds. Early morning departure towards Norman Island.
---
Midday arrival at Norman Island. The island is today, uninhabited and privately owned and popular for its three water level caves ideal for snorkeling. Overnight at anchor.
---
Morning sailing and arrival at nearby Tortola Island. Swim stop and beach activities followed by a deck BBQ. Sailing towards Jost Van Dyke. Afternoon arrival at Jost Van Dyke, beautiful island-dotted waters of the British Virgin Islands. Enjoy swimming or relaxing at the beach. Or enjoy first-rate hiking trails and spend sunset at the Foxy's Tamarind Bar located in Great Harbour, serving food and rum to sailors and visitors since 1966. Overnight at anchor.
---
Morning sailing and arrival at nearby Virgin Gorda. Reach the curious assembly of house-sized boulders called "The Baths," which form huge underground pools and caverns. Enjoy a full day swimming and relaxing at the beach. Overnight at sea to Anguilla.
---
Early morning arrival at Anguilla. Columbus thought this flat island looked like an eel, and he named it "Anguilla". The island is also home to Cuban tree frogs, red-footed tortoise, green iguanas and a handful of species of bats. Enjoy spectacular coral reefs and sugar-soft beaches. Overnight at anchor.
---
Early morning sailing to St. Martin. Arrival and disembarkation at 9 am after breakfast.
---
Itineraries are subject to change.
---
Variety Voyager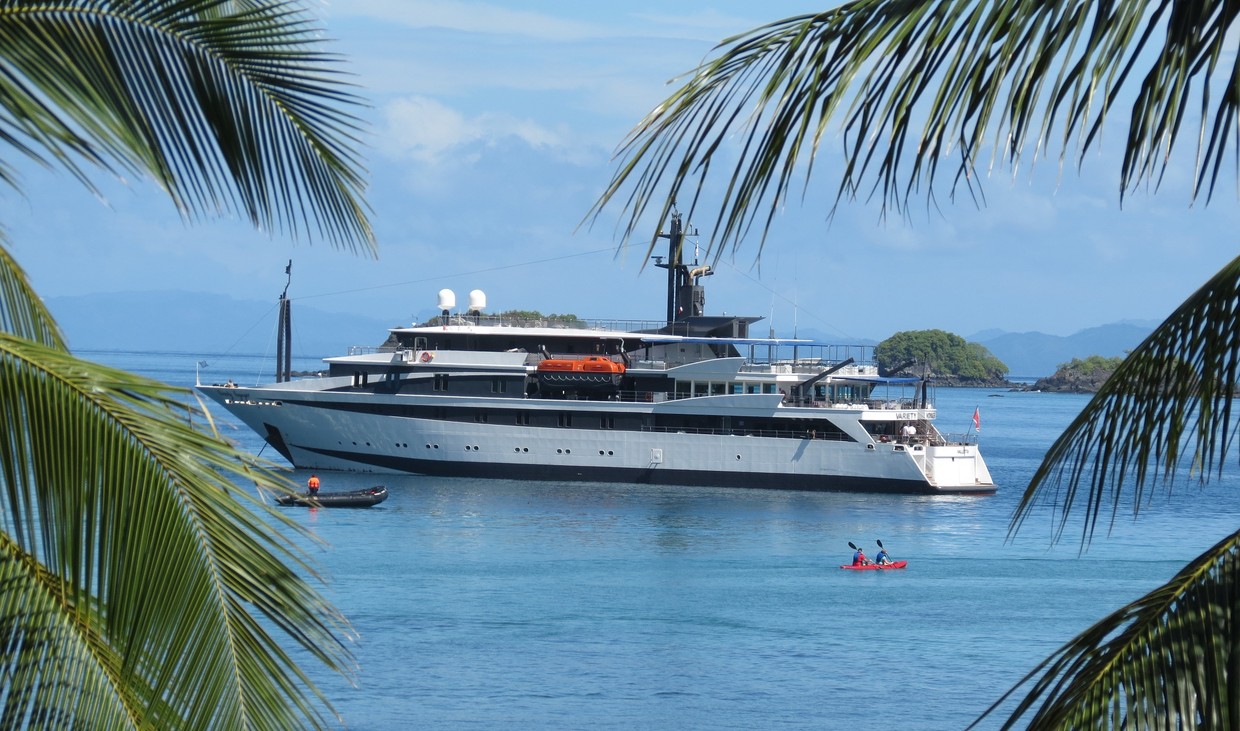 Vessel Type: Motor Yacht Length: 68 metres Passenger Capacity: 72 Built: 2012 The new build 68m - 223ft state of the art Mega Yacht will accommodate just 72 passengers in 36 cabins. Built under the latest International "Safety of Life At Sea" (SOLAS 2010) regulations and classified by the American Bureau of Shipping (A.B.S.), the Variety Voyager guarantees guests safety with incomparable comfort and elegance. The Variety Voyager will seduce her passengers with her sleek lines and ample deck space, very much what one expects from a millionaire's super yacht. Inside, cabins and public areas are finished with warm fabrics, rich marbles, axminster carpeting and soft tones wood panelling. Everywhere, unobstructed views of the ocean and of the ports visited. And above all, the professional service of a crew of 28, always with a smile and a true desire to satisfy. Ship Categories & locations may vary on some trips, please check for details.
Highlights
• Discover St Martin, Iles des Saintes, Guadeloupe & Saba • Explore St. Barths, Virgin Gorda, Tortola, Norman Island & Anguilla
Map