---
from$ 7080 AUD
---
Note: Current p/p indicative rate. Final price may change due to currency fluctuations.
---
---
Overview
Departing from Istanbul, this brand-new luxury itinerary along the coastlines of the Black Sea, to discover the Turkish, Romanian, Bulgarian and Ukrainian shores. During this 10-day cruise, Le Bougainville will take you to exceptional natural and historic sites. Your trip will begin with the discovery of the city of Nessebar, in Bulgaria. The architecture of this city established over 3,000 years ago is extremely rich, inherited from the Greek, Roman, Byzantine and Ottoman civilisations that succeeded one another here. You will then set sail for eastern Romania, stopping in Sulina, a small, charming city located at the heart of the Danube Delta. Declared a Biosphere Reserve by UNESCO, this fantastic natural site is home to exceptional birdlife. Further north, Odessa, the pearl of the Black Sea, will win you over with its unique charm resulting from the mix of Slavic and Mediterranean cultures. Don't miss the chance to visit its palaces, its catacombs, its magnificent opera house, and of course take a detour via the legendary giant stairway immortalised in the film Battleship Potemkin. Your ship will then make its way to the Turkish coast, where the ports of call will be of great cultural and historical interest. First, Samsun and Trabzon, at the gateway to Anatolia, then, not far from Bartin, the ancient city of Safranbolu, boasting typical Ottoman architecture. Listed as a UNESCO World Heritage Site, it was a major caravan station between Europe and the East.
Departures
Note:
Current p/p indicative rate. Final price may change due to currency fluctuations.
Cruise Itinerary
Located on the Bosphorus, Istanbul is one of the most beautiful of all Turkish cities. Named Byzantium when founded by the Greeks, and then Constantinople under the Roman Empire, this city is steeped in history and, for this reason, is a listed UNESCO World Heritage site. On Sultanahmet hill, you'll see the great Blue Mosque, the mysterious Hagia Sophia and the vast Topkapi palace and its countless mosaics. In the Beyazit district, you can admire the elegant covered passages of the Grand Bazaar. A little further away, the delicate aroma of loukoum and spices will draw your attention at the Egyptian Bazaar.
---
Built on a peninsula on the south-west coast overlooking the Black sea, the town of Nesebar possesses age-old history. Founded by the Greeks and then colonised by the Romans and the Ottomans, it is a listed UNESCO World Heritage site. You can ramble in the historical district without worrying about cars, because the area is fully pedestrian. As you mosey through the streets, look out for the houses with wooden corbels, and, in the squares, admire the Byzantine sanctuaries and their astonishing multi-coloured adornments, like Saint-Paraskevi church. The Archaeological Museum has a very rich collection of ancient vestiges. Don't forget to try the local speciality, touloumbitchki dipped in syrup.
---
During your day at sea, make the most of the many services and activities on board. Treat yourself to a moment of relaxation in the spa or stay in shape in the fitness centre. Depending on the season, let yourself be tempted by the swimming pool or a spot of sunbathing. This day without a port of call will also be an opportunity to enjoy the conferences or shows proposed on board, to do some shopping in the boutique or to meet the PONANT photographers in their dedicated space. As for lovers of the open sea, they will be able to visit the ship's upper deck to admire the spectacle of the waves and perhaps be lucky enough to observe marine species. A truly enchanted interlude, combining comfort, rest and entertainment.
---
Itineraries are subject to change.
---
Le Bougainville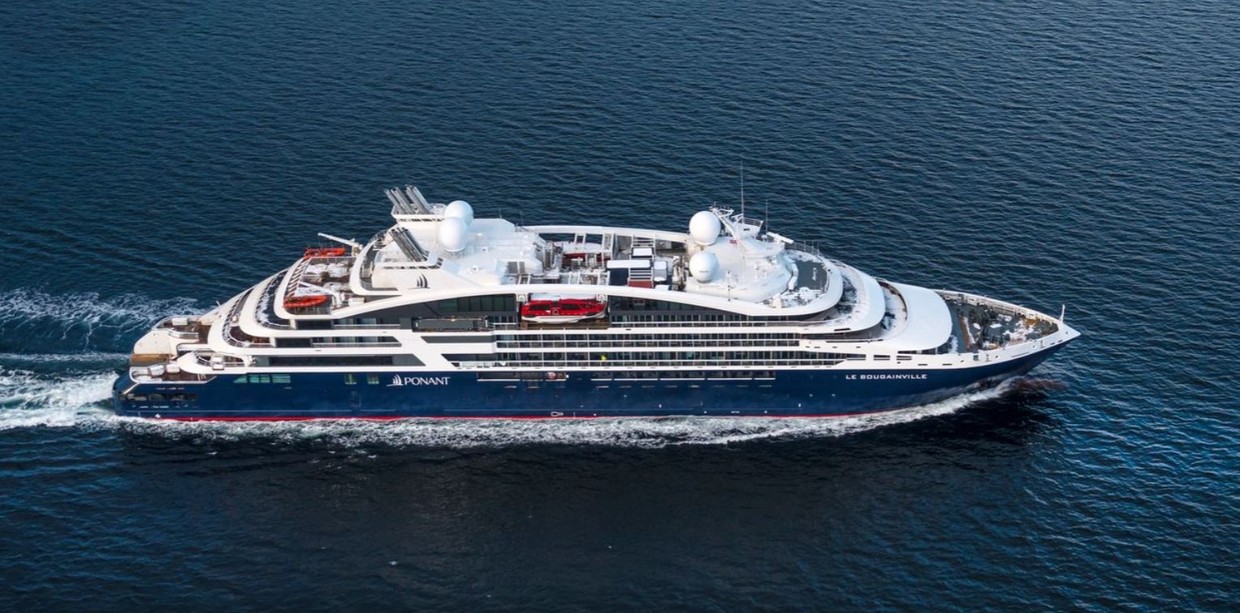 Vessel Type: Luxury Passenger Capacity: 92 cabins Built: 2017/2018 Featuring innovative and environmentally-friendly equipment, elegantly designed cabins, spacious suites with large windows, and lounge areas that open onto the outside, this new limited-capacity yacht boasting just 92 cabins and suites will offer you a truly unique cruising experience. As the first ship in a new series that remains true to the Ponant spirit, Le Bougainville will embody the unique atmosphere that is the cruise line's hallmark: a subtle blend of refinement, intimacy and comfort. Aboard this ship that flies the French flag, you will experience the incomparable pleasure of an intimate cruise, with the possibility of exploring an ever-increasing range of destinations in an ethnic-chic ambiance with luxury service. Experience a luxurious setting where the accent is on authenticity and passion for travel. RESTAURANTS As it is an essential part of French culture, gastronomy will naturally have pride of place aboard this new ship. Through its two restaurants, Le Bougainville will invite you on a journey to elegance and epicureanism. In a relaxed atmosphere, a first dining area located on Deck 3 and able to seat 70 will serve grilled meats daily, along with a variety of salads and desserts. To the back of Deck 4, you will find a 260 m² panoramic restaurant which can accommodate all of our passengers in a single sitting. Designed differently to that on our other ships, this dining area, which opens onto the outside, will have a buffet of salads, desserts and cheeses at your disposal. Our discreet and attentive crew will provide table service for hot meals. PUBLIC AREAS Like Le Boréal and its sisterships, Le Bougainville has many common areas that are designed and equipped to meet all of your needs while preserving the intimacy of each passenger. A 140 m² reception area includes: A reception/concierge desk, An excursions desk, The ship's administrative services, The sales office, manned by our Guest Relations Officer, Our 50 m² boutique which sells clothing, jewellery, beauty products, postcards and various accessories, Toilets accessible to passengers with reduced mobility. A new hydraulic platform with adjustable height provides: Easier boarding than on any other cruise ship, Easier Zodiac embarkation and disembarkation for expeditions, Easier access to the sea for swimming and practising various water sports such as kayaking or paddle-boarding. A pool deck offering: A pool with a panoramic view, equipped with a counter-current swimming system, A pleasant solarium, An outdoor bar and lounge with armchairs and sofas. A 200 m² main lounge which can accommodate all of our passengers to share convivial moments and to host activities organised during the day or evening. Lastly, a theatre that seats 188, equipped with: The latest sound and lighting technology, A LED wall as the stage backdrop, for the projection of high-resolution images and videos.
Highlights
• A brand-new itinerary along the coastlines in the Black Sea, to discover four countries: Turkey, Romania, Bulgaria and Ukraine. • UNESCO sites: the ancient city of Nessebar, the Danube Delta, the city of Safranbolu. • Sailing along the Sulina Channel. • From Trabzon, Altindere National Park and the Sumela Monastery. • The possibility of visiting Istanbul before or after your cruise.
Map