---
from$ 3684 AUD
---
Note: Current p/p indicative rate. Final price may change due to currency fluctuations.
City
Bridgetown to Bridgetown
---
---
Overview
Friends gather round the Piano Bar and join in singing a few favorites. And in the Tropical Bar, the bartender shakes a pitcher full of some delicious cooling concoction. Now, is there anything more relaxing than this? Clearly this is not a cruise ship in the ordinary sense. On Star Clippers, you will find that there are no rigid schedules. You are free to do as you wish with your days – and evenings. To entertain you, we bring local performers on board to give passengers an authentic taste of the local music and arts. So rather than enduring another Broadway revue, you can enjoy the conviviality of fellow shipmates while a live band plays tropical tunes from a real paradise. The Captain and crew are superb improvisers of the kind of light-hearted fun you'll only find on Star Clippers. The Captain's daily briefing on deck is wonderfully informative and a chance to hear some great story-telling as well. And there are other events and activities, such as knot tying and navigation classes, that have evolved from Star Clippers' sailing heritage. In fact, our passengers tell us that it's the easy-going informality of Star Clippers that makes a cruise with us so enjoyable.
Departures
Note: Current p/p indicative rate. Final price may change due to currency fluctuations.
Cruise Itinerary
On the wild and rugged east coast of Barbados, the isolated beaches are the colour of sunrise, the red sands having blown all the way across the Atlantic from the Sahara. The easternmost island of the Windwards, and indeed, of the entire Caribbean, reaches out to Africa and the Old World, as if not quite part of the New. Bridgetown, Barbados, is an interesting town full of contrasts. George Washington actually slept here! Trafalgar Square reminds you that the laidback, rum- and fun-loving island's British influenced heritage includes revered traditions like cricket and high tea.
---
A lush island of tropical beauty, St. Lucia is part of the Windward Islands. Its 238 square miles are covered with rain forests, banana plantations, palm lined beaches, mountains and even a drive-in volcano. Prettier sights are to be seen at Diamond Falls and Mineral Baths where you can walk the gardens and take a dip in the pool under the waterfalls. One of St. Lucia's truly spectacular attractions is the Pitons, two volcanic cones rising up from the sea that have become a symbol of the island itself. Today, St. Lucia offers its guests a wide range of natural charm with beautiful beaches, lush scenery, fishing villages unchanged by time and friendly Caribbean hospitality.
---
Royal Clipper and Star Flyer sail together to Cabrits Dominica is a dream-like island, full of surprises. Glide through a steamy orchid-festooned rainforest in a fascinating boat ride or hike to breathtaking Trafalgar Falls and a bubbling lake.
---
The dockyards, marinas, old inns, venerable pubs and convivial crowds of sun-tanned yacht crews- this is the epicentre of the Caribbean yachting world. Today, every faded pink brick and weather-worn bollard of Nelson's Dockyard evokes the presence of the greatest naval commander in history.
---
St. Kitts' was the first successful colony in the British West Indies. Shop in colourful Basseterre, play golf and tour old plantation houses. For the adventuresome there's a brisk hike through the rainforest.
---
Les Saintes is a thoroughly entrancing group of islands lying off Guadeloupe. You'll enjoy the superb beaches, snorkelling, diving and other watersports on offer.
---
Martinique is the classic French Caribbean island. Wild and mysterious, yet urbane and sophisticated, it is France with a tropical twist, with something for almost everyone. You won't be able to resist the charms of spicy Creole cooking and tempting boutiques in Fort de France.
---
Itineraries are subject to change.
---
Royal Clipper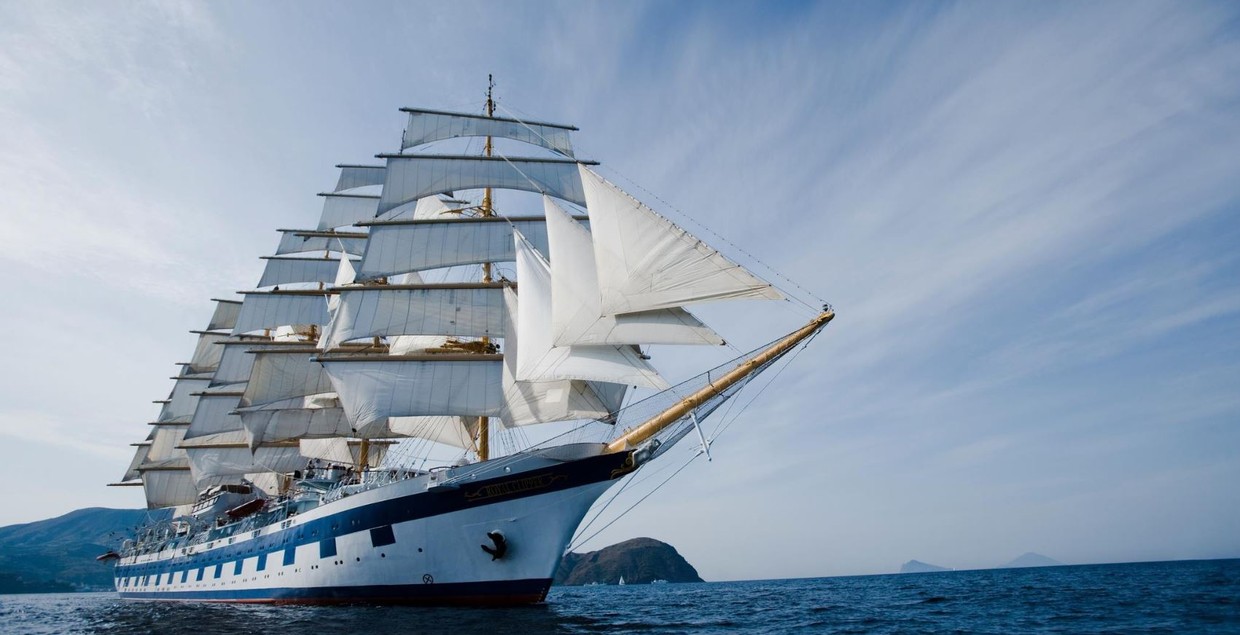 Vessel Type: Tall Ship Length: 133.8 m Passenger Capacity: 227 In 1902, the largest, fastest sailing ship the world had ever seen was launched. The legendary Preussen dominated the seas, only to be gone in a few short years. Neither before nor since had the world seen such a magnificent sailing ship. Until today… Inspired by the tall ship Preussen, the Royal Clipper has the proud distinction of being the largest and only five-masted full-rigged sailing ship built since her predecessor was launched at the beginning of the last century. With her complement of 42 sails, Royal Clipper is a splendid sight to behold. You might think she was an apparition from the grand age of sail, but Royal Clipper is as new as tomorrow, boasting state-of-the-art navigation systems and every comfort and luxury one could wish for. For connoisseurs of sail cruising, the 439 foot Royal Clipper offers the ultimate sea-going experience, balancing the grandeur, adventure and tradition of sailing with the superb service, amenities and accommodations of the finest modern yacht. Royal Clipper carries just 227 guests in luxurious style. A full 19,000 square feet of open deck and three swimming pools create a wonderfully spacious and expansive outdoor environment. Find your secret hideaway on one of the hidden balconies on either side of the bow. Or climb the mast (with safety harness provided) to one of the passenger lookout crows-nests, thoughtfully furnished with a comfortable settee, where you'll have the grandest view of all! Royal Clipper's interior spaces are just as dazzling. They include a three-deck atrium that funnels sunlight into the elegantly appointed, three-level dining room featuring open-seating dining, deliciously prepared cuisine and a no-tie dress code. A convenient marina platform lowers from the stern for watersports. And the ultimate unique Royal Clipper experience, the one-of-a-kind Captain Nemo Lounge, is the site of our spa and health club with underwater glass portholes!
Highlights
• Visit Bridgetown, an interesting town full of contrasts • Explore a lush island of tropical beauty, St. Lucia • Discover St. Kitts' - the first successful colony in the British West Indies
Map